Roberto Mancini deserves credit for calling out Maurizio Sarri's hate speech
Roberto Mancini had no reason to speak up. He really didn't.
His team, Inter, had just won 2-0 at Napoli to reach the Coppa Italia semifinal on Tuesday. It was a testy, nervy game that saw him and his opposite number, Maurizio Sarri, get in each others' faces on more than one occasion but particularly at the start of time added on, with Inter nursing a 1-0 lead.
Once the game ended, it was over. Roberto Mancini was vindicated. There was nothing left to do but go through the postgame interview banalities, get on the bus and fly home contented. Anything other than that would be deviating from the script.
But he didn't. He stormed into the postmatch media conference and rightfully pulled no punches, breaking the Sepp Blatter code about things "that happen on the pitch, stay on the pitch." And he did it knowing full well that some people will likely make him pay for it.
"Sarri is a racist, and people like him shouldn't be in football," he said, referring to the moment the fourth official signaled there would be five minutes of injury time. "I got up and asked why it was five minutes and Sarri came at me, shouting. He called me a 'poof' and a 'f----t.' Well, if [being a man] means being like Sarri, then I'd be proud to be [what he called me]. People like that can't be in football. He ought to be ashamed of himself."
Some people will accuse Mancini of grandstanding. Some will claim he's hanging a fellow professional out to dry for a throwaway comment. And the next time Inter play, you can probably take it for granted that he'll be pelted with anti-gay abuse. Truth be told, while Mancini may get a hard time from some quarters over this, the fact that he's speaking out is to be commended.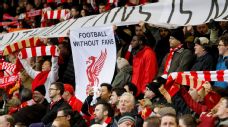 In response, Sarri did offer an apology. "I recognize I was wrong, I said something I never should have said and I apologize to Mancini and to gay people," Sarri said. "Immediately after the incident, I realized what I had said and I went to apologize to him directly. I think once he calms down, he will accept my apology. He called me an 'old c--k.' I think that's somewhat racist too."
"It was the typical confrontation that should have remained on the pitch," he added. "It all happened in 10 seconds. I could have said anything but I want to reiterate that I am not homophobic in the slightest. I was angry and I lost my cool, because on the pitch there's a level of tension that doesn't exist in real life. I'm not homophobic. My life is there for all to see."
The crux of the issue remains the fact that Mancini made it public and whether that was warranted. After all, you could argue that he should have understood that Sarri's comment was merely intended to be hurtful in the heat of the moment. And because we all say and do stupid things in the heat of the moment, Mancini should have let it slide.
You could argue all that, but you'd be wrong.
The damage done by Sarri's words wasn't necessarily inflicted on Mancini. It was heaped upon every gay man and woman in football, particularly the overwhelming majority who are closeted. Every time a comment like that is made and is left hanging in the air, it's one further hurdle that gay men and women face. That's why it's important to call this stuff out.
And in Sarri's case, there's a history. Nearly two years ago when he was in charge of Empoli in Serie B, he complained about overly strict officiating by saying that football "has become a sport for f----ts." That was idiotic and offensive too, playing into ugly, age-old stereotypes.
So what will happen next? Sarri faces a ban of up to four months. He has violated the Italian FA's code (Article 11, Chapter 1), which applies to all players, club officials and coaches. It regulates direct or indirect offensive or discriminatory behaviour on the basis of race, color, religion, language, sex, nationality, ethnic origin. I'm not a lawyer, but it's hard to see him escape a ban. Every media outlet reported that he could be sidelined "up to four months" in this case.
A ban would certainly send a stronger message than the one the NBA sent Kobe Bryant when he said something similar to an official in 2011. Bryant got away with a $100,000 fine, which, as a proportion of salary, would be like fining Sarri $8,000 and not banning him at all. Surely, football can do better than the NBA in this case and make a strong statement.
Again Mancini didn't need to do this -- he chose to do it, because it was the right thing to do. It was the night someone who matters in the game said "no more." It was the night that what was once commonly accepted -- as anyone who has played organized sport at any level (I myself remember hearing it playing little league basketball in sixth grade) -- was emphatically rejected. What you hope for now is support and solidarity from the rest of the football world.
Gabriele Marcotti is a senior writer for ESPN FC. Follow him on Twitter @Marcotti.