Liverpool, Man Utd lack identity; Barca, Real Madrid cruise; Napoli impress
It didn't take Nostradamus long to figure out that the clash between England's two most popular and historically successful clubs wasn't necessarily going to be an edge-of-your-seat classic. You don't necessarily need good teams with good players to get good -- or at least exciting football -- but you do generally need an identity and you need to be comfortable with it.
Liverpool don't have one yet -- Jurgen Klopp's work is definitely in progress -- whereas Manchester United have one that doesn't suit them.
You can find traces of Borussia Dortmund in Klopp's current team; it's just not enough to be coherent. The counter-pressing may help you win the ball high, but without quality or, at least, synchronized movement, you won't create viable chances. The latter will come but, as for the former, there are still too many square pegs in round holes. The result was plenty of shots on goal, but few clear-cut opportunities.
As for Manchester United, the fact that Jesse Lingard and Marouane Fellaini were on the pitch, while Memphis Depay and Juan Mata were substitutes, served as a reminder that, whatever Louis Van Gaal is trying to do, he's had to deviate from the master plan. (Surely Depay and Mata were supposed to be a big part of United's season this year).
The result was what we've come to expect from this United team: Massed ranks, slow build-up, a lack of attacking oomph. All those things that upset Paul Scholes.
To Van Gaal's credit, though, he did send on Depay and Mata halfway through the second half, perhaps sensing that the game was there for the taking. For all the talk of him being cautious since arriving at Old Trafford, a point away to your biggest rivals would not have been a terrible result and especially given the way this season has been unfolding.
Instead, he went for it and that's significant. Defeat would have left United sixth, five points from the Champions League places. And seventh had Stoke later beaten Arsenal.
Van Gaal was rewarded with Wayne Rooney's fifth goal in four games and, while it may not have been a direct result of the changes, it was still Mata's ball that was headed off the bar by Fellaini and buried by Rooney.
When asked if he felt United could still mount a tittle challenge, Van Gaal didn't hide behind the old "we're taking it one game at a time/we're not thinking about it" trope.
"We can do it because we show every week we can do it," he said. "The gap is seven points. We can overcome that, so that's what I'm thinking about."
That will cue ridicule from some quarters but, in fact, it reveals plenty of Van Gaal's mindset. He's beyond caring what others say about him or his team. He sticks to the facts, as he sees them. (That last part is important, since evidently he's in the minority in believing that United "show every week" they can do it.) But you can't argue with the fact that, in theory, United can make up seven points in the final 16 games.
The fact that the chance of this happening is tiny matters less than the fact that Van Gaal is willing to come out and say he's a true believer.
Liverpool's striker saga
One by-product of the United game was Klopp insisting that Liverpool do not need another center-forward. It's one of those situations where you're tempted to look straight at his nose and see if it gets that tiny bit longer as he speaks.
Liverpool, of course, already have two top-drawer center-forwards but one -- Daniel Sturridge -- hasn't played since December and has made just three league starts all season. In fact, he has begun just 10 of Liverpool's last 60 league games, dating back to the start of the 2014-15 campaign.
The other is Christian Benteke, who cost around $50m in the summer and, at 25, is theoretically the guy you'd want to build around. Of course, that was under previous manager Brendan Rodgers. Benteke has come off the bench in four of Liverpool's last six league games, which suggests he's anything but an automatic choice in Klopp's scheme.
Maybe what Klopp said was just posturing. When it comes to strikers -- in addition to Sturridge and Benteke -- Liverpool have Danny Ings and Divock Origi on their books, plus Mario Balotelli and Luis Alberto, both of whom are currently out on loan.
It's a full house at Anfield and might be that Klopp reckons it's better to shift some bodies before bringing in new ones.
Rodgers speaks out
Speaking of Rodgers, he was on British TV on Sunday and revealed that during his time as Liverpool manager the club missed out on Alexis Sanchez and Dele Alli, while underscoring the role of the so-called "transfer committee" at Anfield.
You can't help but feel it was just a matter of time before he came out with stuff like this. It's the old trope: The good signings were his, the bad ones were down to somebody else and the deals for the guys he wanted, who turned out to be great elsewhere, were screwed up by the "transfer committee".
Every manager or club official in the world has tales like this. Funnily enough, they always remember the good ones who got away through no fault of their own and never mention the near-misses: The duds they desperately wanted to sign but who ended up elsewhere.
We could wait for Liverpool to speak up and give their version of events but, since that's rather unlikely, maybe we're better off just ignoring this nonsense.
Brilliant Barcelona
Maybe Barcelona wanted to exorcise -- once and for all -- the memory of that 4-0 thrashing they suffered in the Spanish Super Cup to Athletic Bilbao which, lest we forget was their heaviest defeat since the 2012-13 Champions League semifinal loss to Bayern Munich. Whatever it was, we saw Barca at their devastating best in winning 6-0 on Sunday.
Aleix Vidal replaced Dani Alves at right-back and looked good, while Lionel Messi romped for a half before being taken off as a precaution and Luis Suarez took his seasonal tally up to 29 goals.
If they were trying to make a statement, it was received, loud and clear.
Madrid's aerial attack
That's two wins in two games for Zinedine Zidane as manager of Real Madrid. With 10 goals scored and one conceded he might well presently be -- statistically anyway -- the greatest manager in the history of the Bernabeu.
The 5-1 drubbing of Sporting Gijon, who have major relegation worries and were 4-0 down inside of 20 minutes, doesn't really tell you very much other than it's the sort of game Florentino Perez loves -- the "BBC" all got on the scoresheet, with two each for Karim Benzema and Cristiano Ronaldo and one for Gareth Bale -- and, unlike when they scored 10 against Rayo Vallecano last month, Madrid didn't seem that interested in hitting double figures.
Bale's calf injury will require more tests and would be more of a concern if not for the fact that, in Isco and James Rodriguez, Real aren't exactly short in that department. In the meantime, Zidane is discovering that he has quite an aerial threat on his hands, for nobody in Europe has scored more headed goals than Bale.
In fact, with Ronaldo, Benzema and two centerbacks, Madrid may have more outstanding headers of the ball than any other major team in Europe.
Napoli's varied goal threat
Sometimes they simply catch fire. Gonzalo Higuain took his Serie A total to 20 goals in 20 games on Saturday as Napoli downed Sassuolo, 3-1. It was anything but a straightforward win and, at the final whistle, the San Paolo celebrated as if they had reached the Champions League final.
Premature? Small-time thinking? Maybe. But it was also a spontaneous party and emblematic of the relationship between this group of players and their fans right now.
As for Higuain, nobody in a major European league has scored more goals this season, with the closest contenders being Pierre-Emerick Aubameyang and Luis Suarez on 18. This is also the fourth time Higuain has hit the 20 league goal mark in one of Europe's big five leagues -- he did it on 3 occasions with Real Madrid -- and that's also quite telling.
Other than the familiar freaks of nature -- Cristiano Ronaldo and Lionel Messi have both done it seven times -- Zlatan Ibrahimovic and Sergio Aguero have reached that mark four different times. By contrast, guys like Karim Benzema and Wayne Rooney have only 20 it twice.
Higuain is the consummate goalscorer and, given that he just turned 28 last month, it's not surprising that Napoli president Aurelio De Laurentiis slapped a crazy price tag on his head. The question is what happens when (OK, if...) Higuain slows down.
Actually, I don't think it would be a tragedy. His replacement, Manolo Gabbiadini, has six goals this season in all competitions, or one every 86 minutes. That is only marginally worse than Higuain, who has one per 85.
Throw in the fact that guys like Marek Hamsik, Lorenzo Insigne and Dries Mertens can also pick up the scoring slack and Napoli have more attacking firepower than folks realize.
Spalletti starts with a draw
You wondered what changes Luciano Spalletti would make on his return to Rome, some six years after he last coached the giallorossi and captivated the football hipsters with his strikerless system.
There was no overhaul against Verona, but there were significant tweaks, like pushing Miralem Pjanic back into a deep-lying playmaker role, turning Radja Nainggolan into a Frank Lampard-esque late runner into the opposing box and, in the second half, getting Daniele De Rossi to drop between the centerbacks on occasion.
It was typical chameleoen-like Spalletti stuff and, to be fair, Roma should have got more out of this game than a 1-1 draw. But at least it galvanized the players and the Stadio Olimpico and helped them take a step forward. Right now, that's all you can hope for.
Goals and mistakes galore
Watching Chelsea host Everton, you realized just how limited these two teams are in so many respects. After a low-key first half which Everton edged, thanks largely to a home team thinking safety-first -- Nemanja Matic and John Obi Mikel in front of the back four provide size but little forward momentum -- Roberto Martinez's crew took a 2-0 lead, thanks to John Terry's leg tangle own goal and a brilliant turn and finish from Kevin Mirallas.
That's when you expect a possession-based team to kill the game. Instead, Phil Jagielka froze and Diego Costa halved the deficit. A few minutes later, with the help of a deflection, Chelsea equalized through Cesc Fabregas. For Everton, it was a case of static defending and an inability to move the team's center of gravity up the pitch while nurturing a lead. Which is never good.
Anything Everton could do in the bad defending stakes, though, Chelsea could seemingly do better. So when Gerard Deloufeu's cross looped over goalkeeper Thibaut Courtois' head, nobody seemed to notice Ramiro Funes Mori -- or the equally large Romelu Lukaku -- and the Argentine steered it in from close range.
That set up an improbable, bring-down-the-house finale, which saw John Terry's unlikely backheel sneaking past Tim Howard. Yes, it was probably offside -- as Guus Hiddink admitted, something his predecessor Jose Mourinho may not have done -- and no, Roberto Martinez should not be complaining about the time added on, given that Everton's goal also came during injury time.
It was entertaining if you were there, in a WWE sort of way. But it was also a reminder of how both these teams are so much less than the sum of their parts.
Transfer ban truths
I touched upon this on ESPN FC TV last week, but it's worth repeating: Everybody predicting doom and gloom for Real Madrid and Atletico after their transfer ban has seemingly forgotten that there's an appeals process and what happened with Barcelona.
Sure, being banned from acquiring players for a whole year would be a setback to anyone and it would be worse for Real, who plan a rebuild, and Atleti, whose apparent raison d'etre is player trading, than it was for Barcelona, who at least had a settled and successful side when hit with their sanctions in 2014.
But let's be realistic here. Even if FIFA reject the appeal of the Madrid clubs and even if the Court of Arbitration for Sport does the same, there are basic issues of timing. Nearly nine months elapsed between Barcelona's original guilty verdict and when their appeal was rejected by CAS.
There's no reason to think the appeals will be heard any quicker this time. In fact, given that FIFA's appeals committee will need to deal with both concurrently, they could conceivably take even longer.
Nine months from now brings us to October. In any case, unless CAS issues its verdict by July 1, which, frankly, seems impossible, Real and Atleti will be able to conduct business as normal this summer.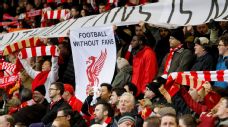 A good point for Arsenal
You'd be tempted to describe Arsenal's scoreless draw at Stoke as two points lost and a missed opportunity for the Gunners to pull two points clear of Leicester City at the top of the table.
You'd be wrong.
Given the way the game unfolded, Arsenal did well to draw, as Arsene Wenger himself said afterward. Right now, the Gunners simply can't afford to do without Mesut Ozil, Santi Cazorla and Alexis Sanchez. Without them, they're simply a different team.
Against a Stoke side who, lest we forget, are a tough out at home, Arsenal showed grit, determination, pigheadedness and sheer guts. In other words, all those qualities which, supposedly, they lack. Sure, Petr Cech made some huge saves, but then so did Jack Butland.
It may be entirely unscientific and just an impression, but you get the feeling that the Arsenal of past years would have left the Britannia empty-handed.
Gabriele Marcotti is a senior writer for ESPN FC. Follow him on Twitter @Marcotti.