Zidane begins at Real with a win, how long will Man United stick by Van Gaal?
Zinedine Zidane could not have hoped for a better start to his managerial career at Real Madrid. Halfway through the first half, they were already 2-0 up against Deportivo La Coruna, and it was all downhill from there for the visitors.
Zidane did what was expected in naming his team with Isco joining Toni Kroos and Luka Modric in midfield, adhering to the theory whereby "the more attacking players we have on the pitch, the more attacking we become." It's what Rafa Benitez was loathe to do in certain games and, you imagine, part of what Zidane said he would do when he was offered the job.
It wasn't without risk -- lest we forget, Depor have taken points off both Atletico Madrid and Barcelona this year -- but there was a greater chance of Zidane unveiling Marco Materazzi as his assistant than there was of him deviating from the Florentino Perez script.
Depor did have an early chance with Lucas Perez and -- who knows? -- maybe this game would have unfolded differently if Keylor Navas hadn't made the save. But it didn't and it left the "BBC" in full flow, with Karim Benzema bagging two and Gareth Bale getting a hat-trick.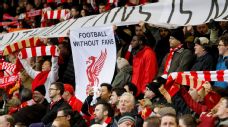 Cristiano Ronaldo was the one guy not to find the back of the net but that wasn't for lack of trying. There was a spring in his step and, despite not scoring, he played well. The interchangeability and movement of the front three -- values which, to his credit, Benitez had tried to instill earlier this season -- did the rest.
The key was getting that first victory under his belt. Whether this scheme -- "BBC" plus Isco or James Rodriguez -- can work on a regular basis remains to be seen. But, for now, Zidane could not have asked for anything better on his debut.
How much longer with Man United limp along?
It's tough to know what more to say about Manchester United. Different week, same drivel. They beat Sheffield United -- a team from the third tier of English football -- thanks to an injury time penalty, making it two wins in a row.
I guess if you wanted to put a super-positive spin on it, there are ways to do it. They're still alive in the FA Cup, they have a manageable draw in the Europa League and they're just three points away from a Champions League spot in the league. Wayne Rooney's drought is over and he has scored in every game of 2016.
That's the good news. The bad news is that they're still playing poorly, supporters and ex-players are still letting them know and it's increasingly getting tough to believe in "the process."
That stat whereby United have failed to score a first-half goal in each of their last 10 home games isn't just a quirky throwaway. It's obviously much easier to play with a lead. An early goal galvanizes a skeptical crowd and the fact that this hasn't happened only make Louis Van Gaal's job more difficult, regardless of whether you believe he's to blame or not.
Van Gaal pointed out after the game that it's always difficult to play against opponents who put 11 men behind the ball and that you need two fast wingers to do it. But this begs the question: why he didn't realize this before kickoff, and why did it take him an hour to replace Juan Mata (who is neither a winger nor fast) with Memphis Depay?
You wonder how much longer United will persevere with this situation, and how much longer they continue to view Van Gaal as part of the solution rather than part of the problem.
Don't bet against Napoli for the Scudetto
Thanks to Inter's 1-0 home defeat versus Sassuolo, Napoli's 5-1 walloping of Frosinone means Maurizio Sarri's crew are top of Serie A at the halfway mark. The title of "winter champions" is obviously platonic, but it's not irrelevant -- in each of the past 12 seasons the team that was top at the midway point went on to win the title.
Napoli have lost just once since the opening day of the season in all competitions and they have scored more than anyone in Serie A. It's evidence of the sterling job Sarri is doing, sure, but also of the way the stars are carrying the team, something that didn't always happen under the previous regime.
Gonzalo Higuain is now up to 20 goals in all competitions and is playing as well as any center-forward in Europe. Lorenzo Insigne has shaken off the injuries and inconsistencies that allowed him to shine only intermittently in the past. Kalidou Koulibaly is one of the best defenders in Serie A and Marek Hamsik, who's had highs and lows this year, has scored in three straight games.
Obviously you're not going to read too much into beating Frosinone away -- they're not a good side, though their furiously direct style can make them fun to watch -- but there's a solidity to this Napoli team we haven't seen in a long while. And that marries itself well with the attacking oomph established in the Rafa Benitez era.
Can they hang on with Juventus' headlights in their rear view mirror? It depends on how many more tricks Sarri has up his sleeve. But, right now, you would not bet against it.
"MSN" do it again for Barcelona
Granada was the perfect warm-up for Barcelona's front three ahead of the Ballon d'Or. Barcelona thumped them every year since their return to La Liga in 2011 and this season was no different: Lionel Messi put Barca 2-0 up in the first 15 minutes and the game was pretty much over other than assessing how Aleix Vidal and Arda Turan would do on their home Liga debuts. (They did fine... what else did you expect?)
Messi ended up with a hat-trick, the 33rd of his Barcelona career. It took his seasonal total up to 18 -- not bad if you consider that he missed nearly two months through injury -- which is the same total as Neymar and eight fewer than Luis Suarez. Between them, the "MSN" have scored 39 of Barcelona's 44 Liga goals. Yep, we're in Playstation territory here.
Pasciuti makes history at Udinese
It's one of those tales that warms the heart. On Saturday, Lorenzo Pasciuti opened the scoring in Carpi's 2-1 win over Udinese and made history.
Pasciuti joined the club when they were a non-league side back in January 2010 and stayed with them throughout their six-season rise, scoring at every level from Serie D (the equivalent of Italian non-league football) through both divisions of Lega Pro and Serie B right up to Serie A.
It's exactly what is not supposed to happen. Players get labeled based on their level; as teams move up, guys move on. Not Pasciuti. He has shown he can do it at every level. In a sport so often defined by short-termism, mercenaries and self-fulfilling prophecies, a guy like him will always stand out.
Instant replay gets closer to reality
Video technology moved one step closer to widespread adoption last week with the International Board (IFAB), the body responsible for the Laws of the Game, recommending that FIFA test various instant replay models.
A final vote is expected in March and in years past, you could be confidently cynical about this. IFAB has eight members: representatives from Northern Ireland, England, Wales and Scotland, plus four FIFA appointees. Because Sepp Blatter was squarely against instant replay and you need six votes to approve changes to the laws, the president essentially held veto power.
But now things are different. The leading candidates for the FIFA presidency, Gianni Infantino and Sheikh Salman, are both open to the idea of discussing video technology. The main challenge will be coming up with a protocol that works, whether an NFL-style "coach's challenge" system or an extra official in the booth. But we're as close to it now as we've ever been.
Is now the right time for Leroy Sane to move on?
German media are now reporting that Schalke starlet Leroy Sane is being tracked by Real Madrid and Barcelona as well as the usual Premier League suspects, led by Manchester City.
He turns 20 on Monday and there's no doubting his skill set, particularly the combination of speed, balance and vision. Plus his movement makes him seem mature beyond his years. Then again, this is a guy who has made 18 league starts in his career.
His background -- his father was a professional footballer, his mother a top-notch gymnast -- suggests he can handle a cosmopolitan, high pressure environment. Yet you wonder if this summer is really the right time for him to leave Gelsenkirchen for a huge club that's teeming with competition for playing time.
Hiddink takes the FA Cup seriously
It's telling that Guus Hiddink sent out what was pretty much his best XI to face Scunthorpe in the FA Cup. While a run to the top six in the league is not entirely unthinkable and neither is winning the Champions League, winning the FA Cup (or losing to a Champions League-qualified team) remains a viable path into Europe.
The youngsters -- Bertrand Traore, Ruben Loftus-Cheek (who got on the scoresheet) and Kenedy -- all came on in the second half. Assessing whether they can contribute is a big part of Hiddink's job description between now and May. Equally important will be generating some kind of forward momentum and excitement while the club figure out his permanent successor.
Inter defeat no reason for widespread panic
Roberto Mancini was furious after his side conceded the injury time penalty against Sassuolo that condemned them to a shock home defeat. Coupled with wins for Juventus and Napoli, it saw the nerazzurri slip to third on goal difference.
Does it hurt more when you play well and lose or when you play badly and lose? It's an age-old philosophical question. In this case, Inter did enough to win in terms of creating chances, but also conceded more than they should have at the back. You suspect that's part of what annoyed him, as much as the late penalty or the complaining about the referee.
Miranda and Jeison Murillo have been exceptional this year but it was their individual mistakes that led directly to the penalty. Stuff like that can happen, but the key is not to throw the baby out with the bathwater. There have been so many twists and turns in Serie A this season that there's plenty of reason to believe Inter are still firmly in the title race.
Gabriele Marcotti is a senior writer for ESPN FC. Follow him on Twitter @Marcotti.