Michel Platini's FIFA presidential bid should be geared toward real reform
It was nearly a year ago, in Monaco, that Michel Platini announced he would not be challenging for the FIFA presidency.
He said at the time that the people who liked him wanted him to stay at UEFA, and those who hated FIFA president Sepp Blatter wanted him to run. Many read it more cynically and perhaps more accurately: Platini didn't want to run a race he knew he couldn't win, and frankly, at the time, he was a long shot.
But this was before the U.S. Department of Justice indictments, before the dawn raid on the Hotel Baur au Lac, before Chuck Blazer's 180-degree turn and before Blatter himself said he would "return his mandate to the extraordinary [FIFA Congress]."
(To a sane person, the above quote means he has resigned but in the bizarro world inhabited by Blatter, it can mean something entirely different, as we discovered when he went out of his way last month to say that he had not in fact resigned. In any case, even if Blatter out-Blatters himself and contrives a way to run again after everything that has happened in the past 12 months, let alone 18 years, he is far more beatable than he has ever been.)
Platini has announced his plan to run for FIFA president and currently has the support of four of the six confederation heads, which is key. And if the FIFA watchers are to be believed, he apparently is doing so with the blessing of Sheikh Salman bin Ibrahim Al Khalifa, president of the Asian Football Confederation and one of the three main power brokers at next year's election. (The other two? Platini himself and Issa Hayatou, president of the Confederation of African Football.)
That backing essentially places Platini in the driver's seat, ahead of the other candidates (announced or potential), such as Jordan's Prince Ali bin Al Hussein (whom Platini championed in May at the FIFA elections), South Korea's Chung Mong-joon, Liberian FA chairman Musa Bility and Brazilian legend Zico.
But it's far from a foregone conclusion. This is still a highly political world, inhabited by the most inveterate political animals. Sheikh Salman controls an important voting bloc but he represents only a portion of the Asian vote. And he could yet change his mind.
A chunk of UEFA, mostly in the Russian sphere, has long opposed Platini. CAF remains the biggest confederation, and if history is anything to go by, you either work a deal with Hayatou or you don't get its 56 votes. Ripped apart by scandal and a worrying lack of oversight, CONMEBOL and CONCACAF may gravitate toward Platini, but right now, there's no telling whether there will be further arrests and a whole new cast of characters in charge come voting time. As for Oceania and its 11 votes -- the guys Blatter so affectionately called "my Ocean's Eleven" at the Congress -- it's anybody's guess. (My suspicion is that they'll look for another patron who can treat them as well as Blatter did.)
Is this where we all turn cynical and say it's business as usual? Hopefully not, because whatever one may think of Platini (or many of the other candidates, for that matter), it really isn't business as usual.
Platini did not oversee a dysfunctional organization plagued by corruption. He hasn't been accused of getting rich (or looking the other way while others get rich) through football administration. Instead, he has overseen an organization that as part of UEFA's HatTrick programme handed out in excess of half a billion dollars in the past four years to member nations, with no controversy and accusations of impropriety.
Compare and contrast, if you will, with FIFA's Goal Project. FIFA's version has a better name, but there is no comparison in terms of the scale of development funds, the oversight and how much of each dollar paid out gets to its destination.
There will be time to evaluate Platini and the other candidates ahead of the election on Feb. 26, 2016. He'll have questions to answer and he ought to be prepared on everything from why he voted for Qatar 2022 to his support of Blatter before 2011 to his opposition to technology in the game at various times.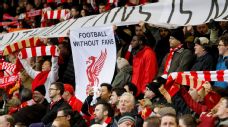 The biggest challenge, at least as far as public opinion is concerned, will be addressing the accusation that he's still an insider despite his track record for honesty. Prince Ali got his shot in early on Wednesday, saying that Platini "wasn't good" for FIFA and that the organization needed a clean break from the past.
It's true that Platini has been a FIFA executive committee member since 2002. But it's equally true that simply having been elected by your confederation to represent it at FIFA ought not to be some kind of scarlet letter. Otherwise, we end up engaging in unhelpful demagoguery. (By that I mean, why stop there? Why not ban everyone who has ever served on any FIFA committee? Or any FA that has ever voted in a FIFA presidential election? They're all part of the process, aren't they?)
Ultimately, what matters more than public opinion is what the 209 FIFA members think, particularly those who rely on the development grants that Blatter kept flowing all these years.
That said, there are a number of things Platini can do to reassure the skeptics. In his letter to the FIFA members, he talked about the importance of turning over a "new leaf."
One good way is to make reform a part of his platform. Not generic white noise about change, but specific actions, like all those "good governance" recommendations contained in the report of Mark Pieth, former chairman of FIFA's independent governance committee. Stuff like term limits for FIFA committee members (and of course the president himself); further transparency in awarding development money; having executive committee members vetted by both the confederations and by an independent body; and publishing in full the Garcia report, the investigation into World Cup 2018 and 2022 bidding. Make it part of your platform and promise to pass all those reforms in the first year of your presidency. And if you don't manage to do it, have the guts to resign.
That alone would be a jolt to the system and show folks you are serious. Should something go wrong, it would also ensure that the much-needed reforms are finally passed so that it will be that much more difficult for someone to turn FIFA into a personal fiefdom down the road.
As things stand, in terms of FIFA's image, just about anybody not named Sepp would be an upgrade. That applies to Platini, Prince Ali and Zico; heck, even David Ginola would be considered an improvement, should he and his bookmaker backers emerge again.
That's the good news. The bad news is that it won't mean much unless FIFA's governance is structurally altered with the kind of checks, balances and oversight that exist (or should exist) in any governing body.
From here on out, that's how the debate over the FIFA presidency ought to be defined: by who can most credibly deliver the reforms that are needed.
Gabriele Marcotti is a senior writer for ESPN FC. Follow him on Twitter @Marcotti.