Louis van Gaal's 'meltdown' proves he needs support at Manchester United
The unfolding mess at Manchester United is the perfect example of how and where the lack of counterweights and proliferation of yes-men hurts the club.
At some point between Sunday afternoon and Tuesday morning, Louis van Gaal must have cooked up the plan to respond to "Big" Sam Allardyce. He will have planned his little speech, told the club's communications staff and deputized the nerds in the analytics department to pull the data differentiating mere "long passes" from "long passes" that go forward or sideways or whatever.
That's when somebody could have stepped up and told him that this was a really, really bad idea. One that would bring no benefit whatsoever to the club and not much benefit to Van Gaal, either. On the contrary, if it backfired (and, eventually, it did), it would simply make the United manager seem silly and deluded.
Evidently, that didn't happen. Van Gaal went on his "long-ball" symposium and nobody stopped him. And the initial upshot is that he now makes most people's top 10s of "managerial meltdowns," right there alongside Rafa Benitez and his famous "facts on a napkin" news conference in 2009.
Never mind (for now) the merit of what Van Gaal was saying on Tuesday, or indeed what Rafa was saying back then. English football has certain very specific rituals for how you get your point across to the public. You can toss a little barb out there after a game, preferably with a chuckle and a giggle like Big Sam did. Or you can plant a story, complete with stats and numbers, via your communications people or a friendly journalist with a mainstream outlet. Certain clubs do this all the time.
But when you do this in a news conference and single out a specific adversary, there's usually only one outcome: the media define it as a "meltdown." It's so far beyond the realm of what journalists expect that they don't dwell on the message but focus instead on the medium.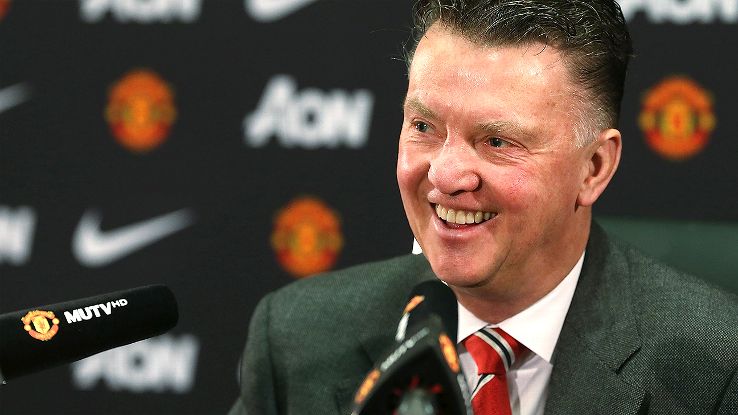 The same thing happened to Benitez and his speech. Nobody looked at the substance; they just wrote it off as Rafa losing his marbles. And when Liverpool failed to win the title, they cleverly pinpointed that January speech as the day the Premier League slipped away from him.
(To further illustrate the point about medium vs, message is the fact that the numbers say otherwise. When Benitez delivered the speech, Liverpool had 45 points from 20 games. They would go on to win 41 in their next 18, which is marginally better, and that run would include a 4-1 win at Old Trafford. Man United did win the title, of course, thanks in part to an incredible run of nine straight Premier League wins. But the idea that the "facts" speech somehow caused Liverpool to implode is pure fiction.)
At least Benitez's speech had some definable goal. In his own way and for his own purposes, the Spaniard was trying to highlight some kind of double standard in the way Sir Alex Ferguson was treated by the powers-that-be. He may have been right and he may have been self-serving, but either way there was a tangible objective: to curb Sir Alex's behaviour.
As for Van Gaal, what was the goal here? To prove Allardyce wrong? Really? You're Louis van Gaal, you've won the Champions League, you've won silverware at Ajax, Barcelona and Bayern but you feel the need to go and silence Big Sam? To convince folks that United are a side that play attractive, progressive football?
You're not going to do any of that with A4 sheets of ProZone stats; rather, you're going to do it between minute one and minute 90 every time United step on to the pitch. And frankly, folks have criticized Van Gaal for a number of things this season -- results, unusual formations, curious personnel choices, Ander Herrera not getting a league start since Dec. 2 and Wayne Rooney deployed all over the pitch, to name just a few -- but a failure to try to play progressive football is not one of them.
Nobody who is honest and understands a modicum of the game would fault Van Gaal for sending on Marouane Fellaini with 19 minutes to go and exploiting his aerial prowess against an opponent who is sitting on a lead. That's a rational decision. Comparing yourself to Big Sam and United to a West Ham side who were looking to play on the counter (all the more so after going ahead early in the second half) is not.
All of this points to the fact that Van Gaal is alone -- really alone -- at United. When he was appointed, I wrote about how he might be better off with a director of football figure (he had always worked with one in his previous jobs) rather than simply Ed Woodward and his big chequebook. We've seen the upshot of that in the transfer market: massive overpayment for players, bringing in guys late and acquiring pieces that clearly don't quite fit together. But a senior club figure (someone other than Woodward, who has other stuff to worry about) who could balance out Van Gaal and help him navigate the quirks of the English game would have been helpful, too.
Someone who could have suggested that maybe after an away draw to Cambridge United, it's best not to complain about the pitch and the officiating and the fact that the opposition only focused on defending. Someone who would have advised him to avoid this Big Sam/long-ball business. Someone who understands news cycles.
Man United play again on Wednesday night. Ignoring Big Sam altogether would have denied this "long-ball" story oxygen and, within a few hours, his words would have been forgotten.
Instead, Van Gaal made it into a "thing." And you just had to read about it. And if something goes wrong and United somehow don't finish in the top four this season, it's pretty much guaranteed that some clever clogs out there will point to this supposed "meltdown" as the turning point. Just as they did with Benitez back in 2008-09.
Gabriele Marcotti is a senior writer for ESPN FC. Follow him on Twitter @Marcotti.