A World Cup to remember
RIO DE JANEIRO -- Germany are world champions, but Brazil won its World Cup.
We're talking the country here, not Luiz Felipe Scolari's Selecao, whose spectacular collapse ensures that the terms Barbosa and Maracanazo will be relegated a little bit deeper into the realm of Wikipedia denizens and trivia buffs.
Pre-World Cup scare stories are as predictable as self-contradictory Blatterisms. In this case, the media went to town.
Violent mass protests. Robocop police crushing skulls. Paper mache stadiums collapsing. Airport chaos. Criminals descending from the favelas. Rabid dogs taking their lead from Stephen King's "Cujo." Flesh-eating viruses carried by toaster-sized insects. Heat- and humidity-induced mass hallucinations.
But guess what?
It worked. At the World Cup, 3,429,873 fans watched 64 games largely without incident -- or at least no more than you would expect when that number of people (many of them foreigners) attend football matches, many of which were played in places unused to overseas visitors.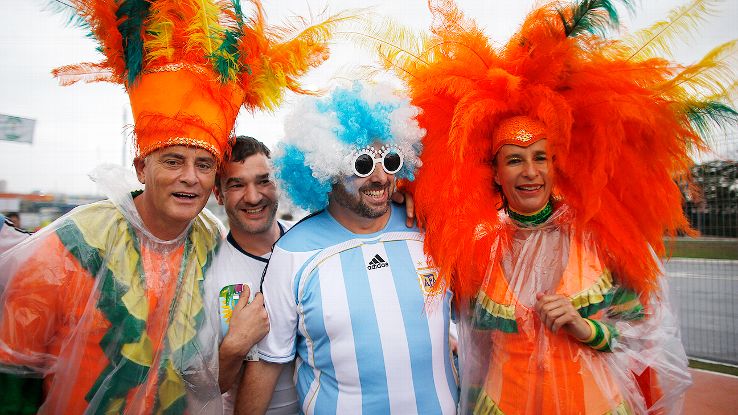 Nor did that other great prophecy of doom come to fruition: that the Selecao's elimination would fuel more violence and protests and barricades on the streets. Frankly, it was condescending and insulting to begin with.
Just as we're past the point where a World Cup-winning campaign makes a nation's problems -- corruption and stunning social inequality above all -- magically disappear, so too is the converse true. Failure on the pitch didn't mean it was suddenly time to voice anger at the country's ills.
They are two separate issues. Both are worth debating, but one is far more important than the other, and only one is worth taking to the streets. You hope that debate will continue to take place, now that the bulk of the world's media has moved on from the tired tale of "how 2014 affects the favela." It's a Brazilian issue, and one for them to resolve.
On with the football. Actually, no, because we need another quick political pitstop -- bear with me. FIFA held its congress last month, and this one mattered a little bit more, what with the results of Michael Garcia's independent investigation into Qatar 2022 looming and the possibility that Sepp Blatter would announce that he would run for a fifth term.
What we got was a mixture of power play and groveling toadyism. The man from the Cuban FA, Luis Hernandez, likened term limits to "discrimination," adding that "nobody is going to take our president away from us." His colleague from Haiti, Yves Jean-Bart, mused that "everything" Blatter has done has been "successful" and that "by every measure" FIFA was "in excellent health." With that kind of premise, if your expectation is change or reform, you'll feel a little bit as if you're waiting for Godot to show up.
The tournament felt different right off the bat, straight from the group stage. There were fewer cards, more goals and a general levelling effect. Pedigreed scalps fell, none more so than reigning defending World Cup and European champions Spain. Forty minutes into their match against Holland, the bottom fell out and the Armada's empire crumbled and ran through Vicente del Bosque's fingers like dust. Italy, Portugal and England, similarly, fell in the first round. They held their own inquests; what was telling is that none of those nations were particularly missed.
What we got instead was a blur of emotions and moments: Robin van Persie's horizontal flight to head past Iker Casillas. Serge Aurier's pounding run and cross for the Ivorian comeback against Japan. Costa Rica's dismantling of Uruguay and then Italy. Karim Benzema's goal-scoring rampage in the first two games. Enner Valencia defying gravity and physics. Lionel Messi teleporting his talent into the games with Bosnia, Iran and Nigeria, just long enough to score, before dematerializing again.
And there was more.
John Brooks' late, late header against Ghana. Belgium seemingly always scoring late and always with substitutes. Jorge Sampaoli's master classes with Chile, proving that tactics and workrate can coexist to create sheer beauty on the pitch. Tim Cahill's volley against the Dutch. Georgios Samaras' late -- and decisive -- penalty against Ivory Coast: highly dubious from one angle, stonewall from another. Ghana coming within minutes of beating Germany. Cristiano Ronaldo -- so often accused of being "me, me, me" -- turning provider to set up the equalizer in the fifth minute of injury time in that rip-roaring 2-2 draw against the United States. Igor Akinfeev making his second mega-blunder of the tournament as Russia left four points on the table and crashed out.
I'm sure there are many more in your own personal trove of memories and, equally, many more I've forgotten.
There was ugliness, too.
Luis Suarez's bite was nasty and the subsequent defence -- that Giorgio Chiellini's shoulder struck him in the mouth -- was straight out of the Lionel Hutz Law School. The punishment inflicted (a four-month ban from football and a nine-game international suspension) was severe and unprecedented enough to leave you wondering whether a player of a lesser profile would be treated this harshly.
More than 100 ticketless Chile fans tried to force their way into the Maracana by bull-rushing the stadium's media center. It could have been very dangerous but it ended up being nonviolent and somewhat sad. The Maracana media center is a prefab structure in the stadium's underground parking facility. After ripping through the plywood barriers, they ran -- literally -- into a brick wall with no way out.
Ghana's bonus dispute -- "Pay us now, pay us in cash!" -- was unpleasant enough; seeing John Boye kiss a wad of bills was downright depressing.
The round of 16 -- for quality and drama -- was perhaps the best of the tournament. Every game was close, every winner was justified.
Chile battled Brazil to a standstill and less than an inch separated Mauricio Pinilla from making history (which, upon reflection, might have been a better outcome for the Selecao, because they would never have been subjected to what happened against Germany in Belo Horizonte.)
James Rodriguez cemented his credentials as player of the tournament with a stunning volley over Uruguay while Hector Herrera's El Tri -- powered by the miracles of Memo Ochoa -- let victory slip away against the determined Dutch following a Rafa Marquez tackle and penalty that will be discussed for years to come. Greece found an injury-time miracle to extend their game against Costa Rica, but eventually succumbed from the spot against the 10-man Ticos, while Vincent Enyeama found his kryptonite at the wrong time against Les Bleus, in a match marked by the worst tackle of the World Cup (Blaise Matuidi on Eddy Onazi).
It didn't end there.
Algeria, unfancied by all, gave Germany the fright of their lives -- and forced Jogi Low to reshuffle his team -- while Tim Howard's paradigm-busting defence of Jurgen Klinsmann's Alamo against Belgium will live on in World Cup lore. Messi's assist for Angel Di Maria saved Argentina from a penalty shootout against Switzerland, who will forever wonder what Josip Drmic was thinking when he was through one-on-one with Sergio Romero.
Screws tightened, as you'd expect, in the quarterfinals. A revamped, safety-first Germany dispatched a tame France thanks to Mats Hummels' prodigious header. Gonzalo Higuain also scored early and Argentina locked the door, shutting out Belgium. Los Ticos pushed the Dutch all the way to penalty kicks, where Louis van Gaal made World Cup history, replacing his goalkeeper. Tim Krul for Jasper Cillessen was likely more about psychology than science: Either way, it provided the cruelest of endings for Costa Rica.
Then there was the slugfest nobody wants to recall, Brazil's 2-1 win over Colombia, a clash that degenerated into a violent manhunt and saw Carlos Velasco Carballo -- an otherwise experienced top referee -- lose control, possibly in an attempt to follow directives (manage the game; use cards only as a last resort) for which he was clearly unsuited. When the dust settled, James Rodriguez, the tournament's outstanding individual, was left battered and his country, Colombia, heartbroken. Brazil, meanwhile, advanced but fared just as badly: Camilo Zuniga had broken Neymar's vertebra and, with it, a fair chunk of the Selecao's hopes.
Argentina and the Netherlands went to penalties in a semifinal that ultimately saw Van Gaal's tactical "smoke and mirrors" act -- squeezing every last ounce of potential out of a seriously flawed 23 -- come up short, possibly because he was up against Javier Mascherano, "El Jefecito," himself a sharp tactician, only on the pitch, rather than the sidelines. Mascherano was also head cheerleader. When he grabbed Romero just before the penalty sequence and said, "You are going to make history now," it was straight out of Hollywood. Romero did just that and more than 100,000 Argentines set the GPS for Rio de Janeiro.
The other semi deserves a book on its own and, doubtless, many will be written. So let's stick to the facts: Germany and Brazil made a trip to some kind of parallel universe. The Germans returned but the Selecao have been there ever since, in an alternate reality hell where you really can concede four goals in six minutes and you really can be 5-0 down at home inside half an hour.
It was several cosmic degrees bigger than the Maracanazo of 1950. Mineirazo? Or does that not fully capture the horror? As far as Brazilian football is concerned, it will serve as a Kennedy moment: Nobody will forget where they were and what they were doing when it happened.
After the nuisance of the third-place playoff, Germany and Argentina gave us a final that was entertaining, dramatic and captivating, though not epic in the way the rest of the tournament had been. Nothing wrong with that. The winner was scored by a baby-faced substitute coming off -- by his own admission -- the most difficult year of his career (and he's been a professional for only four seasons). The victory capped a decade-long project for Low, a path marked by far too many painful stumbles while in sight of the finish line.
Argentina exited with heads held high.
"We Argentines often think we're better than we really are ... this is a great result. I'm not going to say that trying hard and giving your all is the most important thing, because it's not. But it's still important, and we did just that," Argentina coach Alejandro Sabella said afterward. With a half-fit Messi -- who vomited on the Maracana pitch -- and a blue-collar supporting cast, it's hard to contradict him.
The most deserving nation was crowned champion of the world. Football returned to its spiritual home after a 64-year absence and was greeted with warmth and passion, but also professionalism and organization. The ugliness remained at tolerable levels; the beauty, excitement and entertainment soared to new highs.
The nation of Brazil far outperformed the national side of Brazil, and that may be the enduring legacy of this World Cup. We were treated to quite a show.
Over to you, Russia. You have one tough act to follow.
Gabriele Marcotti is a senior writer for ESPN FC. Follow him on Twitter @Marcotti.