Live from New York, it's Man City Jr.!
Editor's Note: This is the first in an occasional series by ESPN FC columnist David Hirshey, a lifelong NYC soccer fan who covered the New York Cosmos beat. David will follow the creation and trajectory of the newest Major League Soccer team, New York City FC, offering his fan's perspective on the fledgling club throughout its maiden season in 2015.
Remember those heady days of NYCFC fandom when we were all sure the newly minted MLS franchise was going to be the Cosmos plus the Yankees plus the Old Knicks plus Studio 54, only with twice the supermodels?
From June to November, there was so much buzz around the club that you'd be forgiven for thinking they'd somehow already run through the league undefeated and possibly won the World Cup, too. It was a golden era in U.S. soccer, one that started with so much promise, it almost makes me nostalgic.
First, they signed the great Spanish striker David Villa, who at 31 was some four or five years younger than the usual international gunslinger MLS was once so hot to recruit. Then they added Frank Lampard, whose name and fame had the kind of mega-wattage that psychologically shaved half a decade off his 36 years. Even a lifelong Arsenal fan like myself had a begrudging respect for "Fat Frank," and as long as he promised never to allow John Terry anywhere near my beloved New York City, I was excited by the prospect of watching him carve up the opposition (not to mention the infield) at Yankee Stadium.
Villa and Lampard. Between them, they have won two Champions League titles, a European Championship and a World Cup! For a fan like me who has been wandering for thirty years in the post-Cosmos valley of death that was New York's professional soccer landscape (sorry, Red Bulls), this was nirvana, the chance to regularly see a high-grade team playing within a 20-minute subway ride of my apartment.
It was almost too good to be true.
When I told my friends that I had become a proud season-ticket holder of NYCFC, they regarded me with the type of bemused looks that one saves for a Spurs fan. You know: an idiot. How could a hard-core Gooner align himself with a team that was funded by Sheikh Mansour, owner of one of Arsenal's main rivals, Manchester City, and whose mantra since buying the club has been "whoever pays the most, wins?"
I'll admit to a soupcon of queasiness about the close association with the cash-drenched arrivistes. In their ongoing quest for world domination, Manchester City have won two of the past three Premier League titles while serving as the gleaming hood ornament for Financial Fair Play. Plus, anyone who gainfully employs Samir Nasri has no place in my Arsenal-besotted heart.
But NYCFC would be a totally different proposition. Sure, there would be some synergy between the clubs, but the New York team would have its own separate, distinctive identity. Man City's chief executive Ferran Soriano said so himself during his stirring Declaration of Soccer Independence address at the club's launch last May.
"This is not a Manchester City team or a brand play or a marketing trick," he assured the fans and assembled media. "This is about building an authentic New York team."
It wasn't until I attended yet another NYCFC dog-and-pony show in November that I realized how credulous I had been. The club had issued an open invitation to its charter season-ticket holders for the grand unveiling of the team's official jersey. The invitation proclaimed "All Will Be Revealed" at Terminal 5, a music venue in Hell's Kitchen. So there I stood, amid hundreds of my fellow pre-bandwagon jumpers, as a larger-than-life jersey descended from the ceiling, accompanied by the usual pyrotechnics for over-hyped publicity events: blaring music, colorful streamers and theatrical clouds of smoke.
I wish I could report that I had recognized the swirling fog around the jersey as an allegorical smokescreen for Man City's real intentions but like the rest of the season ticket holders, I was blinded by the haze of glitz and glamour of the A-list signings. When the smoke cleared, however, I did glimpse a hint of NYCFC's so-called "autonomy."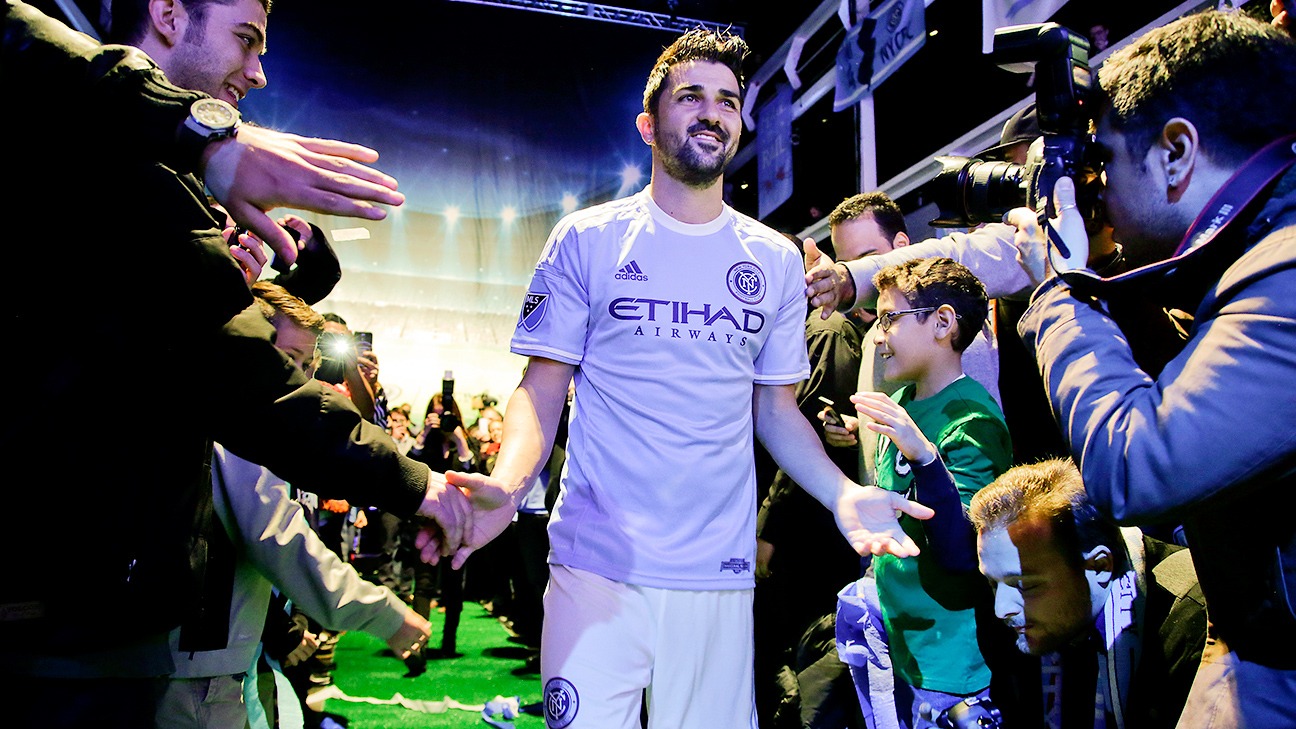 The shirt they unveiled that day was almost an exact replica of the one worn by Manchester City -- right down to its pale-blue color and the name of its sponsor, Etihad, emblazoned across the front. Only the logo was different, with the Manchester City crest swapped out for the NYCFC badge.
How was this, as Soriano had pledged, representative of an "authentic New York team?" Where was the signature detail of the city skyline or some other nuance that suggested the diversity and vibrancy of the nation's greatest melting pot? No; all the grandiose promises of New York's separation from its parent club were nothing more than craven pandering to the city's soccer fans, who were desperately hoping for a relevant team to call their own.
From choosing the big-name players to "designing" the uniform to deciding what kind of spoon would be used to scoop the caviar in the corporate suites at Yankee Stadium, this was strictly a cloning operation by Man City. The only surprise (thus far) is that they haven't gotten the Yankees, their minority partner, to agree to paint all the seats sky blue.
In other words, welcome to Manchester City Jr. -- at least that's a more honest and less clunky name than the alphabet soup that is NYCFC, which I now realize stands for "Not Your City's Football Club."
There was also another missing element in the parade of faux authenticity at Terminal 5: Frank Lampard. Why wasn't he up on the stage alongside a kitted-out David Villa? That question was soon answered when the lights were dimmed and up popped Super Frank on the big screen. He was wearing a NYCFC sweatshirt and was being beamed into the hall from Man City Sr.'s training ground, where he was ostensibly staying in shape and making the occasional cameo with the defending champions until he reported to preseason training on Jan. 1.
"This is one of our most exciting days so far," Lampard exclaimed, using the royal "our" to underline his fealty to the FC family. "I wish I could be there today with you, but I'm proud I can be a part of this milestone."
A few scattered cheers went up, mostly from men and women decked out in Chelsea shirts bearing Lampard's name and the iconic No. 8 on the back. But the overall reaction to his video message was oddly muted. There seemed a palpable sense of disappointment among the fans that their hero wasn't there in the flesh to celebrate this historic occasion. As it turned out, of course, it wouldn't be the only "milestone" Lampard would miss. Six weeks later, Man City announced that they had extended the midfielder's contract until the end of the Premier League campaign -- or three months into the MLS season.
It's hard to lay the blame for this farce at Lampard's cultured feet. Who can blame him for wanting to remain on the big stage for as long as possible before Father Time scythes him down? If the choice is between being part of a team vying for the Premier League title (how sweet would it be if he scored the goal that denied Chelsea the championship?) while making a run in the Champions League versus playing some warm-up games with David Villa and a collection of MLS retreads and enthusiastic college draft choices, which door would you pick? In that sense, he is no different from any other creaky-kneed superstar on the planet looking to extend his career at the highest level (see: David Beckham, Thierry Henry and Liverpool's current Captain Fantastic, Steven Gerrard).
Lampard always believed he still had some big game mojo left in those bionic legs when Jose Mourinho deemed him expendable after 13 remarkable seasons as Chelsea's midfield heartbeat. And few players had more exquisite timing, whether ghosting into the box to score one of his 205 goals for club and country or knowing how much punishment his aging body could take and resting it accordingly.
Small wonder, then, that when his contract ran out at Chelsea, he had "other options in the Premier League and Europe" before deciding that New York "ticked all the boxes."
But that sound bite sounds slightly disingenuous in light of what we now know about his contract situation. He was never actually an "authentic" NYCFC player but simply one who paid noble lip service to his commitment to the cause.
If there is a bait and switch here, it is Man City who have been guilty of fostering the illusion of Lampard's contractual ties to New York. City's urbane manager, Manuel Pellegrini, has certainly done his part to maintain the ruse by constantly bleating that the club has been trying to come to some sort of "agreement" with NYCFC and MLS to extend Lampard's stay in Manchester until ... I believe the legal term is "until they damn well please."
That is the Faustian bargain MLS has made: a loss of dignity and alienation of the NYCFC fan base in exchange for the massive financial resources City bring to the party. If the devilish deal works, then NYCFC may finally capture the hearts, minds and wallets of the New York soccer fan. But for now, the needle on the bitter-o-meter among those supporters who bought their season tickets expecting to be cheering for Lampard in March will only keep going up over the next five months if he continues to chip in goals and assists for City.
On the other hand, we're not talking about Lionel Messi or Cristiano Ronaldo here, and I'm sure there's a sizable block of people like me whose sole reason for choosing to support Man City Jr. went beyond the celebrity sizzle of Broadway Frank Lampard. We've been searching for a team in which to invest emotionally and financially; we don't want to ogle one marquee player nearing the end of his career.
Moreover, New York soccer history shows that simply boasting one or two aging superstars is no guarantee of success; witness the failure of such demi-gods as Roberto Donadoni and Lothar Matthaus, and an actual deity like Thierry Henry, to bring home genuine silverware to the MetroStars and Red Bulls. To galvanize a fan base as demanding as New York, where the sepia-toned wonder years of the Cosmos still cast a forbidding shadow, you need to do two things: put on an entertaining show and win.
It's possible that if Claudio Reyna and Jason Kreis, two of the best American soccer brains of their generation, can mold NYCFC into a dynamic blend of firmament-fading stars and young skillful players, all will be forgiven. It's even conceivable that people will be asking, "Frank Who?" during the ticker tape parade down Wall Street's canyon of heroes. But if you think there was a public outcry over the Lampard fiasco, wait until you see the uproar if Manchester City Jr. fails to perform on the field.
In the meantime, you can now buy a $28 Frank Lampard T-shirt for the bargain price of $12.98 on the club's website. Or you can wait until July, when they'll no doubt be free.
David Hirshey is an ESPN FC columnist. He has been covering soccer for more than 30 years and written about it for The New York Times and Deadspin.