Burning Premier League questions
It's finally here. The last day when we're all on equal terms and every fan's dream of Premier League glory remains alive until a ball is kicked in anger and Spurs collapse into their usual mewling mess.
Sometimes I think it would be more fun to just keep talking about the season than playing it, but then I remember the life-affirming sight in May of thousands of jubilant Manchester City fans invading the Etihad pitch to hug their title-winning heroes and try to touch Manuel Pellegrini's magnificent silver mane to see if it was real.
- Gabriele Marcotti: Prem season storylines
- Miguel Delaney: Top seven tighter than ever
- Ian Darke: Evaluating the title contenders
- ESPN FC: Whose kit is the most valuable?
Sure, there was some soccer in the interim -- a tournament in Brazil that England passed through as swiftly as you wish your unwelcome mother-in-law would, and let's not downplay the two most coveted trophies, the FA Cup and Community Shield -- that a certain North London team gorged on after eight years of silverware famine.
Still, hope abounds -- even at Stoke City -- and the upcoming Prem season promises to be as entertaining as any. Now that Sir Alex Ferguson's Chosen One has been mercifully put out of his misery and everybody's favorite masticating Uruguayan is off to learn the Catalan words for "chew toy," we can turn our attention to a new, rich panoply of characters who have replaced them in the latest iteration of the long-running soap opera, "As the EPL Turns," featuring Louis "The Iron Tulip" van Gaal, Roy "Stick it up your bollocks" Keane and Glenn "Sins from a past existence are burdensome" Hoddle.
In support of this new cast is a dizzying "Webb" of storylines, ranging from referees who will get to indulge their inner Jackson Pollock armed with canisters of vanishing spray to twitchy owners who could make certain managers (we're looking at you, Paul Lambert and Sam Allardyce) invisible by Christmas.
So get set for lots of anguish, bluster and wishful thinking -- and that just describes Manchester United.
There are, to be sure, other burning issues that need to be addressed before you order your first 2014-2015 Premier League pint at 8:30 a.m. -- yes, I know United kicks off against Swansea at 7:45 on Saturday but I find it helps to coat your stomach with a healthy breakfast of eggs, sausage, bacon and hash browns before the inevitable hops, yeast and barley tsunami. While you figure out how to justify your liquid diet on Saturday, here are some additional thoughts to get that digestive tract pumping.
How will Jose Mourinho handle Louis van Gaal's need for attention?
There may be no more compelling storyline this season than the clash of these needy titans, both of whom require a constant IV of adulation to survive. The pair make Ferguson and Arsene Wenger look like a couple of self-effacing wallflowers.
Most of humanity eventually tires of the same accolades, but not the Special Ones, who continue to bathe in a pool of warm self-regard, either individually or together. Their mutual narcissism goes back to 1997, when the Dutchman was hired to coach Barcelona and met former manager Bobby Robson's interpreter. Since the language of self-love needs no translation, van Gaal recognized a kindred spirit and kept Mourinho on as his assistant, even permitting the budding egoist to coach Barcelona in friendly matches.
Eventually, their differences in soccer philosophy -- van Gaal emphasizes winning with attacking verve while Mourinho just cares about winning -- meant they would go their separate ways. But now, 17 years later, young Skywalker is in the same league as his Obi-Wan.
Staying true to his muse, Mourinho couldn't resist rolling the first verbal grenade under King Louis' throne. After the Dutchman signed 19-year-old defender Luke Shaw from Southampton for an eye-popping $44 million and a PSG-worthy weekly salary reportedly around $200,000, Chelsea's manager jabbed that "signing Luke Shaw [for that kind of money] would have killed the stability in our dressing room."
The Rembrandtian master of repartee, van Gaal, deftly sidestepped the contretemps by simply saying he would take Junior aside to have a quiet word with him, continuing his MO of treating the media with a Fergie-like contempt, as he famously responded to one journalist's intemperate question with: "Am I so smart or are you so stupid?"
Van Gaal saves his charm offensive for his star players -- in United's case, his fellow Dutchman Robin van Persie and seemingly re-energized new captain Wayne Rooney. Besides, when your best preseason player is Ashley Young, a veteran of the verbal wars knows when to bunker down.
While van Gaal humpty-dumpties what David Moyes left behind and imposes his favored 3-4-2-1 formation on a squad that might not yet fit it, Chelsea has reloaded in the way that Mourinho likes with steel and toughness allied to finesse and speed. If Diego Costa turns out to be the player who terrorized La Liga defenses and not the apparition who expedited Spain's exit from the World Cup, it's van Gaal who might have to take the back seat in Mourinho's adoration bus.
Are 2014-15 Liverpool just 2013-14 Spurs in disguise?
To his credit, Brendan Rodgers did not spend the summer sulking and scouring the earth for a new Luis Suarez, probably because he knows there likely isn't one. Rather, the Liverpool manager brought in eight new faces to try to make the Anfield faithful forget about his star striker, who chomped off to Barcelona for about $4 millon per tooth.
If Rodgers needs a primer on what not to do when replacing your best player with a bevy of new ones, all he has to do is dial the receptionist at Zenit St. Petersburg and ask for a fellow by the name of Andre Villas-Boas. AVB was so sideswiped by losing Gareth Bale to the other Spanish juggernaut, Real Madrid, that the Coach Relocation Program rescued him from White Hart Lane.
Not even the most deluded Red -- Hi, LeBron! -- would argue that Liverpool will not miss Suarez's inventiveness, penetration and 31 league goals that carried them to within a Stevie G pratfall of winning their first Prem title. But some, most notably Rodgers, don't believe that this $150 million splurge to fill the Suarez-shaped crater in his lineup is akin to Tottenham's desperate transfer business last season.
"It's a different vision we have here," he harrumphed earlier this summer. "At Liverpool there's a strategy behind what we are doing."
Well, that would explain Spurs' collapse, then.
Part of the Rodgers blueprint was to stage a midnight raid on St. Mary's Stadium and extract any Southampton player whose last name began with an L as Adam Lallana, Rickie Lambert and Dejan Lovren all moved over to AnfieLd. The first two should provide much-needed creativity and cutting edge in attack, which with Suarez gone was in danger of being over-reliant on Daniel Sturridge and Raheem Sterling (what's with Liverpool's obsession with alliteration?). Lovren finally gives the Reds a commanding presence in the center of their defense.
Rodgers will need all of his new toys given that unlike last season, Liverpool will not have the luxury of simply focusing on challenging for the title. Their second-place finish finally returned the Reds to the Champions League, delighting owner John Henry and the rest of the fan base but further stretching their resources.
The irony is that with the added squad depth, Liverpool has the potential to advance to the final eight of the CL while finding themselves in a mighty scrap with Everton and United for fourth place in the Prem. The combination of more high-intensity fixtures, an improved band of Toffees across town and a canny Dutchman rather than a clueless Scot guiding his fiercest rivals could well lead to some sleepless nights in the Rodgers home.
But if it all gets to be a little too much, I'm sure AVB will be gone by mid-March and Zenit will be looking for another manager with Premier League experience.
Can City cash in again?
There are only two teams that have managed to repeat as champion in the 22-year history of the Premier League, but neither Manchester United nor Chelsea have quite the heartwarming tale as City. This is a club that through sheer dedication, commitment and the unstinting belief of a hard-working, lifelong City supporter who was willing to dip deeply into his savings account to make ends meet, achieved their second title in three seasons after 36 years of living in the full-eclipse shadow of their crosstown rivals.
Oh, wait, that's not quite right. It turns out that City's owner is actually a Middle Eastern sheik who had never stepped foot in the Etihad before buying the club just shy of six years ago and subsequently spending billions to assemble the most expensive squad known to mankind.
But is that so wrong?
It is, according to noted scrooge Arsene Wenger, who recently got his sleeping bag parka in a twist at what he perceives to be City laughing in the face of financial fair play. Wenger believes that City bought an MLS franchise (NYCFC) for $100 million in order to sign aging legends such as Chelsea's Frank Lampard on a "free," not to mention giving French international Bacary Sagna some Luke Shaw money at a weekly salary of about $190,000 to lure him away from Arsenal.
Wenger and others can whine all they want about City's notion of competitive integrity, but the moaning and UEFA's FFP sanctions don't change the fact that they were the best team in the league last time around and are even stronger this season. In addition to Sagna, who is versatile enough to play wing-back on either side and deputize in the middle if need be, City further strengthened their defense by spending actual money (some $60 million) on Porto center-back Eliaquim Mangala to partner captain and own-goal specialist Vincent Kompany.
There was hardly a need to bolster an attack that accounted for 102 goals, only one short of Chelsea's Prem record set in 2010. City's speed on the counterattack obliterated opponents (they scored five or more goals a remarkable six times in league play) and boasted three players -- Sergio Aguero, Edin Dzeko and Yaya Toure -- with at least 15 goals apiece.
The concerns for Pellegrini are Aguero's loss of form and Toure's sensitive mental state. Of the two, it's the Ivorian who must be monitored after last season's tantrum over City not celebrating his most recent birthday with the kind of weeklong tribute he believed he deserved. Given their owner's grand ambition of winning the Champions League, Toure needs to be hungry for more than a second helping of cake. And there have been worrying signs -- a lackluster World Cup and an indifferent performance in the Community Shield -- that Toure hasn't yet rediscovered his appetite for more silverware.
If that continues to be the case, the song echoing around the Etihad this season may not be "Happy Birthday, Yaya."
What are Aston Villa thinking?
It's common knowledge that Villa's American owner, Randy Lerner, has lost his enthusiasm for flushing millions down the Prem sinkhole, but does he have to drag down the league's standards in the process? How else do you explain the summer signing of Philippe Senderos? This is the ultimate cynical piece of transfer business: a free signing who could cost Villa millions in lost revenue if they're relegated -- which, frankly, is not a bad bet.
Let's put it this way: If you were to rank the performances of all the center-backs at the most recent World Cup, you might get a lively mix of opinion as to who was the best -- some would say Mats Hummels, others Ezequiel Garay and still others might plump for Thiago Silva -- but there would be a clear consensus as to the worst.
Senderos would win in a walk, which was slightly faster than the speed at which he moved in Brazil. You need to look no further than Switzerland's first game against France, which I got to witness from a seat five rows behind the Swiss bench. At the sight of Senderos' gleaming dome and lumbering gait on the touchline, preparing to replace an injured Swiss defender within the first 10 minutes, I couldn't help but notice that the Swiss fans sitting next to me were booing. One even shook a cow bell to voice his displeasure.
The reaction on the field was decidedly more positive. French striker Olivier Giroud experienced an almost Pavlovian response: Think a rottweiler spying a piece of raw meat. Within minutes, Giroud -- not exactly the most mobile soccer player who ever lived -- was turning Senderos this way and that until he became so vertiginous that he whiffed on a goalmouth clearance, allowing Karim Benzema to blast the ball in the back of the net.
For fans of Arsenal and Fulham, two of the clubs Senderos washed out of, this evoked painful memories of his time "defending" against the likes of Didier Drogba, who only recently removed him from his back pocket. So you have to wonder if Lerner was playing some sort of cosmic joke on his manager, Paul Lambert, when he deemed the Swiss centre-back an upgrade on Villa's woeful defense. Or has he simply given the club's fans grounds to charge him with bringing the game into disrepute?
Is it too early to concede the league to Arsenal?
No matter how you view it, opening day is going to be a letdown for Arsenal fans. Pummeling a stunned Crystal Palace on Tony Pulis Pulled the Plug Day isn't going to engender the same heady feelings as my Gunners' past two trophy-winning matches at Emirates North (also known as Wembley Stadium). Sadly, there can be no three-peat on Saturday, no chance of adding any silverware to our recent haul of the FA Cup and Community Shield. Maybe Palace would agree to a "losing team has to wear 1970s short shorts" to give Arsenal some incentive.
If I sound a tad giddy, that's because I believe this is Arsenal's year. Seriously. Even though the Gunners rented out the Prem penthouse for 128 days last season, I never thought they could win the league with a strike force consisting of Olivier Giroud, Yaya Sanogo, Nicklas Bendtner and the guy who sells meat pies on Holloway Road. But ever since Wenger came down to earth after being drenched in champagne and tossed in the air following the FA Cup win, a bit of the old Gallic swagger has returned.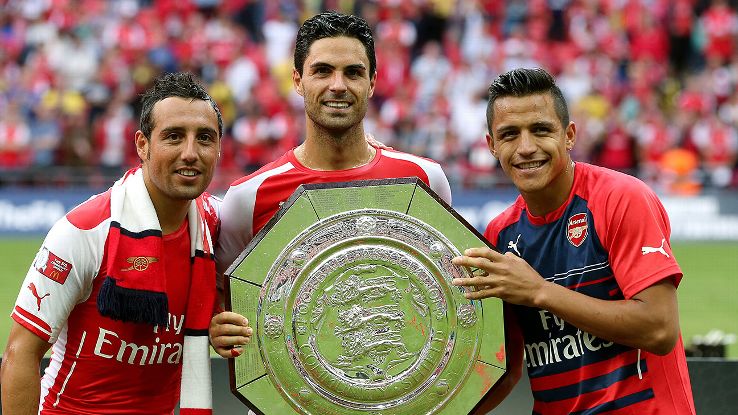 Rather than his usual dithering until the last possible second before the transfer window slammed down on him like a guillotine, Wenger bought early and decisively, bringing in three players to fill the gaps left by Sagna, Thomas Vermaelen and Thierry Henry. (Yes, I know it's been a few years since Titi last tore down Arsenal's left wing, the inside-left channel, the center of the field or wherever the hell he pleased, but there really has been nobody with his kind of electric attacking talent since.)
In Alexis Sanchez, Wenger has found the pacy, hard-charging finisher he thought Theo Walcott would be. But unlike Baby Fragile, the brawny, compact Chilean is difficult to knock off the ball and onto the training table.
Best of all, with Sanchez and eventually Walcott (shockingly, he is out injured) ahead of him, Mezut Ozil -- that's World Cup champion Mezut Ozil to you -- should finally become consistently relevant. Few Arsenal fans doubt the German's gift for the killer pass, but last season that talent was clearly on sabbatical. And let's face it, while Giroud and Sanogo are inviting targets due to their size, they have neither the speed nor wit respectively to bring out the best in Ozil.
If Aaron Ramsey can replicate even a soupçon of his world-class form last season and Jack Wilshere can stay fit and nicotine-free, Arsenal should boss the middle of the park against most opponents.
A man can dream, can't he?
David Hirshey is an ESPN FC columnist. He has been covering soccer for more than 30 years and written about it for The New York Times and Deadspin.