Lessons learned in the quarterfinals
Sometimes, like all great works of art, the beautiful game has to go through an ugly stretch before it can achieve true gorgeousness. OK, so the quarterfinals this past weekend were not the thrilling, wild rides we'd come to expect based on the mayhem of the group stages and the round of 16. As the stakes ratcheted up and the fun went down, they were replaced by a grim determination to climb those final "two steps to heaven," as Brazil coach Luiz Felipe Scolari likes to refer to his team's mission.
But having struggled through the tournament's awkward, pimply teen phase, the semifinals now look mighty tasty, with four of soccer's most pedigreed heavyweights, two from South America and two from Europe, hoping not to stumble on their way up to the celestial podium to lift the Cup.
Neymar's injury was an accident waiting to happen
As the Brazilian poster boy for this World Cup, Neymar had carried the hopes of 200 million countrymen on his back. It is the kind of impossible pressure that would buckle most mortals, let alone a 22-year-old whose build is only slightly more formidable than Victoria Beckham's. Yet through five games, Neymar not only held up under the weight of expectations, he flourished, scoring four goals while personifying what may be the last vestige of Brazil's inimitable samba-style soccer. Which is why the broken vertebra he suffered Saturday against Colombia is all the more ironic. And tragic.
Yes, it was the direct result of Juan Camilo Zuniga ramming his knee at high speed into Neymar's back in the 87th minute. But the bone-rattling tone was set 77 minutes earlier -- see: David Luiz barging into Juan Cuadrado from behind -- and would escalate into 54 fouls (31 of them by the Selecao). For that, Brazil has only itself to blame -- along with referee Carlos Velasco Carballo. Meek or near-sighted or both, Carballo badly misjudged the level of competitive fury on the field and handed out a mere four yellow cards.
The game with Colombia was always going to be fraught, even more so than Brazil's preceding matches with Mexico and Chile, both of whom took the Selecao to the limit and forced them to abandon jogo bonito for jogo by any means necessary. Under Scolari, Brazil scrapped, hacked, elbowed and shirt-pulled their way into the quarterfinals, playing a rugged, long-ball game that would make Sam Allardyce proud. Only when Neymar took off on one of his pulse-quickening runs through the heart of an opposing defense did this Brazil resemble the Brazil of yore.
Now came Colombia, a young, dynamic team who possessed in James Rodriguez the breakout star of the tournament; his five goals before the quarterfinal, featuring a ridiculous swiveling screamer of a volley against Uruguay, were the most to that point in this World Cup. Scolari knew: As J-Rod goes, so goes Colombia.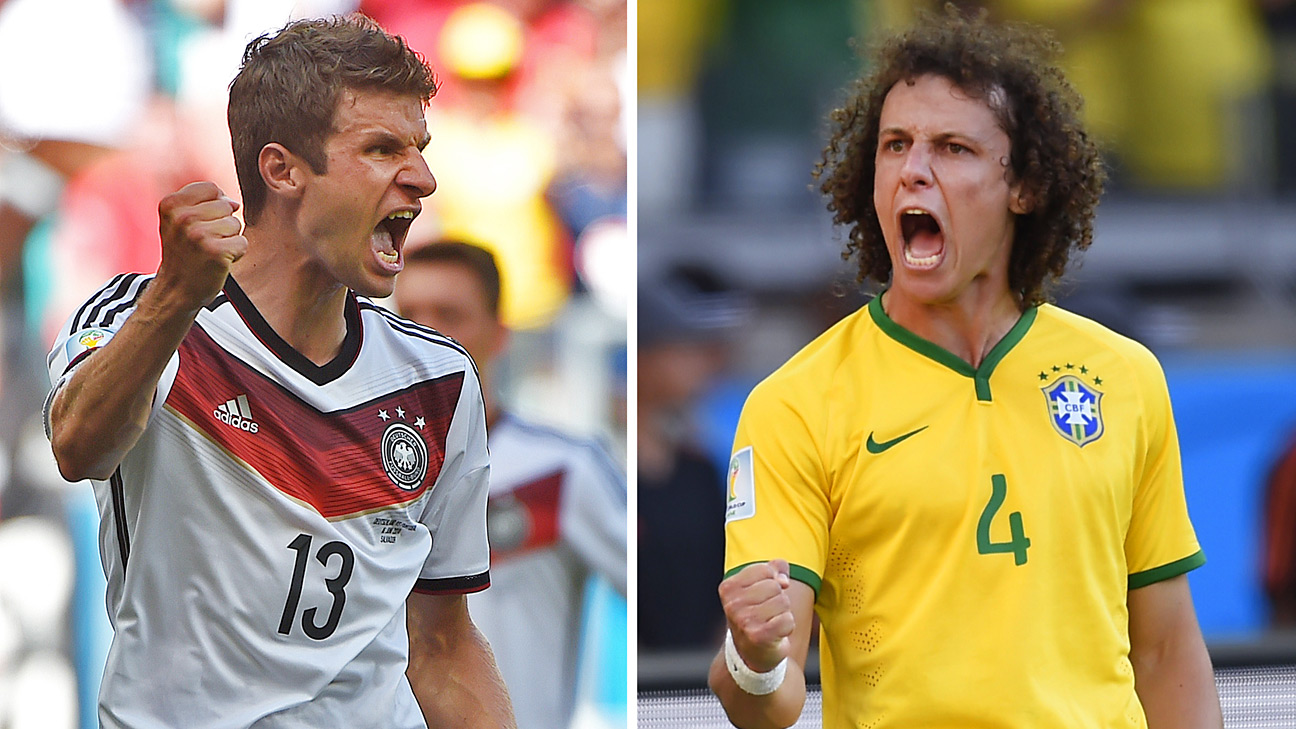 Cue Big Phil's game plan, which boiled down to treating James as a human piñata whenever he came near the ball in the first half; six times Columbia's talisman was on the receiving end of a hard, cynical foul, and six times Carballo refused to brandish a yellow card. Increasingly frustrated as Brazil's reckless play went unpunished and desperate to overcome a 1-0 deficit, Colombia began to retaliate in the second half with a series of UFC-worthy challenges that sent Neymar airborne.
But Neymar being Neymar, when he crumpled to the turf under Zuniga's assault it was difficult to tell whether this was another gambit in his vast drama-queen repertoire or a genuine injury. Contrary to Zuniga's initial claim that it was just "a normal play," kneeing a player in the back is not considered routine defending unless you're John Terry. The Colombian defender is culpable of overly aggressive play but he is hardly the only one responsible for the sad and inevitable denouement to Neymar's World Cup.
So now Brazil will be missing its two most important players -- Neymar and captain Thiago Silva, who is suspended -- in Tuesday's semifinal against Germany on Tuesday (4 p.m. ET, ESPN/WatchESPN). And for the first time in the tournament, the hosts must be considered the underdogs, no matter how fevered the atmosphere inside the Estadio Mineirao in Belo Horizonte promises to be. Bereft of Neymar's attacking brio and Silva's inspirational leadership and defensive intelligence, the Selecao are likely to struggle against Germany's pace and power. Let's hope they don't again resort to any thuggish tactics in dealing with Thomas Muller and freunde.
Forza Deutschland!
In case you haven't noticed, Germany have become the new Italy -- right before your narcoleptic eyes. Like the Azzurri did so brilliantly en route to winning five World Cups, Joachim Low's boys have mastered the art of sucking the air out of a game once they've taken the lead. It may be mind-numbingly tedious to watch, but it's ruthlessly effective, as France found out Friday.
Die Mannschaft's grinding 1-0 victory propelled them to their fourth consecutive World Cup semifinal. Given the cagey, risk-averse nature of the game, it was only fitting that the decisive goal was scored by a defender, Mats Hummels, and that it came from a dead-ball situation.
If Brazil-Colombia was end-to-end fervor, this was world-class lassitude, owing in part to the sweltering 90-degree humidity in the middle of the afternoon in Rio, but also to the high stakes of a semifinal berth. What a disappointing turnaround this dreary affair was for both teams after the jaunty and free-scoring opening games I personally witnessed in Salvador -- France cutting apart Switzerland 5-2 with great joie de vivre and Germany pummeling a Cristiano Ronaldo-powered Portugal 4-0. But both teams grew increasingly tentative as the tournament wore on, culminating in the hot messes they found themselves in with Nigeria and Algeria, respectively, in the round of 16. Talk about peaking too early.
At least Germany had the good sense to carve out a 1-0 advantage before deciding to pack it in and defend with composure and discipline. Though France huffed and puffed through 78 more leaden minutes, Les Bleus seemed to resign themselves to their fate after Hummels' goal, mustering little urgency until the dying moments, when Manuel Neuer was forced to swat away one last Karim Benzema effort.
The German goalkeeper did not find it necessary, as he did against Algeria, to come hurtling out of his area and do his best Franz Beckenbauer impression, sweeping away any dangerous balls with his feet or head. He simply stood haughtily in goal, daring France to test him. Now it is Brazil's turn, and without Neymar, I doubt that Neuer will be shaking in his lederhosen at the prospect of facing Fred and Hulk.
Penalty shootouts can be Krul
Of all the heartbreaking ways for plucky little Costa Rica to go out of the World Cup, few expected it to be in another nerve-shredding tiebreaker. Certainly the Ticos themselves didn't anticipate losing in that fashion after going a perfect five-for-five from the spot in their life-affirming round of 16 victory over Greece.
But the shootout giveth and taketh away, as any spin of soccer's roulette wheel should. And how could the Ticos know that Louis van Gaal would have a penalty-kick specialist up his starched sleeve and would audaciously choose to deploy him in the 120th minute?
The rest is World Cup history, as Newcastle's Tim Krul swaggered onto the field, all 6-foot-5 of him, and brashly informed the Costa Rica players not to waste their time taking their PKs because he already knew which direction they were going to kick and he would be there to smother their shots. Which, of course, is just what happened twice, ending Costa Rica's magic carpet ride.
I'm no fan of the Dutch -- I want to puke every time Arjen Robben extends his arms and takes flight, whether he's fouled or not -- but I have to say they deserved to win simply because they were the only team on the field bothering to attack, no matter how wasteful it proved to be. Not to take anything away from the heroic Ticos, who did their tiny nation proud, but it's tough to win when you have zero corners and exactly one shot on goal after 115 minutes.
Let's face it, Costa Rica played for penalties from the kickoff, putting 10 men behind the ball and relying on their acrobatic keeper Keylor Navas and his three best friends -- the goalposts and crossbar -- to save them. It almost worked; Navas' lightning-quick reflexes kept out everything the Dutch threw at him, and the woodwork did its job, repelling an additional three shots.
So in a sense, the gallant Ticos got what they wanted -- a game that went to penalties. They just got the wrong Dutch goalkeeper.
Messi's job just got harder
Just when it looked as if Argentina wouldn't have to field a 0-0-Lionel Messi formation against the Dutch in Wednesday's semifinal, the one player capable of reducing the burden on the Little Flea is out of the match.
When Angel Di Maria went down in a heap attempting a shot against Belgium in the first half, the several hundred exuberant Argentina fans at New York's Football Factory stopped their joyful singing and pogoing long enough to let out a collective "mi Dios!" (Oh my God!) As jubilant as they were over La Albiceleste's 1-0 lead, they instinctively knew that an injury to Di Maria played havoc with their dreams of winning their first World Cup since 1986.
"This could be a tragedy for us," said Francisco Martinez, who was draped in the blue and white flag of his country. "Next to Messi, Di Maria is our most important player." The Real Madrid star had started the tournament slowly but came to life in the round of 16 match against Switzerland, scoring the winner from Messi's defense-shredding pass in the 117th minute.
The two Argentines have a telepathic understanding, with Di Maria playing the Scottie Pippen role to Messi's Michael Jordan. Though normally operating on the flanks as a wide midfielder, Di Maria has been given the freedom by coach Alejandro Sabella to break forward and become a third attacker alongside Messi and Gonzalo Higuain when the circumstances dictate, as they did against the Swiss.
Now it's up to Di Maria's former Real teammate Higuain to be Messi's go-to guy in attack, and he couldn't have picked a better time than Saturday to emerge from his World Cup coma. In the eighth minute, Higuain got on the end of a deflected cross from Di Maria to lash in a vicious first-time shot from the edge of the area.
It was the striker's first goal of the tournament and for the time being silenced his baying critics, who wanted him dropped from the starting lineup because he had underperformed over the first four games. In the second half, with Di Maria no longer on the field, Higuain again showed his skill and power, running past three defenders and nutmegging Belgium captain Vincent Kompany before cannoning the ball off the crossbar.
The Netherlands will be a lot tougher test than the waffle-flat Belgians, but if Higuain can continue his rejuvenated play, then Argentina will have the rare luxury of being more than a one-man show.
David Hirshey is an ESPN FC columnist. He has been covering soccer for more than 30 years and written about it for The New York Times and Deadspin.