David Hirshey's Best Prem XI, 2013-14
---
Manchester City may have spent a mere 15 days this season atop the table, but the last day was the only one that mattered. The Bext XI we've selected this year, however, started strong and never stopped kicking butt. They didn't have to rely on somebody else's mistakes to make it to the summit, although one of them did tragically bite the turf.
Unfortunately, despite our finest efforts, we ended up including several Chelsea players, a decision that will forever sully our souls but is made more palatable knowing that they went trophyless.
The 4-3-3 formation below is in loving homage to Liverpool's brilliant yet Shakespeare-worthy doomed season. While we considered adding Steven Gerrard to the squad, there just wasn't a spot available in the "he fell over when it mattered" category.
Oh, and just as Ryan Giggs failed to disturb the scoreboard operator for the first time in his 80 years at Old Trafford, no Manchester United player came close to cracking our squad. It was bad enough that former manager Sir Alex Ferguson decided to sell off a large chunk of his claret collection.
GK: David Marshall, Cardiff City
Ah yes, Scotland. The birthplace of golf and food made out of sheep organs, but not exactly a place that is a hotbed for wearers of the No. 1 shirt.
Once upon a time, England was famous for great goalkeeping -- Gordon Banks, Peter Shilton, David Seaman -- but now the best keeper in the Prem is a Scotsman playing for a Welsh team that has been relegated. Marshall's 149 saves led the league and his acrobatics between the posts were the envy of any Cirque du Soleil performer. Even though his Cardiff City is returning to the Championship ranks, had the 28 year-old been anything less than he was, Vincent Tan would have had to rename his side the Black-and-Bluebirds.
Strongly Considered: Hugo Lloris, c/o Europa League Club, White Hart Lane
Also Considered Because We Always Mention One American and Sadly, We Can't Say Anything Good About Jozy Altidore: Tim Howard, Everton.
RB: Seamus Coleman, Everton
"Ole, Ole" is the clarion call of the Bernabeu or Nou Camp, but as rare an event at Goodison Park as Champions League soccer. Yet both were in play this season because of Seamus Coleman, covering a Brazilian level of ground as he tore up and down the right flank with the joyous abandon of a new millennium Cafu. Arsenal fans will be haunted by the image of him juggling the ball on his instep like a kid playing keepy-up while marauding 30 yards into the heart of the Gunners defense.
It's a painful irony that David Moyes focused his transfer energy on Leighton Baines when it was the former United manager who took a chance on the former Gaelic football star, signing him in 2009 for less than one hundred thousand dollars from Sligo Rovers. The leap from the Irish League to the Premier League is only slightly less daunting than a managerial move from the Merseyside to Manchester.
If Moyes gave Coleman the opportunity, it was Roberto Martinez who flung open the gates, urging the young Irishman to use his high-octane pace to bomb down the sideline. His six goals were third-highest for Everton, making him a double threat and freeing up Baines, his left-side counterpart, to forge the league's most electric pair of wing-backs.
Also Considered: Pablo Zabaleta, Manchester City
CB: Gary Cahill/John Terry, Chelsea
If Chelsea this season was an ongoing advertisement for the pragmatism of public transport by parking a bus wherever they went on their Prem and European travels, Terry and Cahill were the team drivers. What the 33-year-old Terry is missing in athleticism and speed -- a lot -- he makes up for with his iron-willed leadership and unerring positional sense. Shoved to the periphery last season by Rafa Benitez and bedeviled by injury and suspension, he returned to his familiar alpha status under Mourinho who depended on him as his eyes, ears, and chief referee-intimidator on the field.
Yet Terry knows that his resurgence has depended in large part on his former protégé, Cahill. They take turns blocking goal-bound shots with their faces, one covering for the other should something go awry as it did so wonderfully against Crystal Palace, with Terry's spectacular own goal essentially sticking the fork in the Blues' title hopes. As the Chelsea captain crumpled to the ground, it was Cahill who was first to comfort him. Afterwards, Terry returned the favor, consoling his fellow center-back who was teary-eyed as he left the field.
It would be a crying shame if this is the last we see of these two softies together again.
Also Considered Except He Kept Making High-Profile Blunders: Vincent Kompany, Manchester City
Never In The Running: Anybody playing "defense" for Liverpool
CB: Curtis Davies, Hull City
There's no gloss or guile to the Hull City captain, a peripatetic tradesman who has swept away opponents' legs at Luton Town, West Brom, Aston Villa, Leicester and Birmingham. His is the football resume of the committed grafter, a man allergic to anything resembling the limelight. Which is why his next stop on the wheel of soccer fortune is such an outlier.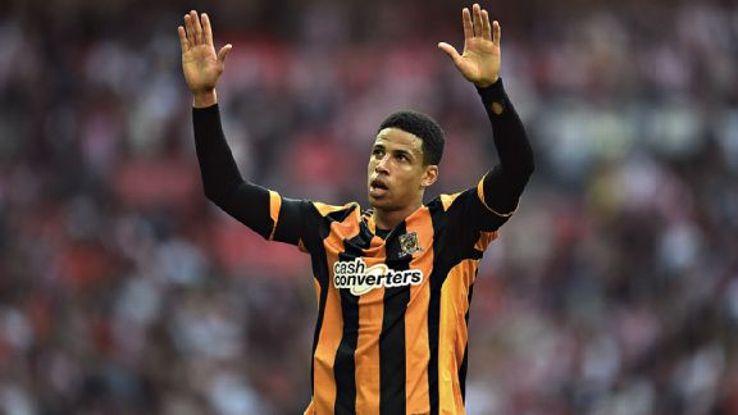 On May 17, Davies will lead his team onto the lush greensward of Wembley for the FA Cup Final against Arsenal. Hull have reached this rarefied height for the first time in 110 years in no small part due to the determination and resilience of their 29-year-old captain. After trailing League One outfit Sheffield United 2-1 in the semi-final, Davies brought his combative style to the dressing room. As manager Steve Bruce recounted: "I just sat there in the corner with a cup of tea and let Curtis get on with it," he said. "It's been a long time since I've been in a dressing room when a captain takes over."
Davies' rousing call to battle ignited City's four-goal eruption in the second half to put quite the exclamation point on a season where he was dominant in the air -- winning 164 of those duels -- while playing like the English lion that he wants to be. Even if he never gets that elusive England call-up, he'll always remember his May day of glamour at Wembley. Let's just hope Davies doesn't do something crazy -- like beat Arsenal.
Also Considered: Luke Shaw, Southampton -- just like Ryan Shawcross, except with talent and humanity
LB: Cesar Azpilicueta, Chelsea
Call him Cesar, Azpi or even Dave -- the moniker of choice for his more linguistically challenged colleagues -- just don't call him Chelsea's reserve left-back. This season, the Spaniard has cemented his name on Jose Mourinho's starting lineup and in the process has displaced Cashley Cole, a Blues -- and tabloid -- institution.
Azpi arrived at Stamford Bridge in 2013 for a very un-Chelsea like 10 million dollars and ever so silently patrolled the right side of the Blues' back four until the Special One had him switch coasts. Even then hardly anyone noticed what a defensive force he'd become until March when Mourinho, in a rare moment of hyperbole, let slip "I think a team with 11 Azpilicuetas could probably win the league."
While we admire Jose's passion, there are two obvious problems with his proclamation:
1. Eleven defenders is one more than Chelsea normally fields.
2. Jamie Carragher would hurt himself pronouncing the starting lineup.
Also Considered: Leighton Baines, Everton
MF: Aaron Ramsey, Arsenal
When Arsene Wenger blew the cobwebs out of his wallet to buy Mesut Oezil, no Arsenal fan would have predicted that Ramsey would be the Gunners' best midfielder. That, in conjunction with the biblical law that compels us to pick one Arsenal player, puts Rambo on our list. And before you splutter "But he only played half a season..." he accomplished more in three months than, say, Oscar did in seven.
Consider that the Welshman:
-- Made the $62 million Ozil purchase look good. Once Ramsey and his box-to-box runs went to the infirmary, it was the German who looked sickly and dazed.
-- Turned around the notoriously fickle Arsenal faithful. His play put last season's scapegoating to rest and his injury caused supporters to switch to rending and tearing apart their newly acquired Kim Kallstrom jerseys.
-- His personal goal and assist (10 and eight, respectively) highlight reel propelled Arsenal to 128 exquisite, glorious days at the Prem summit. His performance was so extraordinary that BI (before injury), he was mentioned in the same sentence as Luis Suarez in EPL Player of the Year discussions.
-- To top it all off, he spoke for all humanity when after being called a "liability" by a certain well-known Gooner, he responded "Who's Piers Morgan?"
Also Considered: Jordan Henderson, Liverpool
MF: Yaya Toure, Manchester City
A long time ago in a stadium far, far, away, the Ivorian was known strictly as a defensive midfield anchor for Barcelona's 2009 treble winning side. Today Hurricane Yaya storms though the middle of the park, as terrifying a sight as Aleksandar Kolarov reciting a Christmas carol.
But Toure is as much about brains as he is brawn. While the eye is drawn to his muscular style, Toure possesses surprisingly nuanced technique as well as a cold-eyed finishing ability that resulted in nine assists and 20 EPL goals. He is a true rarity in the modern game, a midfielder who can turn defense into attack in a blink of the eye.
With the Brazilian Fernandinho he forms a central fulcrum that has allowed City to bend opponents to their will en route to a second Prem title in three years.
Also Considered: Mile Jedinak, Crystal Palace
MF: Eden Hazard, Chelsea
Last season, the Belgian prodigy crossed the pond for a measly 50 million dollars and like many of his foreign predecessors, it took a while for him to adjust to the pace and physicality of the Premier League -- especially the ballboys.
Like the noun that shares his surname, Hazard arrived with the warning label "Handle with Care," as he possessed a deserved reputation for arrogance and petulance. But on a Jose Mourinho side, those attributes are the sole purview of the manager.
Stung by the ongoing criticisms of his work rate and defensive capabilities, Hazard powered home 17 goals in all competitions while helping shore up the Prem's stingiest rearguard. Though his natural bent as a flank midfielder is to attack, the 23-year-old tracked back with increasing gusto as the season progressed. Yet such is Hazard's speed, control and balance that he was often the Blues' first option on the counter, leading to the sight of the Belgian sprinting clear with defenders choking on his vapor trails.
Also Considered: Adam Lallana, Southampton
FW: Daniel Sturridge, Liverpool
When Chelsea gleefully unloaded Sturridge to Kop Siberia in January, 2013 for around 18 million dollars, the Blues became the latest club to give up on the once-precocious striker. Sturridge made Arjen Robben look like a team player as "Do the Surridge" became shorthand for "Why don't you dribble with your head down, ignore your wide open teammates in front of the goal, and shoot from the corner flag."
A mere 16 months after the sale, the other Liverpool forward crashed home 21 league goals to help fire the Reds back into the Champions League while catapulting himself straight into England's World Cup starting lineup.
Now, "Do The Sturridge" refers to the dance celebration the 24-year-old performs after scoring a goal, and this season he has done the "wacky dip" so many times that we're amazed that he hasn't dislocated a hip. It turns out that all Sturridge needed was the freedom to express himself on the field, an opportunity Rodgers gave him this season in pairing him up front with Luis Suarez. The duo quickly formed an almost telepathic understanding becoming the most lethal combination in the league since Joey Barton and Twitter.
Also Considered: Wilfried Bony, Swansea
FW: Sergio Aguero, Manchester City
His was the season's most compelling groin story north of Olivier Giroud's. It was that, and other soft tissue injuries, that caused the lethal Argentine to spend two months on the sideline so that we could all enjoy the title chase.
A poacher's poacher, when he's fit and healthy all Sergio does is score -- 28 notches on his soccer cleats across all competitions in what would have been a Suarez-like haul had he remained fit for the entire season. His new manager, Manuel Pellegrini, went the full Mourinho in describing his fragile frontman: "In my view he is the best in the world after Lionel Messi and Cristiano Ronaldo."
Or as the Manchester City faithful now say, "Mario who?"
Also Considered: Rickie Lambert, Southampton
FW: Luis Suarez, Liverpool
Banned for the first six games of the new season for mistaking Branislav Ivanovic for a roasted chicken, Suarez turned to chewing up opponents with an astounding 31 goals in 33 Prem contests, tying the 38-game single season record and 10 more than the runner-up, teammate Daniel Sturridge.
It's not like we didn't think about leaving Luis off to make an example of how morally reprehensible values can come back to bite you, but let he who has not been hammered before 8 a.m. cast the first stone. Besides, all of Suarez's bad stuff is in the past. He is a self-proclaimed New Man and has killed off his Evil Twin, the conniving, cheating, masticating and race-baiting scamp that caused his teammates, managers and supporters so much heartache. What remains is the soccer player, and by god, what a magnificent one he is.
There was no more exhilarating a weekly sight than watching the Uruguayan pick up the ball and run with it as he laid waste to Premier League defenses. His scoring repertoire was a gaudy mix of power, pace, guile and audacious improvisation, but remarkably, not a single goal came from the penalty spot.
For all the fury he evokes in opposing supporters, he plays with a childlike joy that skirts the line between mischief and deceit. Even when not plundering goals his presence alone was enough to unsettle opponents, not to mention referees who kept a gimlet eye out for his theatrical instincts. Most importantly, his relentless attacking energy lifted that of his teammates, several of whom -- Sturridge, Raheem Sterling, and Henderson -- had career years.
Somewhere Mike Tyson is gnashing his teeth at the thought of his comeback.
Also considered: Edin Dzeko, Manchester City
Manager: Tony Pulis, Crystal Palace
What, you expected to see Brendan Rodgers' name in this space? The Liverpool manager worked wonders but he also had several hundred million dollars' worth of talent at his disposal. Pulis was handed Marouane Chamakh, a new baseball cap and a transfer budget equal to what Liverpool spends on hair gel for Luis Suarez. All he did with those League One-esque resources was rescue a bunch of no-hopers from the bottom-of-the-table slag heap, elevate them to mid-level respectability and orchestrate the most enjoyable 11 minutes of Premier League football this season. Cue the sweet sound of Suarez's sobs.
As he did previously at Stoke, Pulis built a defensive fortress featuring physicality and resilience, but he added a new twist to his repertoire: attacking verve. Gone was the old-school avatar of direct football whose idea of an aesthetically pleasing move consisted of a 40-yard throw-in, a WWE wrestling match in the box and an eventual headed goal. Finally a Pulis-managed side was as interested in putting the ball in the net as it was in putting its opponents in the hospital.
Since being appointed in late November, when Palace was crawling around in the gutter of the Prem with a whopping four points out of a possible 33, Pulis has transformed the team in his own flinty track-suited image. The Eagles amassed a seemingly impossible total of 41 points from the 26 games -- he's been in charge. Even more impressive, they recorded eleven shutouts and one comeback for the ages.
Maybe next season, they should change their name to Crystal Pulis.
Strongly Considered For Being Just Crazy Enough To Follow Paolo Di Canio And Masterminding The Annual Sunderland Relegation Escape: Gus Poyet
Would Have Won Had He Not Had A Billion-Dollar Team: Manuel Pellegrini, Manchester City