Chinese transfer record broken five times in 2016 as Oscar arrives
Arsene Wenger had a front row seat the last time a major Asian nation sought to supercharge its football development with financial investment, when working with Nagoya Grampus Eight in the Japanese league in 1995, but recent events in China have left even Arsenal's veteran manager flummoxed.
"It's a surprise, it's a distortion," he said this week of Oscar's record-breaking £60 million move to Shanghai SIPG from Chelsea. "I think basically when you're a football player you want to combine the quality of the competition with the quality of your wages. But it is a surprise to me."
Big-name signings on inflated salaries were the hallmark of the J.League when Wenger worked there for a year before his move to Highbury. Backed by Toyota, the world's largest car manufacturer, Grampus Eight were among the clubs who benefitted, while Dunga, captain of Brazil's 1994 World Cup-winning squad, and midfielder Zinho were enticed to give up football in Europe and South America respectively to join the Japanese revolution.
Others were to follow as the influx of high quality foreign players and coaches prompted a raising of standards that now sees the nation at the pinnacle of the Asian game.
It is that model -- at least in part -- that the Chinese are seeking to replicate and it started when Guangzhou Evergrande paid €10m in 2011 to sign Dario Conca from Fluminense in Brazil and made him reportedly the third-highest paid player in world football.
The diminutive Argentinian, then the reigning Player of the Year in Brazil, helped drag the club out of the second division in 2011 and into the Chinese Super League, kick starting a run that has established Evergrande as China's dominant force.
Conca's success has been proof of concept, while club owners -- principally the country's enormously wealthy property developers -- are now seeking to play their role in delivering President Xi Jinpeng's desire for China to become a power within the world game. It seems money is no object and the likelihood is that Oscar's mega-move won't be the last transfer to make international news. Here are the biggest so far as the record has been broken five times in the space of a year.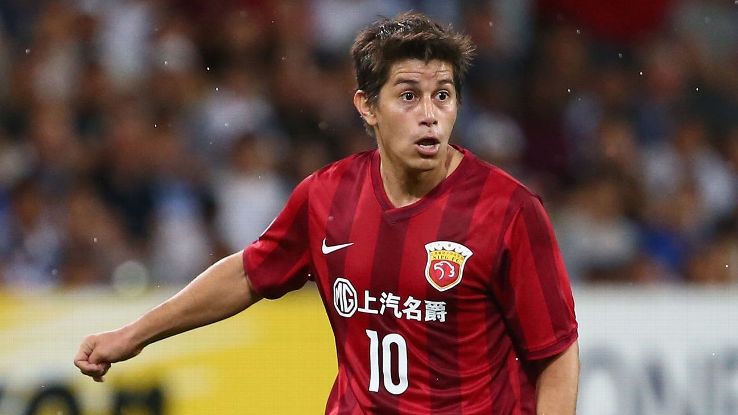 Oscar: £60m
Signed for a new Asian record transfer fee, Oscar becomes the latest South American to trade Europe for China and in the process earns himself a reported £400,000-a-week. He will be expected to lead Shanghai SIPG to a first-ever Chinese Super League title.
Hulk: £46.1m
Signed from Zenit St Petersburg, Hulk joined Shanghai SIPG in the previous record-breaking transfer in June as the club sought to end Guangzhou Evergrande's dominance both in the domestic and continental game. Injured just 15 minutes into his first game, the Brazilian played a minor role for the club towards the end of last season.
Alex Teixeira: £38.4m
Alex Teixeira joined Jiangsu Suning in February ahead of last year's Chinese Super League in another then-record deal, choosing to move to China from Shakhtar Donetsk rather than join Liverpool. He helped Jiangsu to runners-up spots in the Chinese Super League and the Chinese FA Cup last year.
Jackson Martinez: £31m
Jackson Martinez traded Atletico Madrid for Guangzhou Evergrande last year in a headline-grabbing move just seven months after moving to Spain from FC Porto. But he has had a year to forget with injuries and poor form costing him his place in the Guangzhou line-up.
Ramires: £25m
Ramires' move to Jiangsu Suning was the precursor to Oscar's transfer to Shanghai SIPG as his transfer from Chelsea to the Chinese Super League set a new Asian record transfer fee at the time. That title would shift to Martinez and then on to Teixeira over the space of a remarkable 10 days.
Michael Church has written about Asian football for more than 20 years and mainly covers the Chinese game for ESPN FC. Twitter: @michaelrgchurch