Shahdan Sulaiman seeks AFF Suzuki Cup redemption with Singapore
It has been a difficult two years since breaking his leg at the 2014 AFF Suzuki Cup, but Shahdan Sulaiman says he is ready to be part of the Singapore squad for the upcoming edition.
Shahdan, 28, was injured in the Lions' 4-2 victory over Myanmar in their second Group B game at the National Stadium in November 2014.
Defending champions from their 2012 success under Radojko Avramovic, Singapore subsequently bowed out of the tournament at the group stage after losing to Malaysia.
The midfield maestro returned to the pitch with the LionsXII in July the following year before moving on to rejoin Tampines Rovers in the S.League this season.
The injury curse continued at Tampines for Shahdan. But having returned to full fitness last month, Lions head coach V. Sundramoorthy has given Shahdan a chance to battle for a spot in his final 23-man squad with a call-up for the friendlies against Syria and Cambodia.
"I cherish every single call-up to the Singapore team," Shahdan told ESPN FC. "This [time] it definitely means even more to me because after so many [injury] setbacks, I'm still here. Still standing strong.
"This is a provisional squad and, just making it here is a bonus for the season. But no player will give up a chance to wear national colours. I'm ready to fight for my spot."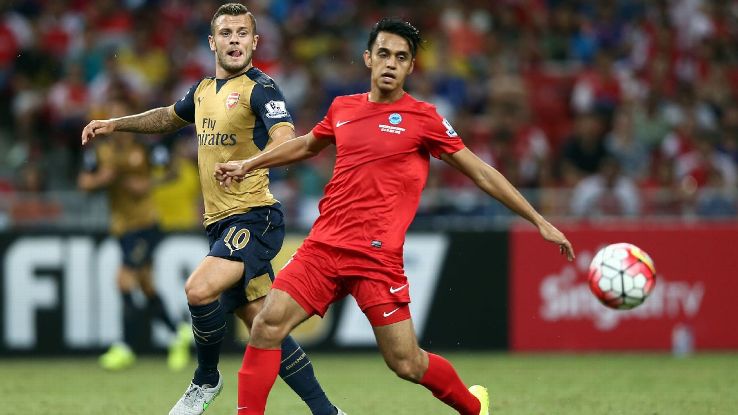 With Sundram seemingly undecided on his final squad for their Group A campaign that kicks off against the Philippines on Nov. 19, Shahdan believes two players will be the focal point if Singapore are to win a fifth ASEAN title.
"Hariss is a seasoned campaign and his time at JDT [Johor Darul Ta'zim] has made him an even better player," Shahdan added.
"I also think this will be Safuwan's [Baharudin] tournament. He has been around [the Lions] from a young age, and we often forget how much he brings to the team in both defence and attack.
"If Hariss and Safuwan bring their 'A' game to Manila, we [Singapore] will have a good tournament. As to how far we can go, the rest of it is desire and teamwork from all 23 players."
If Shahdan gets the nod for the 2016 Suzuki Cup, it will be his fourth time heading to Southeast Asia's premium competition. And the former LionsXII playmaker is desperate to be involved again.
He said: "Having been out for so long, it really doesn't matter which country I play against. I just want to get onto the pitch and leaving everything out there.
"Of course, this is the region's biggest stage for the top stars from countries like Thailand and Philippines but for me, this is about Shahdan. I have to go up against myself and come out on top.
"The goal is to make that flight to Manila, not who we go up against. This is me against myself."
ESPN FC editor Kelvin Leong is a former media officer for Singapore and ex-regional editor of ESPNSTAR.com. Twitter: @KelvinLeong29.