Coach Ashley Westwood brings Manchester United flavour to India
As a player, Ashley Westwood was a teammate of Phil Neville as Manchester United won the 1995 FA Youth Cup by beating Tottenham Hotspur in the final. And more than two decades later, on the other side of the world, the former defender is incorporating many of the same values he learnt under Sir Alex Ferguson at Old Trafford.
Westwood, 39, is head coach at India's Bengaluru FC, not to be confused with his 25-year-old namesake who's a midfielder for Aston Villa in the Premier League.
The older Westwood arrived in India just under three years ago after stints on the coaching staff of three English Championship clubs and took the newly formed Bengaluru to the I-League title at the first attempt in 2014.
They finished runners-up in the second year and are in a neck-and-neck struggle with Mohun Bagan this season, equal on points at the top. But they lost 1-0 to reigning champions Johor Darul Ta'zim in the AFC Cup on Wednesday night.
Westwood joined Manchester United as a wide-eyed 10-year-old in their youth system and left nine years later to join second tier, Crewe Alexandra, where he'd play more than 100 games. But working with Sir Alex in his formative years left an indelible impression.
"The demands and challenges he put on a squad were second to none, whether it's with a player, member of staff or even the kit man," Westwood told ESPN FC.
"He demands and he expects and he also leads by example which is something I try to do. And his desire to win was right up there with anyone I've ever met in my life."
About half of that 1995 FA Cup winning squad went on to make first team appearances but Neville was the only one who became a regular starter, in contrast to the 1992 team that produced the likes of David Beckham, Paul Scholes and Ryan Giggs. Midfielder Michael Appleton was another from the 1995 side -- he played two senior games in the English League Cup -- and would become a coaching mentor of Westwood.
The two worked together at second tier sides Portsmouth, Blackpool and Blackburn Rovers in 2012 and 2013.
When Appleton and his assistant Westwood were sacked in March 2013 during one of the most turbulent chapters in Blackburn's history, he made the decision to come to Asia.
"I learnt a lot from Michael, in terms of the modern game and how it had changed a lot since we were together at Manchester United, in the mid to late 1990s," he said.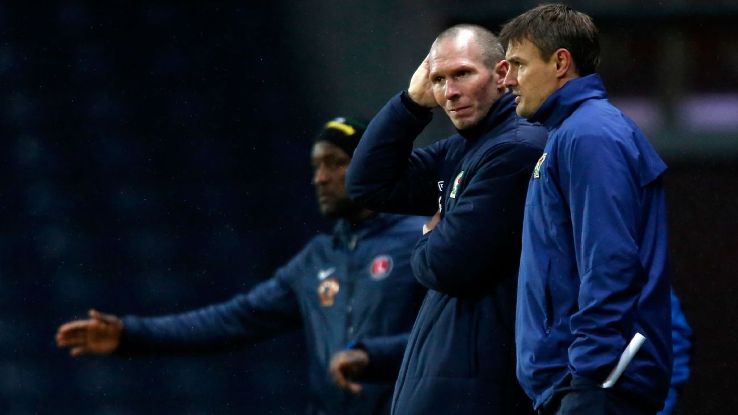 "The carpet got pulled from our feet at Blackburn and I thought it was time to experience being a head coach, to put another string in the bow, and see if I could test myself in Asia.
"It was a big gamble because, if you come here and be unsuccessful, your career could quite quickly end as I've seen with a lot of foreign coaches abroad.
"Fortunately, it's gone well. I've enhanced my C.V. in testing conditions. The way things work here can be very frustrating but it also develops you as a human being, making you patient and opening your eyes to different things."
With players like national striker and captain Sunil Chhetri, plus imports John Johnson (ex-Middlesbrough) and Michael Collins (formerly Huddersfield and Ireland U21), Bengaluru have one of the strongest squads in India. And Westwood has asked them to play a high pressing, high tempo game perfected by current Liverpool boss Jurgen Klopp during his time at Borussia Dortmund.
"I was told that it wouldn't work in Asia because of the heat and humidity, but I'd like to think I've proven that wrong because of the way we've gone about our business," he said.
"I feel that I am a tactically sound and adaptable coach, with an attacking style of football."
Westwood's eye for detail has helped Bengaluru go from inception less than three years ago to a regional powerhouse, run like a European club. The team's activities -- including matches, tactical sessions and travel -- are meticulously planned and written on a big calendar for everyone to see. Trainings are in the mornings, instead of evenings like many other Asian clubs, and he uses a Premier League-style GPS tracking system for players.
"Every aspect of performance, from training to recruitment, logistics and nutrition, is orchestrated by him," said first team coach Matty Holland, a Welshman who's also held positions in Malaysia and Thailand.
"I've worked with good people before but, in truth, he's by far the most advanced."
When Westwood was a junior player at Manchester United two decades ago, he remembers how Paul Ince used to take him to the Adidas warehouse and give him new gear as part of the England midfielder's sponsorship deal. But it was the 'gaffer' who left the biggest impression.
"I am fortunate to always be in contact with Sir Alex," he said. "I don't abuse that situation, but once or twice a year, if I feel the need, I will be fortunate to have a conversation by text or by phone.
"There are things that I've taken from him that will always stay with me."
Jason Dasey is ESPN FC Senior Editor in Singapore. Formerly Asian editor of FourFourTwo, he was also a CNN and BBC broadcaster. Twitter: @JasonDasey.