Xavi more than just a crowd attraction in Qatar for Al Sadd
There have been some big names to play for Al Sadd, the most successful team in Qatari history. In 2003, Romario's quest to match Pele's 1,000 goals took him to Doha. He arrived in February, left in March, was reportedly paid $1.2 million, played three games without scoring and was then off. "Professionally, it was not a positive season," he said. "I lost sight of my target, which is to get to the 1,000 goals mark."
If you want goalscoring records, then Raul's 323-haul for Real Madrid was only surpassed by the amazing Cristiano Ronaldo in October. Raul, then 34, joined Al Sadd in May 2012. The legendary Spanish forwrad in his first season showed fans in Qatar a little of what made him great. Well, quite a lot. He played every minute in the league season, helping his new club to the title.
Raul scored nine goals in 22 games, recorded assists and was a calming presence in attack. Off the pitch, coaches noted his professionalism, and the player made a point of trying his hand at working with youngsters. His second campaign was not quite as successful but injuries played a part in that.
Once Raul left in June 2014 to head to the United States, Al Sadd bosses immediately went after Xavi Hernandez, hoping to replace a Real Madrid legend with one from Barcelona. Initially, talks were not successful but a few months later, a second attempt was made and this time, they got their man.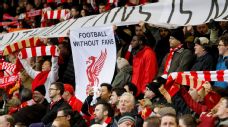 Xavi usually finds his man the first time around. The 36 year-old is the biggest name currently playing in the western reaches of Asia -- and playing is the operative word. Every second of every league game so far this season has featured the classy former Barca star. Xavi is pulling his weight.
He took just 12 minutes in his debut to make an impact with a floated free kick that was headed into the net by South Korean defender Lee Jung-soo. He has also managed two goals, not a bad return for a new player. Nobody is going to argue that the Qatar Stars League is anywhere comparable to La Liga in terms of quality and profile. Attendances are not high and instead of 90,000 watching one of his trademark pinpoint passes, even to get a tenth of that figure would be unusual. Yet while the crowds may be low, the level is not.
Al Sadd have twice been Asian champions, the latter triumph coming in 2011. At the time, the Doha club was the premier national powerhouse with a record 13 titles. Their last one came in the 2012-13 season, but these days Lekhwiya is number one; the police team has won four of the last five. Xavi can help turn the tide.
The Spaniard links up with the very talented Brazilian striker Muriqui, formerly of Guangzhou Evergrande and the MVP of the 2013 Asian Champions League, experienced South Korean defender Lee and Algerian Nadir Belhadj. And then there are some classy locals too. Hassan Al Haidos was the Qatar FA player of the year last season and Khalfan Ibrahim is one of the most naturally talented players in Asia, with an Asian Player of the Year award to his name back in 2006 when he was just 18.
For Khalfan, playing with one of the best midfielders in the modern game can only be a benefit. Getting the likes of Raul and Xavi is not just about short-term boosts. In terms of dribbling or beating a player, the 27-year-old Qatari has little to learn, but when it comes to using the ball and/or reading the game, then it is different. If such things can be taught or if they can be absorbed by football osmosis, then Xavi is the man.
Al Sadd bosses have praised the pass-master's hatred of mistakes and his determination. They are hoping that such attitudes can become the norm at their club and perhaps even in their country. If Xavi can show the likes of Khalfan how to always seek improvement, the local stars can then pass on these attitudes to others after the Spaniard has gone.
At the moment, he is trying to help the nation qualify for the 2018 World Cup. Qatar are one of just three teams of the 38 in Asia's second round of qualification for the 2018 World Cup with a perfect record. Being one of the 12 teams that progresses to the final stage is almost a formality. Being one of the four that takes an automatic place in Russia is anything but. A first ever appearance at the World Cup before the tournament comes to Qatar in 2022 is what football bosses in the country are desperate for.
"I think that they can qualify, though it won't be easy because in Asia there are major nations, big teams, but they should get through the group they're in now," Xavi said in October. "Let's see the other group, who they're drawn with next, but I think Qatar have the talent to be able to reach Russia. It's one of their goals and, somehow, I'm going to help them in every way I can to achieve that experience, that objective."
So the likes of Xavi -- and Raul before him -- are not just crowd-pullers but have a bigger role to play in the future of Qatari football.
Asian expert John Duerden is the author of Lions and Tigers: Story of Football in Singapore and Malaysia.Twitter: @JohnnyDuerden.