Southeast Asia must stand tall with JDT in quest for AFC Cup glory
The 2015 AFC Cup final will have a slightly tainted vibe about it after Kuwait clubs Al-Qadsia and Al-Kuwait were bumped out of the tournament because of the country's suspension from all football activities by FIFA.
But their semifinal opponents Johor Darul Ta'zim (JDT) and FC Istiklol must not allow any thoughts of an unwarranted final appearance to fester.
Both teams have a unique opportunity for a huge slice of football history and while Istiklol go into the game as favourites, JDT will be no slouches as the entire Southeast Asian region come together to back their Malaysian neighbours.
Here are three points to whet your appetite as we await the showpiece event on Oct. 31:
1. JDT Crown Prince deserves the title
Southeast Asian football fans continue to marvel at the way JDT grew from a Malaysian domestic club that was struggling to claw their way into the Malaysia Super League, to become not just the country's leading football club but also one of the most professional teams in the region.
Tunku Ismail Sultan Ibrahim's decision to take control of the club in 2012 and remodel them into a proper football fraternity has been nothing short of sensational. One could argue that with the financial muscle they have, success should come easily but that hasn't always been the case.
A massive recruitment drive of almost 75 percent of Malaysia national team's players in 2012, along with big-name signings like Spanish international Daniel Guiza and Lazio's Simone Del Nero didn't pay off, as the team struggled to gel as a unit.
It was not until last season, with the purchase of Argentina duo Luciano Figueroa and Jorge Pereyra Diaz, that the Southern Tigers finally looked cohesive and effective. Along with the signing of LionsXII midfielder Hariss Harun, a winning formula finally took shape.
And if you add the massive renovations to make Larkin Stadium a world class arena, from the dressing room to ripping out every single seat in the house and replacing it with proper individual plastic seats, that is the Crown Prince's commitment to the cause in full glory.
Coupled with the undying support of the Johor die-hard fans who call themselves 'Boys from the Straits,' you have a club owner who deserves that shiny AFC Cup trophy to validate all that trust and faith that he has put in the management and players.
2. Kuwaiti dominance comes to an abrupt end
It took Kuwait five years since the inception of the AFC Cup in 2004 to have a team in the final, but once Al-Kuwait took down Syrian club Al-Karamah 2-1 in the 2009 final, the Western Asian nation has had a representative in the main event every year since.
Four of those six finals have been won by a Kuwaiti club with Al-Kuwait claiming three, before Al-Qadsia rose to prominence to seal a 4-2 penalty shootout against Iraqi club Erbil in last year's showpiece event.
The defending champions were well on course to make a second consecutive final after their first leg 3-1 victory over JDT but FIFA's suspension has brought it to an anticlimactic end.
In the other semifinal, Al-Kuwait made easy work of Tajikistan club FC Istiklol with a straightforward 4-0 win but like their compatriots from Al-Qadsia, they will watch the final on Oct. 31 from their television sets back home.
Whether Istiklol can make home advantage count by playing in their own backyard, the capital of Tajikistan, Dushanbe, or JDT upset the odds with a stunning victory, one thing is for sure.
Kuwait's dominance of the AFC Cup since 2009 has come to a premature end.
And unless the Kuwait Football Association (KFA) can get their act together, next year's edition will have to make do without the traditional powerhouse as well.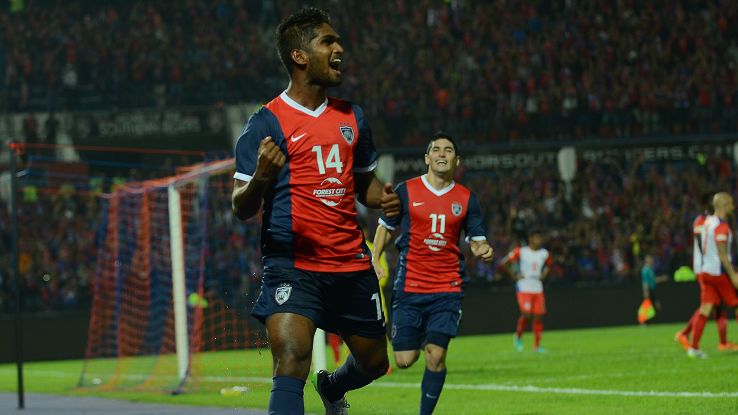 3. Hariss is now commander of the JDT cruise ship
Istiklol and JDT are set to create history regardless of who becomes champions, but one player who will step onto the pitch come Oct. 31 with an added motivation is Singapore midfielder Hariss Harun.
The majestic midfield dynamite became the Republic's youngest ever player to play for his country in 2007, and already has a bulging trophy cabinet that consists of a AFF Suzuki Cup and three Malaysian Super League winners medals to name a few.
Many doubted his move to JDT at the start of 2014, wondering if he would get enough playing time in a packed midfield roster with Malaysian household names like Safiq Rahim, Junior Eldstal and Amri Yahyah.
But like the tenacious battler he is on the pitch, Hariss put his head down and worked his way into the team. Never one to complain, he even had to drop into a centre-back role on many occasions since his time with the Southern Tigers.
Istiklol are by no means unbeatable, and the central midfield combination of captain Safiq Rahim and Hariss will be key to JDT's fortunes in the game.
The time has come for the Singaporean to show just why former Singapore coach Radojko Avramovic once labeled him as his country's "most complete midfielder".
ESPN FC editor Kelvin Leong is a former media officer for Singapore and ex-regional editor of ESPNSTAR.com. Twitter: @KelvinLeong29.