Eriksson and Scolari centre stage in Chinese Super League title race
Sven Goran-Eriksson doesn't seem the type to have sweaty nightmares. But if any football figure can make this cool character sit bolt upright in bed, it must be Luiz Felipe Scolari. The Brazilian is a coach who has a habit of getting in the way of the Swede's success. This year, just a few months after Eriksson signed up with Shanghai SIPG in November 2014, he was joined in China by his old nemesis.
Just like the shark in Jaws 4 that followed the Brody family to the Caribbean, Big Phil arrived in the Chinese Super League -- hired by Guangzhou Evergrande, the southern powerhouse looking for a fifth straight domestic league championship. Eriksson must have been shaking his silver-topped head at the news, but at least it gives the 67-year-old of a chance of serving a freezing dish of revenge.
Without Scolari, the former England boss might have taken the Three Lions past the quarterfinal stage at the 2002 and 2006 World Cups and the 2004 European Championships. Instead, the moustachioed manager proved to be a step too far, once with Brazil and then with Portugal twice, even if he was helped on the latter occasions by the penalty shootout.
The drama is more sustained this time with Shanghai SIPG and Guangzhou Evergrande fighting it out at the top of the Chinese Super League with the winning post in sight. Both teams have spent big. After Scolari arrived in June, he wasted little time in bringing in Paulinho from Tottenham Hotspur for a fee of around € 16 million. A month later in came Robinho. These Brazilians were added to the existing formidable firepower of Ricardo Goulart and Elkeson. Guangzhou had gone samba in a serious way.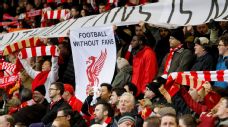 Eriksson's squad is a little more cosmopolitan. In the close season he picked up Dario Conca, the Argentine playmaker who did so much to help Guangzhou take the 2013 Asian Champions League title, as well as achieve domestic success. Conca remains the most successful foreign import in recent Chinese Super League history and it will hurt Evergrande supporters if their former hero leads his new club to the championship -- almost as much as it hurt Al Ain fans in the UAE in July when Shanghai made Asamoah Gyan the most expensive player ever bought by an Asian club.
The top two teams have serious firepower, but until this season -- unlike their respective head coaches -- they did not have much of a rivalry. Shanghai SIPG were formed, under a different guise, in 2007 and only entered the top tier in 2013 just as they took their present name. A fifth-place finish in 2014 brought in Eriksson. He led SIPG to the top and all was going well until Sept. 12 and a home game with, you guessed it, Guangzhou Evergrande.
To set the scene, there were six games of the season remaining. Shanghai were top, a point above the visitors. A home win and the Swede would have moved four points clear with just 15 left to play for. The stadium was a 25,000 sell-out. In the end, however, it was Guangzhou standing tall.
So was Eriksson, watching stony-faced as Scolari high-fived his players. Perhaps he was thinking back to Shizouka or Lisbon or Gelsenkirchen but this loss, on home soil, had been more convincing than any of those neutrally inflicted defeats.
The goals came from the Brazilians. Robinho, Elkeson and Goulart all got on the scoresheet in a 3-0 win that was clinical and classy. Guangzhou played like a team that has won the last four Chinese titles. There was a fluency and a belief about the team.
There is one consolation for Eriksson that could not be offered after the three England losses to Scolari (though the injury to star signing Gyan is a major worry as the Ghanaian is expected to be out for a month) -- the title race is not over yet. Saturday's win over Guizhou put Shanghai back on top and while Guangzhou have a game in hand and a much better goal difference, there are reasons to be cheerful.
Not only do Guangzhou have the two legs of the Asian Champions League semifinal against Gamba Osaka to worry about, but in domestic terms, Shanghai's run-in looks much easier. The next game is the toughest, away at Shandong Luneng, themselves with an outside chance of the title. But then two of Shanghai's three remaining games are at home and all are against mid to lower-mid table opposition. Of course, it is not always that easy but there are points available for Eriksson and his men.
Guangzhou's remaining games are tough with only one at home and that comes against Shandong. First is a derby with Guangzhou R&F on Monday, a fixture that has been tough to handle for the champs in recent years and it all ends with the toughest trip possible -- a final game showdown Beijing Guoan. There is no love lost between last season's runners-up and Guangzhou. A full house at the Beijing Workers' Stadium would love nothing more than to deprive their rivals of a fifth title, though there would be a few mixed feelings at seeing the trophy head to Shanghai.
For fans in the capital it would be the lesser of two evils, but Eriksson would surely not mind, as when it comes to Scolari he has historically been the lesser of two rivals. The Swede needs some success against Scolari and missing out once more would be tough to take. Recently he lost the battle with the Brazilian, but there is just enough time to win the war.
Asian expert John Duerden is the author of Lions and Tigers: Story of Football in Singapore and Malaysia.Twitter: @JohnnyDuerden.