Lionel Messi snub could be final straw for South Africa coach Mashaba
Ephraim Mashaba had been given a mandate to build a team for the future and theoretically still has time to do so in his job as coach of South Africa but a woeful start to the African Nations Cup qualifiers and series of recent foibles suggest his time is now running out.
Mashaba is a man with a penchant for swimming upstream -- dismissive of most of the mechanics of the modern game and seemingly revelling in an old school approach.
There is little appetite for convention but failure to vote for Lionel Messi in the Ballon d'Or is the latest in a series of incidents that question his competence and may hasten his exit.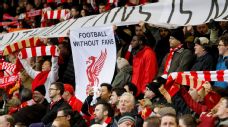 The 65-year-old was one of the few voters who did not believe Messi was the world's best player in 2015. But the South African coach did not even think he was top three material. His ballot went instead to (in order) Cristiano Ronaldo, Arturo Vidal and Yaya Toure.
As a result, columnists have been calling for his dismissal and fans questioning his competence.
"Mashaba will not take Bafana Bafana to the next level because (he) seems to be way out of touch with the realities of modern football," wrote influential columnist S'busiso Mseleku this week. "He seems not to be prepared to move with the times."
It could all come to a head for Mashaba in March when South Africa must effectively beat Cameroon both home and away to stand any chance of advancing to the next African championship in Gabon in 2017 as they currently sit bottom after two matches, and five points adrift of top spot.
This follows poor results last year where Bafana Bafana flopped at the 2015 Nations Cup finals after losing two of their three games in Equatorial Guinea, looking ill prepared and tactically naive in their matches against Algeria, Ghana and Senegal.
Mashaba did not help himself by insisting, even after his team was on the brink of elimination, that South Africa were good enough to win the African title with just "a little more luck" on their side.
Since, South Africa failed to win the regional COSAFA Cup on own soil in May and then suffered the ignominy of being held at home by tiny Gambia at the start of the 2017 Nations Cup qualifiers. This was followed by a 3-1 away defeat at Mauritania, leaving them bottom of Group M while Cameroon have six points at the top with just the winner to advance.
Mashaba's explanation for these setbacks was that the spirit of his players was hard to lift amid all the media criticism.
"It's not about losing a game but what is being said after losing," was a quote that few understood, but it got even worse when his own son Jabu found a seat in a formal news conference and was allowed to pose a lengthy question that included references to the national pride of journalists.
Mashaba had been asked to overhaul the team when he was appointed in mid-2014 but took his mandate for a fresh look to the extreme by naming several under-20 players in his first squad, despite the fact none had even been given a game at senior club level. Predictably, they have since been ditched as the gulf in their capabilities and the international game was all too evident.
When Mashaba, an iconic footballer at Soweto clubs in days when South African football was racially segregated and politically isolated, held his inaugural news conference after being appointed to his second spell in charge -- he made clear he would not pay much heed to modern methods.
There would be no spying on opponents ("no point, they always change their teams," no scouting the country's European-based players, no video analysis. Game-day tactics would revolve around the strengths and weaknesses of his side only.
Initial criticism was muted as five months of triumph followed in the rapid-fire qualifying campaign for the 2015 Nations Cup. South Africa topped their group in impressive fashion, eliminating holders Nigeria in the process, and Mashaba was walking on water.
But the stardust floated away in Equatorial Guinea as he looked out of touch, both in terms of selection and tactics and also when in front of the cameras in both his pre and postmatch analysis.
The damning admission the team was unaware they would have to play on an artificial surface in Mauritania and the foibles around a trip to Costa Rica and Honduras for two friendly internationals in October -- when the team management did not apply for U.S. visas for the players which meant they had to go via Brazil and ended up returning to their clubs late causing the postponement of several league matches -- are signs the end may be near.
The polemic over the FIFA Ballon d'Or vote only adds to an already sorry scenario.
Mark Gleeson covers African football for ESPN FC.