Pierre-Emerick Aubameyang can inspire Gabon for generations
It seemed almost impossible that someone other than Yaya Toure would be crowned Africa's Player of the Year, but it has happened. Borussia Dortmund striker Pierre-Emerick Aubameyang ended Toure's four-year reign on Thursday and became the first Gabonese player to earn the title even though he did not have a continental cup to show for it.
Aubameyang's achievements over the last year have included 18 goals in 17 Bundesliga games for Dortmund (which has made him the league's top-scorer) and 27 goals in all competitions. This record was deemed enough to trump Toure's lifting of the African Nations Cup (ANC) with Ivory Coast to end the country's more-than-two-decade-long trophy drought.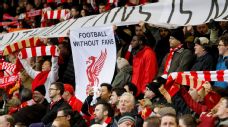 Toure had already been crowned BBC African Footballer of the Year late in 2015 and admitted to being "quite disappointed," not to receive a similar accolade from his home confederation for the fifth time. He did praise Aubameyang but seemed decidedly annoyed that he was not given another trophy to take home when he called it "shame to Africa."
Congratulations came from many quarters including Samuel Eto'o, who tweeted. "Congratulations brothers and sister. You are the pride of Africa," and the Gabonese president Ali Bongo Ondimba who called Aubameyang's intuition "dazzling." The real success of the award, however, will be in the afterglow and the striker has already enjoyed some of it.
Linked with a £45m move to Premier League leaders Arsenal, he does not seem interested in moving anytime soon. "Let me say this first: I am not going to Arsenal," he told ESPN FC's Colin Udoh at the CAF award ceremony in Nigeria. "Dortmund is my club and I am not leaving soon."
Instead, his national team Gabon will hope Aubameyang will put his emphasis on them, as they gear up to host next year's ANC and prove their worth on the continental scene.
Aubameyang is the poster boy for the country and much of their success depends on him, as was the case when Gabon co-hosted the 2012 event with Equatorial Guinea. They topped their group, which included Tunisia and Morocco, and reached the quarterfinals, where they lost to Mali in a penalty shootout. Aubameyang, who was just 22-years-old at the time, was among the eight top-scorers with three goals to his name.
The following year, Gabon did not even qualify for the tournament after they lost to Togo but they were back in 2015. In qualifying, they topped a pool which included that year's runners-up Burkina Faso but at the tournament itself, they were booted out in the first round after losing two of their three group games to Equatorial Guinea and Congo. Now they will want to show they are better than that and summon the spirit of 2012, to do better on home soil in 2017.
As hosts, Gabon don't need to qualify so can focus those energies on 2018 World Cup qualifying where they are still alive on the road to Russia. Aubameyang missed the first leg tie of their second round clash against Mozambique with injury but scored the decisive penalty in the shootout of the return game to put Gabon into the group stage.
They will need to top their pool to secure their spots in Russia, but even if they don't, the Aubemeyang influence will give Gabon confidence they belong on the biggest stage. In stature terms, he is to them what Peter Ndlovu was to Zimbabwe, what Victor Wanyama is to Kenya or Kei Kamara to Sierra Leone. He carries the torch.
Given his consistency at club level and the interest he is attracting from elsewhere, he could become what Didier Drogba is to Ivory Coast or what Samuel Eto'o is to Cameroon. He could become more than a footballer, he could become a role model and a player to inspire the next generation.
Whether Aubameyang wants the responsibility that comes with being a icon remains to be seen. At 26-years old, he still has plenty of time to decide. For now, he has his heart set on becoming a sporting icon and told French newspaper L'Equipe, his target is to be as good as the very best.
"If Cristiano Ronaldo can score 50 goals in one season, why should I not be able to do the same? I aim to become one of the best strikers in the world," he said. So far, he seems to be on track.
Based in South Africa, Firdose is a cricket, football and rugby correspondent for ESPNCricinfo, ESPNFC & ESPN.co.uk