Five Aside: Netherlands' Revenge
The Netherlands, looking to avenge their loss to Spain in the 2010 World Cup final, rebounded from an early 1-0 deficit to stun the defending champions 5-1. The four-goal loss for the Spanish is the worst defeat in World Cup history by a defending champion.
It did not look good for the Dutch early as the Spaniards dominated possession early in the game. Through 30 minutes they had a 57-9 advantage on touches in the attacking third. A questionable penalty drawn by Spain's Diego Costa was put away by Xabi Alonso in the 27th minute, giving La Furia Roja an early 1-0 lead. Entering today's match, Spain was 22-4-4 all-time at the World Cup when scoring the first goal.
But the Netherlands seemed to find new life late in the first half. In the 44th minute, Daley Blind lofted a long pass from near midfield that found Robin van Persie in stride for a sensational headed goal to tie the score. The header was scored from 17.5 yards out, the longest headed goal measured at the World Cup since such information started being kept in 1970. With the goal, Van Persie became the first Dutch player ever to score at three different World Cups.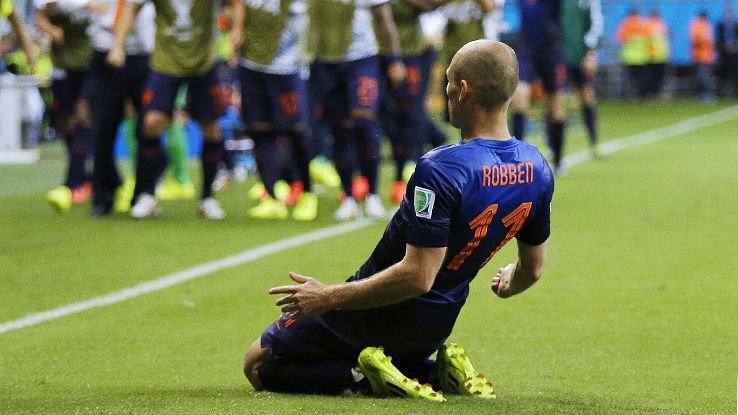 Unfortunately for Spain, halftime seemed to be the only thing that could slow down the Dutch attack. In the 53rd minute Arjen Robben tallied his fourth career World Cup goal to put the Dutch up 2-1. Eleven minutes later, Stefan de Vrij put the Dutch up two with his first career international goal. Van Persie and Robben would each add a second goal late, making it 5-1, the first pair of teammates to each have multiple-goal games in the same match since Ronaldo and Cesar Sampaio did it for Brazil in 1998 against Chile.

Spain
Netherlands
Game Details
Spain could not overcome its mistakes in the later stages, committing 14 turnovers in the second half. When it was all said and done, the Dutch had scored five times in 36 minutes and 8 seconds, including four in the second half. It is the first time Spain has allowed at least four goals in a World Cup match since the final group phase against Brazil in 1950.
According to SPI projections, Spain entered the match today with a 78.6 percent chance of advancing to the knockout stage. After their loss today, those chances have dropped to 34.3 percent. The Netherlands' chances rose from 44.2 percent before the match to 90.6 percent after their decisive victory.