Suspended FIFA president Sepp Blatter: I was 'very close' to death
Sepp Blatter said he was "between the angels who were singing and the devil who was lighting the fire" during his recent health scare, and backed suspended UEFA president Michel Platini to succeed him at FIFA.
Last week, FIFA president Blatter, 79, and Platini, 60, had their appeals against 90-day suspensions rejected by the governing body's appeals committee.
The provisional bans had been handed down after it emerged that Swiss authorities were investigating a two million Swiss franc (£1.35m) payment made by FIFA to Platini for work that was carried out nine years previously.
Amid the strife, Blatter was recently hospitalised due to stress and he said it was perhaps a more serious incident than initially thought.
Asked if he had had a brush with death, Blatter told Swiss TV channel RTS: "Yes, I was very close, but luckily I never became unconscious in the 48 hours where I was really between the angels who were singing and the devil who was lighting the fire.
"It was the angels who sang."
Blatter also said that Platini is an "honest man" despite recently accusing the Frenchman of sparking the campaign to unseat him as FIFA president.
Platini is now taking an appeal to the Court of Arbitration for Sport in the hope that he will be able to stand in FIFA's presidential election on Feb. 26.
If Platini's latest move succeeds, Blatter believes that the former Juventus midfielder would see off competition from five other candidates to become the next head of football's world governing body.
"Platini is an honest man," Blatter said. "If he comes back, he will be elected."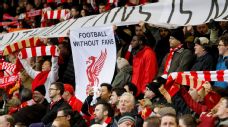 Domenico Scala, the head of FIFA's audit and financial compliance committee, said that the payment to Platini represented a "classic conflict of interest."
Platini has already admitted that there was no written contract for what Blatter previously termed a "gentleman's agreement" between the two men.
Blatter once again defended his dealings with the UEFA president, saying: "Even in the FIFA regulations it's stated that a contract can be made either in writing or orally.
"It was a contract. An oral contract -- a work contract."