FIFA president Sepp Blatter hits out at Michel Platini, England and U.S.
Sepp Blatter said Michel Platini started the movement to unseat him as FIFA president and that England and the United States helped make the campaign political because they were unhappy they were not awarded World Cup hosting rights.
Blatter and UEFA counterpart Platini are currently serving 90-day provisional suspensions issued by FIFA's ethics committee in the wake of a Swiss criminal investigation involving the pair.
However, Blatter's advisor, Klaus J. Stohlker, said this week that the 79-year-old still views himself as the FIFA president and suggested he could even remain in the role beyond the Feb. 26 election if the voting does not produce a clear winner.
Blatter's ban prohibits any involvement in football-related activity, including media interviews, but he told a Swiss newspaper of his desire to make a "dignified exit" at the weekend and has now spoken at length to Russian news wire TASS.
He said Platini, whose efforts to become FIFA president are in doubt due to his suspension, and UEFA had initiated the attempts to remove him from his post.
He added that England and the United States -- having missed out on the right to host the 2018 and 2022 World Cups respectively -- were motivated to pursue those efforts.
"At the beginning it was only a personal attack," Blatter said. "It was Platini against me."
When it was suggested to Blatter that Platini did not like him and that is why he started the campaign for his removal, he added: "Yeah, he started it, but then it became politics, and when it is in politics, it is not any longer Platini against me. It is then those who have lost the World Cup.
"England against Russia. They lost the World Cup. And the USA lost the World Cup against Qatar. But you cannot destroy FIFA. FIFA is not the Swiss bank.
"FIFA is not a commercial company. So, what they have done together with the Swiss, they have created this attack towards FIFA and the president of FIFA. And I am sure that at the beginning, when UEFA said they don't want me, they didn't know that finally it came out with such a political importance.
"And you are from TASS and you know what are the problems between your country [Russia] and the U.S. The FIFA World Cup or the FIFA president is a ball in the big political power game."
Blatter also claimed that Russia had an agreement prior the vote to host the 2018 World Cup and that the United States was due to host the 2022 tournament before French President Nicolas Sarkozy held a meeting with the crown prince of Qatar.
He added: "If the USA was given the World Cup, we would only speak about the wonderful World Cup 2018 in Russia and we would not speak about any problems at FIFA."
On the English bid for the 2018 World Cup, he called the nation "bad losers" and said: "In Great Britain they have made this beautiful game, they have introduced fair play, but there was only one vote going for England. They were eliminated in the first round. Nobody wanted to have England."
Blatter praised Russia's preparations for the 2018 tournament, saying: "You are not good, you are best, and you are working hard and you have the support. And if something is wrong, you don't go to a committee but to the boss."
He also underlined his backing for Russian President Vladimir Putin.
"You know what I like in Russia also is that in difficult situations I still have the full support of President Putin," he said. "This is good. And I support him in all discussions, in all situations."
UEFA chiefs had urged Blatter to stand down in June 2014, and Blatter said: "I became the primary target of the attack [on FIFA] because since three years already, and specifically after the 2014 World Cup in Brazil, the UEFA did not want me as the president.
"It was a conducted attack on the FIFA president, but the other confederations, they were with me. Only UEFA tried to bring me away. They did not succeed. Even with this tsunami, I was re-elected as president [in May 2015].
"And who has been involved in this attacking situation towards the FIFA president? Politics. The European Union. Because this matter was then discussed in the European Union and if you go to the history, the European Union's parliament has taken resolutions twice -- first, Blatter shall not be elected. But that is political interference in sport. And after being elected Blatter should go out. Twice they did it. The European Union Parliament."
He discussed the reasons for his fall-out with Platini, who had previously been Blatter's ally when the pair worked together at FIFA.
"It was after he was elected UEFA president in 2007, and then one year we were the best friends, and one year later in the 2008 European Championship in Switzerland and Austria I was sidelined by UEFA," he said. "And since then I never went to UEFA competitions because it's non-respect, not to me as a person, but to the office and the people I present."
He said Platini "could not" explain the reasons for his change in attitude but added: "Because UEFA is affected by anti-FIFA virus for years before my presidency. They have an anti-FIFA virus."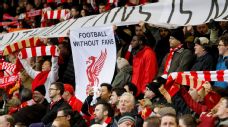 Platini ended his public backing for Blatter after the Swiss reneged on an agreement not to stand for election May this year.
The Frenchman had withdrawn his own candidacy after it became clear that Blatter intended to run again.
On why their relationship changed, he said: "You will have to ask him and we will know. Because he wanted to be FIFA president, but he had not the courage to go as the president. And now we are in such a situation in football, but FIFA is working well.
"FIFA is carrying out competitions and all development programs. FIFA is so well organised that even big opponents in Germany have to say that FIFA is better organised than the German football.
"Since I became president of FIFA, we have made FIFA a big commercial company. And this naturally provokes envy and jealousy."