7 FIFA candidates cleared, with Michel Platini pending ban verdict
Michel Platini's application to be FIFA president will only be considered if his ban is lifted prior to February's election, while former Trinidad and Tobago player David Nakhid was not included on the list.
The seven candidates vying to replace Sepp Blatter at the election on Feb. 26 are: UEFA president Platini, Prince Ali Bin Al Hussein, Gianni Infantino, Tokyo Sexwale, Musa Bility, Jerome Champagne and Sheikh Salman bin Ebrahim Al Khalifa.
FIFA's three-man election panel, led by audit committee chairman Domenico Scala, will announce next month which of the seven candidates have been officially accepted after integrity checks by the FIFA ethics committee.
FIFA published the list of valid applications "proposed in due time and form'' on Wednesday.
The list not include David Nakhid, who had said he met the deadline for applicants. No reason was given for his exclusion.
Platini -- along with Blatter -- is currently serving a provisional 90-day ban issued by FIFA's ethics committee and is barred from taking part in any football-related activity.
As such, the Frenchman's application will not be processed until the suspension is lifted, with FIFA's adjudicatory chamber set to rule on whether he has to serve a full ban.
A FIFA statement read: "FIFA's member associations have proposed, in due time and form, seven candidates for the presidential election to take place at the Extraordinary FIFA Congress in Zurich on Feb. 26, 2016.
"The candidates proposed are HRH Prince Ali Bin Al Hussein, Mr Musa Hassan Bility, Mr Jerome Champagne, Mr Gianni Infantino, Mr Michel Platini, H.E. Sheikh Salman bin Ebrahim Al Khalifa and Mr Tokyo Sexwale.
"Given that Michel Platini is currently provisionally banned from taking part in any football-related activity, his candidature will not be processed by the ad-hoc electoral committee as long as such ban is valid and in force.
"Should such a ban be lifted or expire before the FIFA presidential election, the ad-hoc electoral committee would decide, depending on the respective exact point in time, on how to proceed with the candidature concerned."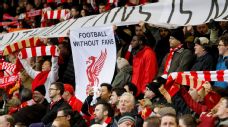 There was no explanation for Nakhid's absence from the list, with his campaign strategist having previously said the ex-Trinidad and Tobago captain, who was the one most likely to bring a player's perspective to the job, had lodged his papers with FIFA and that he had secured the necessary five nominations.
Hours before Monday's application deadline, Nakhid appeared at a sports conference in Denmark where he declined to identify the five FIFA members who nominated him, citing their wish for secrecy to avoid repercussions.
Platini's right-hand man at UEFA, general secretary Infantino, entered the FIFA contest on Monday.
FIFA said its ad-hoc electoral committee will now assess the candidates, with the ethics committee due to carry out integrity checks, before ruling on which candidates are eligible to contest February's election.
The statement added: "Upon receipt of the results of the integrity checks, the ad-hoc electoral committee will reconvene in order to review the submissions and validate their compliance with the applicable FIFA regulatory provisions.
"Following this process, the ad-hoc electoral committee will formally admit and declare the candidates who are eligible to stand for the office of FIFA president."
Blatter's advisor Klaus J. Stohlker told a German newspaper this week that the 79-year-old still views himself as the FIFA president and suggested he would stay in the role if February's election does not produce a clear winner.