FIFA candidate Sheikh Salman: Allegations are 'nasty lies'
FIFA presidential hopeful Sheikh Salman bin Ebrahim al-Khalifa has rejected accusations he was complicit in the torture of players in 2011.
Questions have been raised over whether Sheikh Salman, a Bahraini royal family member, adequately protected players with the national team after some took part in pro-democracy protests in 2011.
Some players say they were tortured while detained by government forces when the sheikh was head of the Bahrain Football Association.
The Bahrain Institute for Rights and Democracy and the Americans for Democracy and Human Rights in Bahrain said in a joint statement that Sheikh Salman "played a key role in Bahrain's retaliation against athlete-protesters. Throughout the government crackdown, he allegedly examined photographs of the protesters, identifying Bahraini athletes for the security forces."
Exclusive: Shaikh Salman tells BBC in first interview since joining Fifa election: "given the chance, I can deliver" pic.twitter.com/2jDQPKXB6g

- Richard Conway (@richard_conway) October 27, 2015
However, Sheikh Salman, who has been president of the Asian Football Confederation (AFC) since 2013, told BBC Sport the allegations are "nasty lies."
"I cannot deny something that I haven't done," he added. "Such accusations are not just damaging, it's really hurting. Some people have agenda on their table."
Sheikh Salman, who has the "overwhelming support" of the AFC Executive Committee, said he would fight to repair FIFA's reputation swiftly if elected Sepp Blatter's successor at February's election.
"With the support I'm going to get we're going to turn it around very quick," he said. "We have big examples of football organisations around the world -- the Premier League, the Bundesliga, even UEFA who have from a football side and a revenue side, it is not even greater than FIFA, but it is handled in a very professional way. And this is what we want to bring to FIFA."
The deadline to enter the FIFA presidential election passed on Monday, bringing some surprise entries and a potential eight-man lineup on Monday.
Among late tactical changes, two unexpected additions were Gianni Infantino -- the right-hand man of suspended UEFA president Michel Platini, whose own entry will likely be barred -- and Liberian football leader Musa Bility, whose campaign seemed hopelessly stalled in August.
The list of contenders to succeed Blatter leading the corruption-hit world football governing body grew longer than expected and will surely be cut before the Feb. 26 ballot.
A further twist stopped the race reaching nine as a former FIFA secretary general, Michel Zen-Ruffinen, told The Associated Press he decided not to run despite getting the required nominations from five of the 209 member federations.
Just over one month ago, Platini was a strong front-runner in a small field with key backers in Asia and the Americas.
That changed on Sept. 25 when the former France great was implicated in a Swiss criminal investigation. Platini got a suspected "disloyal payment" of $2 million in backdated salary from FIFA funds got in 2011 with Blatter's approval. Both are serving 90-day bans imposed by FIFA's ethics committee pending a full investigation.
Platini's bloc of support seemed sure to transfer to Sheikh Salman, making him the likely the current favourite, although the human rights questions could yet threaten his bid.
Infantino's late entry offers the Europe-Asia alliance an extra option if both Platini and Sheikh Salman are ruled ineligible as candidates.
Africa got a second contender when after Bility re-emerged two months since his campaign seemed over when African football leaders refused to support him.
"I don't want to go into any race that I cannot win," Bility told the AP, saying more than 25 of the 54 African voting federations offered to nominate him.
Bility joined the race one day after long-time African confederation president Issa Hayatou -- the interim FIFA president, who has declined to publicly support South African tycoon Tokyo Sexwale -- met with Sheikh Salman in Cairo.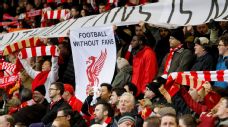 Other probable candidates vying for the FIFA job include Sexwale, Prince Ali Bin Al Hussein of Jordan, former FIFA official Jerome Champagne and David Nakhid, a former player from Trinidad and Tobago.
Prince Ali, a former FIFA vice president, cut ties with Platini after losing to Blatter in the election in May.
They were not joined by Zen-Ruffinen, who said he gained five nominations but lacked significant backing within a crowded field.
"Some of the candidates are very strong and it doesn't make a lot of sense to go," Zen-Ruffinen said Monday. "I have hesitated until very late tonight."
Later on Monday, Champagne and Nakhid shared a platform at a sports conference dedicated to good governance, the two-yearly Play The Game event in Denmark.
"I am sure there will be a lot of sleaze," Champagne predicted at a session examining the FIFA race. "It has started, believe me."
Information from The Associated Press was used in this report.