FIFA ethics committee investigating Franz Beckenbauer, Angel Maria Villar
FIFA has confirmed that Germany great Franz Beckenbauer and senior vice president Angel Maria Villar have been investigated for wrongdoing and their cases have been passed to the adjudicatory chamber for a verdict by the ethics judge.
Details of the case were not provided at the time of the statement.
Although both Beckenbauer and Villar have previously been identified as targets of an investigation, the announcement on Wednesday from FIFA's ethics committee is the first public confirmation of their names.
Beckenbauer is a former World Cup winner with West Germany both as a player in 1974 and a coach in 1990, and a two-time winner of the Ballon d'Or.
The 70-year-old, who has also come under fire in Germany following Der Spiegel's allegations that the 2006 World Cup has been secured with the help of a slush fund. However, does not need to fear a suspension, according to media reports.
"In essence it's about non-cooperation," a spokesperson of FIFA's adjudicatory chamber told kicker.
In 2014, Beckenbauer, who as a member of the FIFA executive committee at the time of the 2018 and 2002 World Cup votes in 2010, had already been suspended for 90 days, when he failed to answer questions for the Garcia report.
The ban was lifted after two weeks when Beckenbauer answered the questions. Australian judge Alan Sullivan will pass sentence as his German counterpart Hans-Joachim Eckert is deemed biased as a compatriot.
The public disclosure of Villar's name is potentially embarrassing for UEFA, given that the Spanish federation president headed meetings last week of European football's governing body while Michel Platini is suspended.
With secrecy on cases now lifted, FIFA's ethics committee has confirmed that suspended FIFA secretary general Jerome Valcke is under investigation "related to the suspicion of misuse of expenses and other infringements of FIFA's rules and regulations."
Valcke was initially put on leave last month when FIFA ordered an investigation into alleged unethical conduct after he was accused of taking part in a deal for black market sales of tickets to matches at the 2014 World Cup.
Two weeks ago, FIFA's ethics committee then provisionally suspended Valcke for 90 days, pending the full verdict in the case.
Valcke had been FIFA's top administrator for the past eight years under president Sepp Blatter, who has been suspended over separate allegations.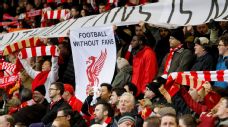 Two years after completing a three-year ban from football, former FIFA executive committee member Amos Adamu faces being sanctioned again.
FIFA's ethics body named the Nigerian among several football officials subject to "formal investigation proceedings relating to the suspicion of infringements." Further details were not provided.
Adamu's previous ban came after being implicated in corruption allegations concerning the fiercely criticised votes selecting Russia and Qatar as hosts of the 2018 and 2022 World Cups.
Adamu was filmed in a British newspaper sting in 2010 asking undercover reporters posing as bidders for $800,000 to influence his World Cup hosting vote, saying he wanted the money paid to him personally so he could finance football fields in Nigeria.
He was suspended and not allowed to take part in the December 2010 votes, then banned for three years by FIFA and failed in two appeals against his sanction.