Chung Mong-joon: FIFA sabotaging my presidential candidacy
Former FIFA vice president Chung Mong-joon has accused world football's governing body of sabotaging his bid to succeed Sepp Blatter after its ethics committee banned him for six years.
Chung, who was investigated over the 2018 and 2022 World Cup bidding contest, said in a statement on Wednesday that the committee had still not provided him with written reasons for imposing the punishment two weeks ago.
The South Korean said: "FIFA continues to sabotage my candidacy for FIFA president."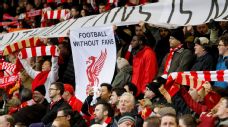 His statement added: "I cannot maintain my candidacy because of the unjust sanctions, but I cannot appeal those sanctions or get an injunction from the Swiss court because I do not have the reasoned decision that FIFA's ethics committee has so far refused to send me."
The deadline to submit candidacies to FIFA for the Feb. 26 election is on Monday. If any officials have current suspensions lifted before then, FIFA's election watchdog could still declare them eligible candidates.