Michel Platini: Payment agreement with Sepp Blatter was 'man to man'
Suspended UEFA president Michel Platini has confirmed there was no written contract for the 2 million Swiss franc (£1.35m) payment made to him by FIFA in 2011 and being investigated by the Swiss authorities.
Earlier this month, Platini and FIFA president Sepp Blatter were provisionally suspended for 90 days by FIFA's ethics committee.
The payment was made more than nine years after former France captain Platini had finished working as an adviser to Blatter.
Controversy surrounding it has cast doubt on his bid to replace 79-year-old Blatter -- but he has insisted he is "the only person who can ensure that FIFA might become a home of football again."
He was backed at a UEFA meeting on Thursday, but the following day England's Football Association suspended their support ahead of next the FIFA presidential election in February.
Blatter said the payment to Platini had been made under "a gentleman's agreement."
In an interview with French newspaper Le Monde on Monday, Platini said he and Blatter had agreed a fee of 1m Swiss francs per year for his work.
"It's a long time since I've had neither a lawyer nor an agent to negotiate for me," he said. "And then it was a man to man thing.
"He was going to become president of FIFA... I trusted him. In any case, I learned since that in Swiss law an oral contract is worth the same as a written one."
Platini said he confronted Blatter when he had not been paid for several months.
Blatter then told him that someone being paid more than three times the FIFA secretary general's salary would be unacceptable and they then agreed a deal worth 300,000 Swiss francs, with the remainder to be paid at a later date.
"I stopped working for him in 2002, at the time when I became a member of FIFA's executive committee," Platini said.
"I didn't ask [for the money he was owed] because I didn't lack it... but I would have been better asking for an acknowledgement of the debt and then none of this would have happened."
Years later, Platini sought the money he was owed and sent an invoice for two million Swiss francs, he said.
"I was paid 10 days later without any difficulty by FIFA and I paid charges and taxes on that sum quite normally," he added. "Frankly, if there was any doubt [about the money], FIFA would have refused to pay me."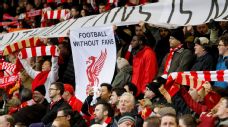 Platini said he had suspicions about whether Blatter had released information about the payment to hit his plans to run for the presidency.
"I don't know," he said. "Let's say I have my doubts. In any case, all that came out from the moment when I requested his resignation and when I became a candidate.
"I'm the only person who can ensure that FIFA might become a home of football again but every time I get closer to the sun, like Icarus, it burns everywhere."
Platini said the money television had brought to football has "brought people who like money."
He said a new president would be a good chance to change things for the better and believed he was "the only footballer sufficiently popular who's in a position to take the presidency and finally sort things out."