Hints and tips from the fantasy world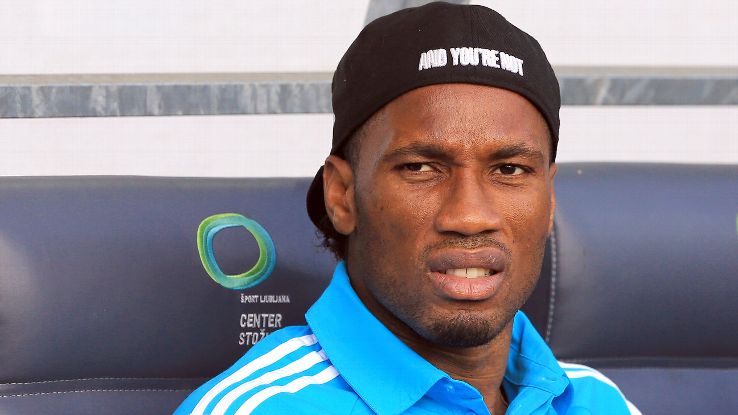 ESPN FC's 2014-15 Premier League fantasy season begins Aug. 16, and managers have until then to put together their best 15 players within the 100 million-pound spending limit.
Right now, those that have selected their squads are, no doubt, tweaking their roster based on new transfers, summer results, injuries, and other factors. Here is a look at selected players and some other considerations.
Players recently added to the fantasy game
Didier Drogba, Chelsea (6.0)
The Stamford Bridge legend rejoins Jose Mourinho at a seemingly bargain fantasy value. With Diego Costa the supposed big gun, we wait to see how the Ivorian will fit in and whether he still has goals in his boots.
Filipe Luis, Chelsea (7.2)
The 28-year-old Brazilian defender was on an Atletico Madrid side that only gave up 26 league goals last season. He is known more for his defense than offense and has a pricey value.
Injured or players with fitness issues
Robin van Persie, Manchester United (9.2)
After a three-week vacation following World Cup duty, Van Persie has only just begun preseason training and is unlikely to be on the team sheet for opening day.
Oscar, Chelsea (7.2)
The midfielder is one of many players joining their team late following World Cup play.
Daniel Sturridge, Liverpool (9.5)
He was sent home from a tour of the USA with a minor hamstring injury, leaving Liverpool supporters on edge.
Emmanuel Adebayor, Tottenham (7.9)
After a bout of malaria, he is working to be fit and has returned to preseason training.
Transferred players
Romelu Lukaku, Everton (8)
The most expensive signing in Everton history had 15 goals and six assists last year while on loan with the club.
Bojan Krkic, Stoke (6.1)
The Potters' new midfielder seems ready to add punch to Mark Hughes' attack and is available at an affordable price.
(Man United) Players on the "bubble"
It is to be determined whether Nani (6.0), aka "StepOver Jr.", is one of many on the way out of Old Trafford. Likewise Shinji Kagawa (6.2) and Javier Hernandez (6.0).
Revived players
Ashley Young, Manchester United (6.1)
He has had a sensational preseason and is projected as a certain starter and fantasy point producer. His value means he could be the buy of the season.
Erik Lamela, Tottenham (6.2)
The Argentine midfielder under new boss and countryman Mauricio Pochettino has been scoring goals this summer. He may be on a huge comeback from last season.
Intriguing addition
Frank Lampard, Manchester City (6.8)
Available until January, the former Chelsea midfielder may offer fantasy value to spell the likes of David Silva and Samir Nasri.
Early look
Fantasy managers can see the announced lineups for two teams before the season begins. Manchester United and Swansea play in the early game, affording fantasy managers a small window to make roster changes before the week locks.
Who wears the armband for Game 1?
Picking the right captain can make the difference between a good and a great week. Suggestions for the opening week:
Wayne Rooney (9.4), Ashley Young (6.1) and Juan Mata (8.0): Manchester United (H vs. Swansea)
Alexis Sanchez (9.0) and Aaron Ramsey (9.2): Arsenal (H vs. Crystal Palace)
Yaya Toure (10.0), Sergio Aguero (9.1) and David Silva (7.7): Manchester City (A vs. Newcastle)
Eden Hazard (9.4) and Diego Costa (9.0): Chelsea (A vs. Burnley)
Romelu Lukaku (8.0): Everton (A vs. Leicester)
Penalty takers
A bonus for fantasy managers is having players who take penalty kicks for their team. Here are a selected few:
Arsenal: Mikel Arteta (6.3) and Olivier Giroud (9.0)
Chelsea: Eden Hazard (9.4)
Everton: Leighton Baines (7.8)
Liverpool: Steven Gerrard (9.0)
Manchester City: Yaya Toure (10.0) and Sergio Aguero (9.1)
Manchester United: Robin van Persie (9.2) and Wayne Rooney (9.4)
Swansea: Wilfried Bony (7.4)
Tottenham: Roberto Soldado (6.5) and Emmanuel Adebayor (7.9)
(Managers should also consider players who usually take direct free kicks and corners.)
Strength of schedule
Always a factor affecting fantasy success. For example, while Hull are not among the elite Prem teams, on paper Steve Bruce's side has the easiest opening five games, versus QPR, Stoke, Aston Villa, West Ham and Newcastle.
The next "softest" schedule belongs to Manchester United, who play Swansea, Sunderland, Burnley, QPR and Leicester. Chelsea also has a good run, facing Burnley, Leicester, Everton and Swansea before meeting Manchester City.
By contrast, Manchester City has the toughest starts, coming up against Newcastle, Liverpool, Stoke, Arsenal and Chelsea, while Everton -- Leicester, Arsenal, Chelsea, WBA and Crystal Palace -- will also be challenged.
John Culea offers previews of upcoming Premier League action and a review of the games played from an American perspective.