Welcome to Ipswich's Portman Road: Fan life beyond the Premier League
This is part of ESPN FC's "72 Hours Until Kickoff" package. Click here to see how the entire club, from players to manager and from coaching staff to stadium security, prepares for matchday. Click here to read how Mick McCarthy handles the incredible pressure of trying to get Ipswich back to the Premier League on a tight budget.
IPSWICH, England -- Kick-off is fast approaching and Phil Taylor is thinking hard.
"Every so often, I get prompted to work it out," he laughs. "When it was coming up to a thousand, I sat down and worked out how many games each season, including FA Cup games and League Cup games. I went through it all and worked it all out, got the total. I haven't counted up again for a while, but that was about three years ago ... so it'll probably be about 1,150 by now."
Taylor has not missed a single Ipswich Town match, home or away, since 1994. (Not a competitive one, at any rate: "I have to draw the line somewhere," he says when asked about preseason matches.) He has travelled the length and breadth of the country, watching his team rise to the giddy heights of a fifth-place finish in the Premier League and, over the course of the past 14 seasons, settle into the uncomfortable limbo of life in the second flight.
It is an almighty commitment, but one that Taylor, a school teacher whose shoulder-length hair lends him a certain roadie chic, seems powerless to escape. When a previous run of 260 consecutive matches was interrupted, he promised himself he'd never put himself through it all again. But here he is, back at Portman Road, Ipswich's lovably dog-eared home, for match 1,150 ... or so. He says it will take "an accident or a breakdown" to stop him.
As you'd expect, it's not all sunshine and rainbows. Here, away from the bright lights of the Premier League, the chances of even fleeting glory are slim.
For Ipswich, especially, the Championship has long felt like a prison cell: for all their history and all their tradition, they simply cannot seem to haul themselves back to the Premier League. This season, a relegation battle looks far more likely than a promotion push; the football has been desperate and results not much better. Yet Taylor and thousands more like him still make the effort every weekend, in search of something intangible.
Perhaps it is a sense of camaraderie, the grim pleasure of a problem shared. Some, you expect, must relish the sheer adversity of the whole thing; an underdog spirit confers its benefits.
"If you're a Man United or Man City fan, you get hacked off when it's not going well," says Taylor. "Here, when it's good, you appreciate it."
And when it's not? Well, you just turn up anyway.
Matthew Caley is holding court on BBC Radio Suffolk, much as he does every Saturday. "I don't agree with parachute payments," he tells presenter Mark Murphy. "It's not fair, is it? We can't compete with Newcastle, Norwich and Villa," three clubs that benefited from sizable parachute payments, having been relegated from the Premier League last season.
Murphy nods in approval, as do his other guests, who include Ian Milne, Ipswich's managing director. They have been hearing this kind of lament from supporters all season long. The budgets just don't measure up; Town are very much a David in a Championship newly swarming with Goliaths.
The members of the panel are crowded around a table in a hospitality area inside Portman Road. Outside, anticipation is building ahead of the meeting with fellow strugglers Rotherham. If there's something slightly surreal about the scene, it to be found in the age of one of the pundits: the eloquent Caley is just 12.
He is the second youngster to take on "tractor boy" duties on the pregame show -- "The first one had to retire at 16 because his voice was lower than ours," laughs Murphy -- and for all his wide-eyed enthusiasm is clearly beginning to lose patience with manager Mick McCarthy. "I think it might be time for him to go," he says. "It's just hoof, hoof, hoof." (The Tractor Boys is a recent team nickname coined at the club, poking fun at their agricultural background.)
An increasingly vocal section of the Ipswich fan base seems to be moved by similar sentiments. Boos have been heard at recent games; a taxi driver tells me that his daughter hardly attends matches anymore, so disillusioned has she become with the quality of football on offer.
On Thursday night, two days before Rotherham's visit, the official Ipswich supporters' club's annual general meeting was held, a chance for some face time with various members of Town staff -- including, in an admirable display of openness, McCarthy himself.
We'd been warned that things could get a bit feisty; Town had won just one of their past seven games at the time and the "knives are reportedly out" in some circles. But McCarthy cuts a relaxed figure, greeting supporters' club chair Liz Edwards with a kiss on the cheek. After taking the floor to warm applause, he mischievously pretends to dunk my phone in a glass of water when I set it on the table in front of him.
Initially, things are spiky. The first man to speak sounds off about the style of football and grows indignant when McCarthy asks for his name. But as the latter puts forward his own case -- "When Ipswich needed a bit of a hand, guess whose phone they rang? That was me. Do you know what? I'm having a bit of a tough time at the minute. I would like a bit of help, a bit of support" -- it becomes apparent that the mutineers are outnumbered, or at least hushed by McCarthy's admission of vulnerability. One supporter apologises on behalf of the "fickle" naysayers. The mood lifts.
The following morning, at the training ground, McCarthy will respond to my question about the meeting with a grin that suggests he enjoyed the verbal jousting with the club's followers. "Yeah, they're all right."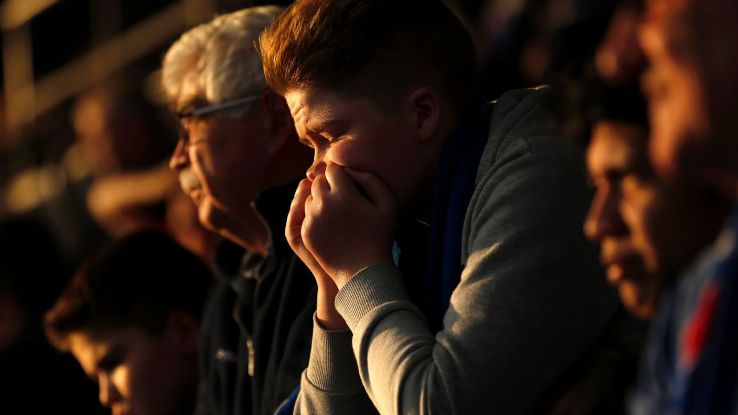 A chalkboard outside promises that "Every Thursday = Rampage" and has details of a karaoke night with DJ Finchy, but the Black Horse pub is fairly sedate as Saturday's kick-off approaches.
At the bar, six men wearing Ipswich shirts run through scenarios that would leave them in the relegation zone. The 3-0 defeat to Newcastle the weekend before has clearly dented confidence. "That's what you get when a team that spends hundreds of millions plays one that spends tens of thousands," someone sighs.
Talk turns to gambling ("I do bet responsibly. It's the one thing I do responsibly!") and predictions for the Rotherham match. "Christophe Berra first goal, Town 3-0," says one. "Someone's got to be optimistic." Another is more circumspect, accusing his friend of wearing "Jäger-tinted specs," and plumps for a goalless draw.
Back at Portman Road, fans are crowding into the Fanzone, a new addition this season, offering supporters a place to mill around before matches. Children play on a bouncy castle to a dirge soundtrack provided by a local rock band. "Why don't you just die?" howls the singer, prompting a grey-haired lady to look up from her newspaper in bemusement.
On Sir Alf Ramsey Way, a man with a loudspeaker marches up and down, hollering a jumbled mix of pop songs whose lyrics he has adapted to be about Ipswich. There's a warped poetry to it. Through the turnstiles, four German fans decked out in Fortuna Düsseldorf garb -- there are hundreds of these "Fortuna Blues" who make the pilgrimage to Suffolk each season -- are trying to decipher instructions from locals about where to go after the match: "Curve Bar? What is that?"
As the game begins, there is optimism in the air. "We're the Tractor Boys, gonna make some noise," sing the fans in the Sir Bobby Robson Stand, and make some noise they do, as Ipswich grab an early lead. The sun breaks through the clouds a couple of minutes later, bathing the pitch in warm hues. Everything feels right with the world.
It does not last. Rotherham equalise against the run of play. "Town! F---ing hell, boys," mutters a callow teenager. There are a few tentative chants thereafter, many of them about Norwich and their joint-majority owner, British celebrity chef Delia Smith ("She cooks a potato and we f---ing hate her," is perhaps the sole printable line from any of them), but as half-time arrives, the overriding feeling seems to be that of frustration.
The manager's name begins to be uttered with increasing frequency. "Sort it out, McCarthy," howls one man. "It's Rotherham! They haven't got a single away point," shouts a second when the visitors score again. Slowly but surely, exasperation boils over into anger. A chorus of "We want our Ipswich back" rings around the stand; McCarthy is informed by the crowd, at some length, that he'll be receiving his marching papers the following morning.
After 87 minutes, with Rotherham holding firm in the face of what doesn't honestly amount to an onslaught, fans begin to leave. It's a trickle at first, then a steady stream. But those who depart end up missing a final twist: in the dying moments, Town forward David McGoldrick slams home from the edge of the box to make it 2-2. It's enough to raise a few smiles but not to spare McCarthy another volley of abuse when the full-time whistle sounds.
Then, the light fading and the air beginning to nip, with that famous quote from Sir Bobby Robson -- "What is a club? It's the noise, the passion, the feeling of belonging" -- written on the top of the stand high above them, the masses file out into the night.
Outside, there are a few rueful smiles and many more grimaces. "I just don't know what goes on Monday to Friday," says Luke, a gentle giant of a young man. "You turn up every fortnight and it doesn't look like they've practiced how to score a goal. Rotherham were there for the taking, and we've let them get away with a draw.
"None of us felt like celebrating the late goal. It didn't feel like we deserved to. It was just a get-out-of-jail-free card."
Jack Lang writes about Brazilian football and the national team for ESPN FC.