#FC100: Why are there not more Premier League representatives?
ESPN FC's Top 100 made chastening reading for the English Premier League, the self-styled best competition in the world. What might be the reasons for that lack of gold-plated talent?
The best attract the best
English football does not have a dominant force to match the might of Real Madrid, Barcelona or Bayern Munich. Those three are by far the biggest and best in European football, as evidenced by their near-permanent residence in the semifinals of the Champions League and their possession of 35 from 90 selections in our top 100, compared to the Premier League's overall total of 30. Since Chelsea beat Bayern in the competition's 2012 final, the trophy has been shared between the three of them, with Real winning twice.
Perhaps Manchester City under Pep Guardiola might soon compete in that top echelon but simply put, the best players want to play for the best clubs and win trophies like the Champions League. And English football has not had such clubs for a while.
Premier League is becoming a stepping stone
Beyond Man City's Kevin de Bruyne, a glance at our No. 1 selections produces three names that have played Premier League football: Gerard Pique, Luka Modric and Luis Suarez. Dropping below that, there are the second-placed likes of Cristiano Ronaldo, Angel di Maria and Jerome Boateng.
Ronaldo, Modric and Suarez made their reputations in the Premier League before transferring to Spain's giants. Talented players are not against playing in England; the financial rewards are good and it is a well-exposed shop window. Even relative misfits like Pique, Di Maria and Boateng weren't dismissed after failing to settle. The Premier League hardens up players but the elite stars, aside from maybe De Bruyne and Sergio Aguero at City, always look to the continent.
Athleticism, not technique to blame?
Pique, Di Maria and Boateng all struggled with the extreme physical nature of English football. Pique (at Man United) and Boateng (at Man City) were fledgling centre-backs at the time, players whose class on the ball was not enough to protect them from the buffeting that all defenders receive in the Premier League.
In Portuguese, Spanish and now French football, Di Maria was a busy presence coming off the flanks. At Man United, he would run into traffic, rarely given time to show off his skills. As its national team's repeated failures show, English football breeds players to deliver power and pace with technique some distance behind in importance.
A lack of quality strikers
Beyond Aguero, Chelsea's Diego Costa and Zlatan Ibrahimovic (who at 35 in the probable twilight of his career at Man United), there is a noticeable lack of top-grade strikers in the Premier League. Lionel Messi and Ronaldo may have reconfigured the idea of a goalscorer but strikers remain vital to most teams, though increasingly less so in England, it seems.
A Premier League club has not attracted the top striking talent available since City paid £38 million for Aguero in the summer of 2011. Maybe Premier League clubs see little need since defending in the Premier League is hardly of the highest grade: only six English-based defenders from a possible 30 made the cut.
Untold riches have yet to buy the best
The Premier League is by far the richest league in world football. This season is the first of three that will see clubs share a collective £8.3 billion. Perhaps Paul Pogba's world-record £89.3m August transfer from Juventus to Man United is the start of a trend, where the Premier League's multibillions start blowing continental suitors out of the water.
The summer of 2016 saw a total over £1bn shelled out, with seven of the top 10 transfers carried out by Premier League clubs, but English clubs are also now paying out high premiums for mid-range talent. A time when the likes of City and United pluck the best from under the noses of Real, Barcelona and Bayern may still be some way off in the distance.
---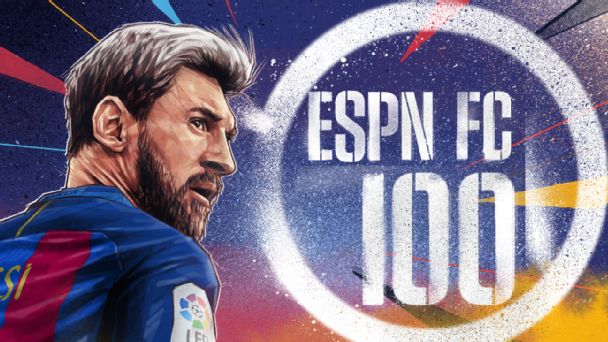 FC100: The full list
Goalkeepers
Right-Backs | Centre-Backs | Left-Backs
Central Midfielders | Attacking Midfielders | Wingers
Forwards | Strikers
Managers
---
Feature content
Gab Marcotti: Putting the fun back in football rankings
Miguel Delaney: Picking the future #FC100 No. 1s
Nick Miller: England's slipping stock behind low #FC100 representation
Mark Lovell: No surprise that Bayern dominated #FC100
John Brewin: Where were all the Premier League players?
---
FC 100 is the result of a comprehensive vote among ESPN FC writers, experts and regions to determine the top 100 in the men's game right now. Our ballot breaks things down by position to more accurately reflect the top performers all over the pitch, not just the ones who dominate the headlines.
John Brewin is a staff writer for ESPN FC. Follow him on Twitter @JohnBrewinESPN.