Messi's pride, Ronaldo's grace, Lloyd's emotion... and Pogba's suit
ZURICH -- The Ballon d'Or has become a duopoly and FIFA is embroiled in scandal, but it was difficult not to get a sense of something more refined and traditional when, upon walking into the ballroom of Zurich's Kongresshaus, there is football royalty in every corner of the room.
There is an undeniable charm to an occasion, which sees Marco van Basten sitting idly, only to be greeted with friendly ease by Hristo Stoichkov. Likewise, there was warmth in the clasping of hands between Kaka and Clarence Seedorf.
They were all there to celebrate Lionel Messi. The 2015 Ballon d'Or winner carries himself in a relaxed and quiet fashion and politely answered every question that came his way in the mixed zone, even turning back to talk when an official tried to move on. That said, he is greeted by everyone with something that approaches awe.
Appropriately recognising his kind of historic talent is what this occasion should really be about, even if the ceremony's ambience was undermined a little by a strings version of AC/DC's Thunderstruck, which left many of the players in the room looking on, expressionless.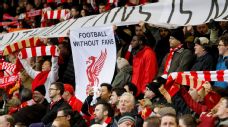 Despite that, it was a night that generally struck the right notes, and had more than a few vignettes:
- You wouldn't have guessed FIFA's problems of the last year from the event that is designed to sum up the previous 12 months, other than the fact that Issa Hayatou was there as acting president in the absence of Sepp Blatter. Beyond that, there was nothing to see here, with no mentions of anything relating to the controversy.
- The gala didn't take itself as seriously as in the past, with actor James Nesbitt offering an agreeably light touch to the evening alongside co-host Kate Abdo. That was illustrated when, with the candidates for the main awards on stage, the Irishman broke protocol and took a mass selfie. He made sure Ronaldo was in it, which was pointed. A vocal Manchester United fan, Nesbitt repeatedly chided the Portuguese star about returning to Old Trafford.
- Ronaldo took that in good grace, as he did the evening's main news. Throughout the day, he talked about how he expected Messi to win and even accepted that the Argentine was in some way better than him: Ronaldo praised the brilliance of Messi's left foot and wished he could have it. Neymar then interjected, saying he'd like to have both of his Barcelona teammate's feet. The Brazilian seems in complete awe of Messi.
- When Messi was confirmed as the winner, he planted a kiss on Neymar and shook hands with Ronaldo. The Argentine also showed that this award affects him more than is commonly talked. In his speech, Messi rather pointedly mentioned how he had to watch Ronaldo pick it up for the last two years. That was the only edge to it, as he otherwise seemed rather grateful about receiving it again.
- The most touching speech of the night was undeniably that of Carli Lloyd, the U.S. captain who won the women's World Player of the Year award. At first, upon trying to get out a few words, she had to stop herself due to emotion, a response that brought a round of applause from the room.
- Wendell Lira was able to speak but his words were weighed down with almost as much emotion. The Brazilian can now always say he beat Messi to an award, as his spinning bicycle kick for Goianesia won the Puskas Award for the year's best goal. What stood out was how much the award meant to him, when so many of his peers view these prizes with a sense of vindication rather than as an honour. Indeed, Lira said: "It is an honour to be here to get to know famous players I've only seen on the [TV] screen before."
- And finally, there was Paul Pogba's suit. It is the Frenchman's stated intention to win this award and perhaps he drew inspiration from Messi's previous dress choices. Pogba, who brought his mum along as his guest, donned a gold number, which was as eye-catching as one of his passes. More than one of his FIFPro XI teammates pointed at it on the stage.
Miguel Delaney covers the Premier League and Champions League for ESPN FC. Twitter: @MiguelDelaney.