Leroy Sane shines for Schalke with Germany star wanted by Liverpool
As Leroy Sane prepares for his debut for Germany against France in Paris on Friday, it is interesting to note the reigning World Cup winners owe the very existence of his extraordinary talent to the French army.
Souleyman Sane, Leroy's father, is a son of Senegalese diplomats. He arrived in France at the age of four, chose to play football against the will of his father and played at amateur level before his life profoundly changed in 1982. Sane was called up for military service and according to the law he could be based close to his home as a promising sportsman. In order to get such permission, the Football Federation had to send over the necessary papers, but fate decided differently.
Sane was on his summer vacation at the time, and long before the rise of the internet and cellular phones, his parents simply couldn't reach him. As a result, the application wasn't made on time, and the soldier was ordered to serve far away from Paris, across the border in the Black Forest.
While in the army, Sane played for tiny SV Donaueschingen in his spare time, which is where second division SC Freiburg noticed his skills. In 1985, at the age of 24, he signed for his first professional club, and started a very impressive career, on his way to becoming one of the most feared and popular strikers in Germany. After netting 56 goals in three seasons and finishing as the top scorer in 2.Bundesliga in 1988, Sane moved on to Nurnberg and then to Wattenscheid, a well-respected club from the Ruhr Valley that played in the top flight at the time.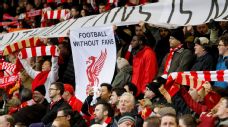 Able to run 100 meters in just 10.7 seconds, Sane was incredibly quick and lethal in front of goal. His career was successful and very eventful. Remember Dani Alves eating a banana that was thrown at him by a Villarreal fan last year? Souleyman Sane did the same during his time at Nurnberg, and as one of the first black players in the Bundesliga, he had to deal with racism from the stands. On one occasion, Sane even headbutted a journalist who made improper comments about his wife, and was defended by Nurnberg coach Hermann Gerland who jokingly asked the striker: "Why didn't you kill him?"
Sane was loved by the supporters, was nicknamed "Samy" and felt more and more German as time went by, especially because he married Regina Weber, one of the best gymnasts the country has ever known. Weber won 32 national championship titles in different categories, and is Germany's only female Olympic medal winner in rhythmic gymnastics, having claimed bronze in 1984. Weber worked in the Ruhr area after retiring from sports and that is why Sane Sr. returned to the valley after plying his trade in Austria and Switzerland in mid-90s.
It is only natural that the pair's children should have phenomenal genes. Their three sons were youth players at Schalke and Leroy, the middle one, is the most gifted of them. Having inherited his father's speed and his mother's agility, Sane Jr. was always bound to become an outstanding footballer. He started out at Wattenscheid, who sadly sank to the lower divisions after his father left, and then moved on to Schalke. In 2008, the club let Sane go to Bayer Leverkusen, but they managed to get him back in 2011 and were amazed at the progress he made during 2015.
Leroy announced himself to the world back in March. He only had seven short substitute appearances in the Bundesliga under his belt when Schalke coach Roberto Di Matteo was forced to send him on to the pitch at Bernabeu, in the Champions League last-16 against Real Madrid, following an injury to Eric Maxim Choupo-Moting with just 29 minutes gone. Real Madrid won the first leg 2-0 in Gelsenkirchen, and with the scores level at 1-1 in the return leg, it looked like the tie was over.
Sane thought differently. In one of the most remarkable Champions League debuts ever, the 19-year-old produced an absolutely brilliant performance. He was everywhere across the attack, fought for every ball and scored a majestic goal with a curling shot into the far corner from the edge of the area that gave goalkeeper Iker Casillas no chance. That leveled the scores at 3-3 and then Sane was involved when Klaas-Jan Huntelaar netted Schalke's fourth to put the Germans in front. The club almost completed a sensational comeback to go through on away goals as Sane's brilliant effort was saved by Casillas, but it proved just beyond them.
Yet, after such a show, it was inevitable that Sane would become an undisputed starter for Schalke. Just three days later, on his full Bundesliga debut, he scored another beautiful goal at Hertha Berlin with a delicate chip. And if that wasn't enough, Sane netted yet another stunner against Wolfsburg in April, after running the length of the pitch from his own penalty area.
His progress was much faster than expected. At the start of last season, Sane was still the leader of Schalke's under-19 team. He scored three goals in the UEFA Youth League before the Germans were eliminated by Manchester City on penalties in February and contributed nine goals and nine assists in 19 games, making sure that Schalke finished top of the Western division in the U19 Bundesliga.
By the time the U19 championship final against Hoffenheim took place in late May, Sane was already an established Bundesliga star, but the team needed him. And so he joined the squad for the game that was -- very symbolically -- played at Wattenscheid stadium where his father was such a huge idol in early 90s. Sane had played against Hamburg in the Bundesliga just two days previously and the youth coach, Julian Nagelsmann, intended to use him for the last quarter of the game. However, Hoffenheim took an early lead and Schalke had to play their trump card much earlier than expected. Sane entered the pitch in the first half, made some stunning runs and turned the game on its head en route to a 3-1 win and the trophy.
Sane's emergence forced Schalke to extend his contract twice in the space of three months. The youngster signed a new deal until 2017 in March, but with a host of top clubs lurking around, -- including Liverpool, who made an official offer -- Sane was offered a much better contract in July and agreed to extend his deal until 2019. "Leroy is an extremely talented player, who proved how versatile he is in attack," sporting director Horst Heldt said at the time.
Versatile is indeed the best word to describe Sane. He is left-footed but has a very decent touch with his right, making his movements unpredictable for defenders; he has been used on both wings, as a second striker and as an attacking midfielder, and he feels comfortable in every position as shown by the fact he has four goals and three assists so far this season.
One of the fastest players in the league, the youngster loves to dribble but is unselfish and will always pass to a better-positioned teammate even when shooting is an option. He might look slightly built, but is remarkably athletic and contributes a lot in defence as well as his vision and tactical awareness up front.
With less than a year of experience at the highest level, Sane is not the finished article but his current level at the age of 19 is frightening. That is why Germany coach Joachim Low did not hesitate to call him into the national squad for the friendly with France and Netherlands. "He is fast and technically strong. We see his great potential," the national coach said, while the new Schalke coach Andre Breitenreiter added: "Leroy has undergone a rapid development in a short time, and the call-up is absolutely deserved."
Sane will now get a chance to shine alongside the stars who won the 2014 World Cup last summer. Just a little more than a year ago, he watched the final against Argentina on the giant screen with his friends from Wattenscheid; now he is set to become an integral part of the champions' squad.
Indeed, his international debut could take place in Paris against France on Friday, just a few kilometers from the tiny stadium where his father played in early '80s, before the letter from the army changed his life. But for the military service, Souleyman Sane would never have played in Germany; he wouldn't have met Regina, and Leroy wouldn't have been born
The French deserve credit, therefore, for the emergence of a player who could possibly become one of the brightest stars of the next decade. It will be fitting if he scores his first goal for Germany against them.
Michael Yokhin is ESPN FC's European football writer. Follow him on Twitter: @Yokhin