Valencia's inauspicious Champions League start dents fan enthusiasm
Valencia fans camped outside Mestalla for a ticket to their Champions League qualifier against AS Monaco in August. They could have camped inside Mestalla during their first actual Champions League match against Zenit St Petersburg on Wednesday night. There was plenty of space to pitch a tent, after all. All the way along one side of the stadium was a huge bat, clearly visible as the anthem they had longed to hear boomed out, but this was no imposing mosaic, no banner or tifo; it was instead the design built into the seats. This was Valencia's big night; it should have been unmissable but most missed it.
Valencia had waited three years to return to the Champions League and prove that they were back. Bit by bit their best footballers had left, but at the start of 2014-15 things changed: They had a new owner, new players and old ambitions back. All the way through the season, the Champions League was their objective. Virtually an obligation, in fact. The pressure was intense, keenly felt within the dressing room, and when Paco Alcacer scored the goal in Almeria that clinched a place on the final day, celebrations began. In the corner of the stand, to where Alcacer ran, fans were out in force.
They were out in August too, when tickets went on sale for the Monaco game. Camp beds and fold-up chairs ran along the pavement on Avenida Suecia and round the corner of the ground. Mestalla was packed for the game, the noise intense as 55,000 people roared Valencia into the group stages. But when the Champions League group stage started this week, only 28,005 were in attendance for the game vs. Zenit. "Mestalla nunca falla," manager Nuno is fond of saying. Roughly, it means "Mestalla (the fans) is always there; Mestalla never lets you down." This time Mestalla did.
Actually, that's not entirely fair. 28,005 did make it and they were loud too: for atmosphere, for decibels, this is one of the best arenas in Spain and as Valencia fought back from 2-0 down to 2-2, the fans certainly played their part. But as Andre Gomes had said before the game "when Mestalla is full it's a different story," and Mestalla was not full. Valencia have 40,000 season-ticket holders and statistics show that last season, on average, their 55,000-seat stadium was at 82.8 percent capacity. But on Wednesday the ground was half empty.
Season-ticket holders at Valencia do not automatically get access to European games, as is the case with virtually all clubs (although Real Madrid, for example, offer a more expensive Euro-season ticket, which also includes all Copa del Rey and Champions League games). Instead, Valencia sold three-game "packs"; a kind of mini-season ticket for the group phase with prices for members ranging from 30-150 euros. Still in September, season-ticket holders had only just paid out for their season tickets; many considered it too expensive, too soon.
This year, season ticket sales are up across Spain, almost eight percent higher in the first division, and there are nearly 600,000 season-ticket holders nationwide. But when those same fans are asked to pay again, there is resentment. More importantly, while clubs do not always seem to appreciate this basic fact, some simply can't pay again. That was one reason for Mestalla standing half full. Another was that in midweek it's more difficult too for those fans who travel into the city from outside to make the trip. Many working days have still not finished by the 8:45 p.m. kickoff time.
In the days leading up to the game, there had been a fear of many empty seats, though one common excuse, that the game was on television and it was easier to stay at home and watch, was not applicable. It was not easy to watch on television at all; it was pretty well impossible in a week marked by the failure of the Champions League coverage in Spain, which is now in the hands of the Spanish version of beIN Sports, run by Mediapro.
To cut a long story short, beIN Sports have a channel but not a platform. The games went out on some cable channels, via telephone operators, but no deal could be reached to get the channel on to the digital platform, run by their rivals, that would have maximised coverage. Nor is it available through a Terrestrial Digital Television channel, which Mediapro gave up in the summer. So they set up a website-based channel, one for which viewers had to buy a subscription and one which promptly collapsed.
For huge numbers of spectators watching Atletico Madrid and Sevilla on Tuesday, that meant a night spent watching a little circle go round and round, more buffering than football, with the footage stopping and starting, images freezing and computers crashing. The problem, beIN said, was that this was a platform where "rarely do a high number of people watch the same product at the same time."
Their advice for the following night, when they would be showing Barcelona and Valencia, was to log on at least an hour in advance and "avoid changing the channel." Anyway, the point is that very few Valencia fans, seeing the storm from the previous evening, trusted that they would be able to watch the game at home. And if they did, it wasn't going to be free either. In the search for an explanation, the television could be largely ruled out.
Some of the excitement surrounding Valencia has slipped away too. In the summer, there were few really big signings. "At Valencia there are not many stars," Zenit manager Andre Villas-Boas had said before the game; it wasn't meant as a criticism and nor was it entirely true, insofar as they have plenty of players worth watching, but given the anticipation some supporters had, there was certainly something in it. Valencia spent more this summer than anyone else in Spain, but that was essentially because they paid for players they had signed on loan-to-buy deals last year: their 137m euros total outlay includes Rodrigo (30m), Alvaro Negredo (28m) and Gomes (15m).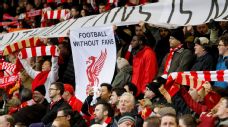 The atmosphere has also been a little tense of late: Amadeo Salvo, the Valencia president, departed in the summer, as did the sporting director Rufete, bringing with them the first really significant doubts about the new regime under Peter Lim, or at least the first voicing of those doubts. Valencia legend Mario Kempes, who has an ambassadorial role at the club, criticised the accumulation of power in the hands of Nuno and said that he doesn't like it when businessmen own clubs. Nuno responded by calling Kempes' words "stupid." (Editor's note: Kempes also serves as an analyst for ESPN Deportes).
None of which could have helped. Nor, speaking of excitement, did the group: all that time waiting for a return to Europe's top competition, all that anticipation, and Valencia get Zenit, Genk and Lyon. A group they should get through, one where the supporters' sense of playing a vital role is thus lessened and so is the draw of big-name opponents.
And so it was that sales were sluggish. Valencia gave some away to schools, others went to charities and then they announced that the pack would now include the first knockout round too: three group games and the Round of 16 tie. If, that is, they get that far. Down 2-0 after two superb goals from Hulk, Valencia came back to 2-2 on Wednesday. The songs roared round and the noise rose, if not as much as it would have done with a full house, and Valencia went for the third ... but then, almost immediately, Zenit got it.
Valencia's return to the Champions League ended in defeat and with them in the bottom of their group. They go to Lyon needing a victory and maybe for more reasons than one: "We have to win in Lyon to attract people to Mestalla," Gomes said.
Sid Lowe is a Spain-based columnist and journalist who writes for ESPN FC, the Guardian, FourFourTwo and World Soccer. Follow him on Twitter at @sidlowe.