Brazil's under-20 side show limitations as World Cup hopes end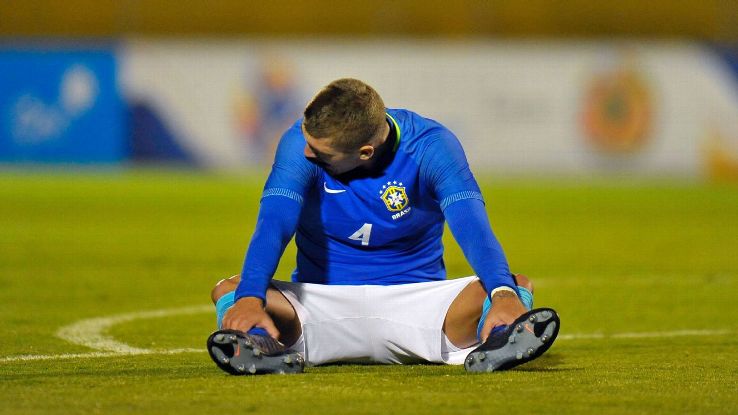 For the second time in three competitions, Brazil have failed to qualify for the FIFA U-20 World Cup, which this year will be held in South Korea in May.
South America has four slots. Brazil managed to finish fifth in the South American Youth Football Championship, which came to a conclusion in Ecuador on Saturday. And Brazil's loss was Argentina's gain. When the two old rivals met on Wednesday, it seemed clear that one or the other would miss out.
With some 10 seconds to go before the end of the match, Argentina were eliminated and Brazil were through. Brazil led 2-1 -- and though their second goal came from a very harsh penalty, they had claims to have been the better of two disappointing teams.
But the Brazilians ultimately got what they deserved. They overdid the time wasting, forgot to keep the ball and Argentina punished them with the final attack, as Lautaro Martinez headed home from a cross.
It left Argentina with two roads to qualification in Saturday's final round. If they beat Venezuela by five goals, they would finish ahead of the Venezuelans. It suddenly seemed a possibility when that man Martinez snatched two goals on the stroke of half-time. Looking better with a back three formation, could they push on and make it a dramatic second half?
They tried, but Venezuela keeper Wuilker Farinez did well at vital moments and the game petered out to a 2-0 win, leaving Argentina with one remaining chance: They had to hope that Brazil would not beat Colombia in the following game.
It looked like a long shot. Colombia were already eliminated, having lost their two previous games by a 3-0 margin. They had nothing to play for but pride -- but it proved a sufficient spur. They defended doggedly, perhaps enjoying the fact that they were now playing without pressure, and Brazil were once more victim of their own limitations.
Scoring just 10 goals in nine games tells its own story. There is some talent in the side. Winger David Neres has just been picked up by Ajax for a big fee. The other winger, Richarlison, has probably been their most dangerous player throughout the tournament, and big centre-forward Felipe Vizeu has his admirers.
But they never found a coherent idea of play. Deep-lying midfielder Caio Henrique organised the start of the team's attacks, but there the patience ended. Once they had crossed the halfway line, there was precious little subtlety. Instead they relied on a series of vertical individual bursts that played into the hands of an opposing defence that had not been pulled here and there in order to open up space for the decisive intervention.
Of course, results at this level of football should never be the be all and end all. Uruguay won the title, beating Ecuador 2-1 in the closing game of the competition. But the Uruguayans are well aware of the overall objective -- the purpose of their under-20 side is to groom players for the senior lineup.
Part of that preparation process, though, is the experience that the players acquire at the U-20 World Cup -- a tournament that pits them against other styles of play in a proper tournament format in front of a big audience.
This current generation of Brazilian players will not have that experience -- and that is the failure of their campaign.
Tim Vickery covers South American football for ESPN FC. Follow him on Twitter @Tim_Vickery.