#FC100: Paulo Dybala, Neymar, Paul Pogba will all be future No. 1 picks
By now, you've seen and argued about ESPN FC's #FC100, a ranking of the top players and managers currently thriving in the men's game. But who will be topping these charts as part of the upcoming generation? We asked Miguel Delaney to cast ahead and look at the next wave of football talent.
Goalkeeper: Gianluigi Donnarumma, age 17, Milan and Italy
At just 17, he has already been touted as the next Gianluigi Buffon, but it won't be long before everyone in football is talking about Donnarumma as a standard bearer for goalkeepers. What already stands about him: his maturity. You wouldn't guess he's 17. He could well be topping lists like this by the time he's 21.
Right-back: Hector Bellerin, 21, Arsenal and Spain
Bellerin often leaves opposition players in the dust with his pace, and thereby claims the throne as the next best right-back in the world. He's already close to the best right now, an ascent reflected by how many elite clubs and managers view him. Arsenal want to build a future on him, Barcelona want him back and Manchester City are desperate for him.
Centre-back: Aymeric Laporte, 22, Athletic Bilbao and France
You could have Man City's John Stones or Real Madrid's Raphael Varane here. But either way, the Basque defender will probably end up partnering with one if not both of them in the future as the best central defensive partnerships in the world. Pep Guardiola still wants Laporte to line up alongside Stones in his ideal centre-half duo at City, while the Bilbao star could end up fortifying France's back line alongside Varane for years to come. Laporte is the most modern of defenders: a genuine passer with pure power.
Left-back: Raphael Guerreiro, 22, Borussia Dortmund and Portugal
One of the only doubts about Guerreiro is whether he actually remains a left-back given Thomas Tuchel's willingness to use him in central midfield with impressive success. Then again, that may not cut across Guerreiro's ability to play there, given the ongoing evolution of the position and the resurgence of teams opting for "three at the back." Whatever happens, Guerreiro has already excelled for the European champions and was one of the best players at Euro 2016.
Central midfield: Paul Pogba, 23, Manchester United and France
It might feel like a too-obvious choice, and one that still comes amid a lot of debate about whether Pogba will ever live up to his obscenely high transfer fee, but there should be an obvious caveat to all of that. He's still developing as a player and still finding his best role. There have already been a few suggestions this season that he's successfully adjusting to certain positions. Imagine him in two years, when he complements that power and ability with a greater maturity. That's why this choice is obvious, and criticism remains unfair.
Attacking midfield: Saul Niguez, 21, Atletico Madrid and Spain
He's a technical player who has come through Spain's supreme youth infrastructure. Nigez has the type of individual magic to his game that can't really be coached. That could be seen in his supreme goal against Bayern Munich in the 2015-16 Champions League semifinal first leg; that magic is a cheekiness that will likely take him to even higher levels. Barcelona have an option on him, and he is sure to become a certain starter in the Spanish national team.
Winger: Leroy Sane, 20, Manchester City and Germany
Sane is just over a year younger than Raheem Sterling. It won't be long until people are purring about Sane in the way they do Kevin De Bruyne. Sane could have that sudden devastating impact on games. He has already shown life on the wing, after all, and is in the sort of position that brings rapid development.
Forward: Neymar, 24, Barcelona and Brazil
Lionel Messi and Cristiano Ronaldo have dominated the very elite end of the game for so long that it feels as if they'll have to retire before anyone can actually succeed them as "the next best player in the world." Neymar, however, may change that. He could reach their levels before they properly wane. At 24, he's already doing some terrific things. The Brazilian could move Messi and Ronaldo off the prize podiums much quicker than expected.
Striker: Paulo Dybala, 23, Juventus and Argentina
Dybala has such a range of talents that he's unlikely to be restricted to the striker position, even as he's finding the goal touch typical of the greats. There are a lot of doubts around Argentine football right now, especially as they struggle to qualify for the next World Cup, but there should be no doubts about Dybala's brilliance.
Manager: Mauricio Pochettino, 44, Tottenham Hotspur
The Argentine has spent his seven-year managerial career helping moderate clubs play above their level. As a result, he's now greatly desired by the top-level clubs. Sir Alex Ferguson is one of many at Manchester United who think Pochettino should eventually succeed Jose Mourinho. Real Madrid are keeping an eye on Pochettino, and the only thing preventing Barcelona interest is his deep affinity with city rivals Espanyol. Within a few years, he is likely to be at one of the truly elite clubs.
---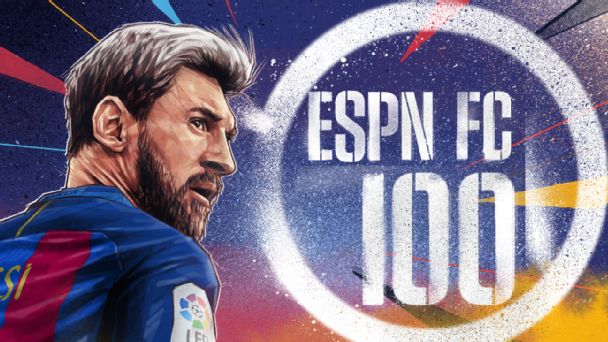 FC100: The full list
Goalkeepers
Right-Backs | Centre-Backs | Left-Backs
Central Midfielders | Attacking Midfielders | Wingers
Forwards | Strikers
Managers
---
Feature content
Gab Marcotti: Putting the fun back in football rankings
Miguel Delaney: Picking the future #FC100 No. 1s
Nick Miller: England's slipping stock behind low #FC100 representation
Mark Lovell: No surprise that Bayern dominated #FC100
John Brewin: Where were all the Premier League players?
---
FC 100 is the result of a comprehensive vote among ESPN FC writers, experts and regions to determine the top 100 in the men's game right now. Our ballot breaks things down by position to more accurately reflect the top performers all over the pitch, not just the ones who dominate the headlines.
Miguel Delaney covers the Premier League and Champions League for ESPN FC. Twitter: @MiguelDelaney.