Brazil vs. Argentina: What you need to know about this historic rivalry
Brazil and Argentina have won just about every major accolade in world football between them and have boasted some of the greatest players to grace the game. And when they go head-to-head, it's every bit as fiery and unforgettable as you'd expect.
Here's what you need to know, starting with the fact that Brazil v Argentina means Barcelona teammates Neymar and Lionel Messi find themselves on opposite sides of the ball.
1. Neymar vs. Messi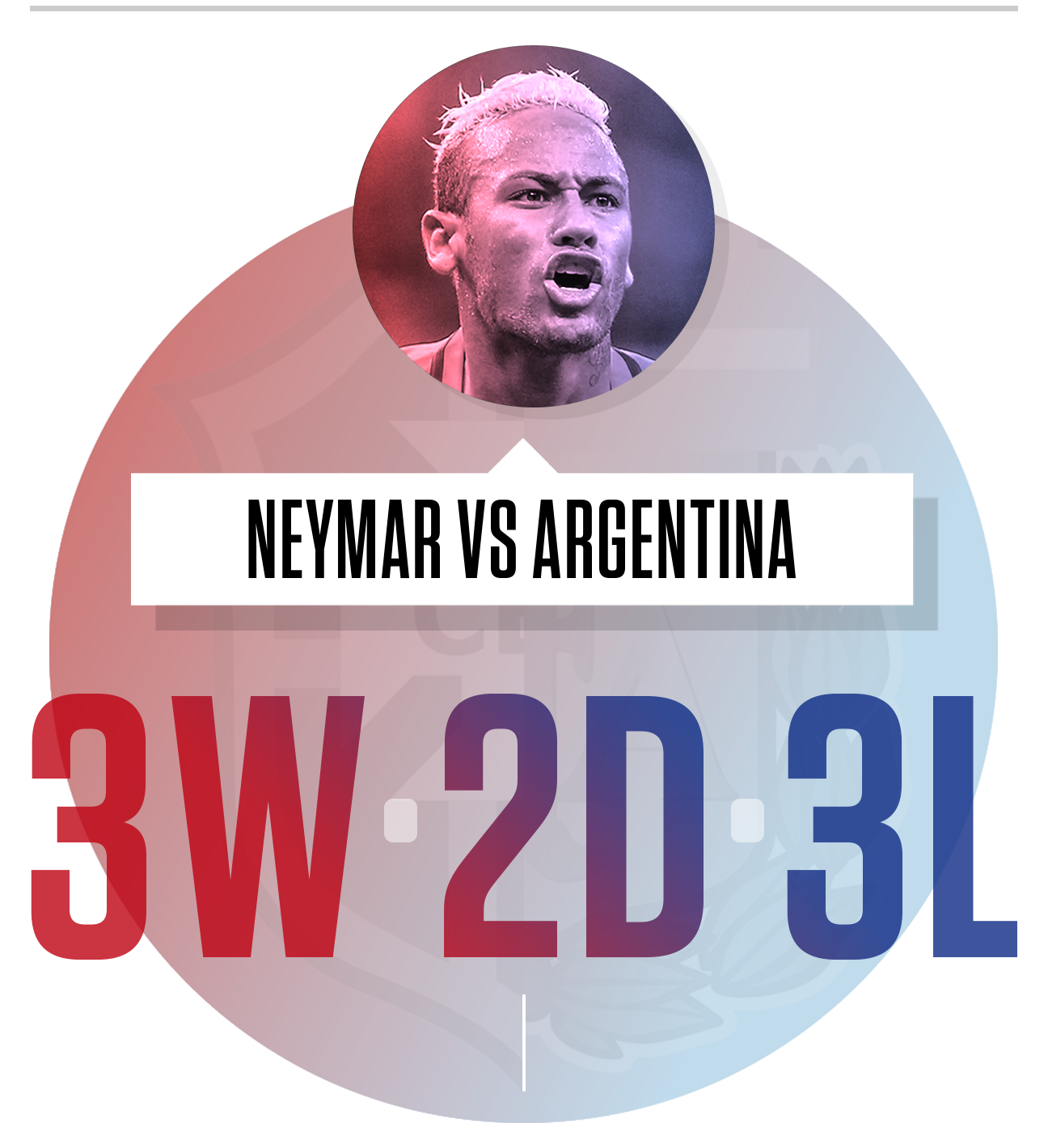 The duo dovetails beautifully for Barcelona but on this occasion and fitness permitting, Lionel Messi and Neymar will be opponents. Messi has an advantage in terms of stats as he's been playing longer but the comparison is good fun all the same.
In 114 matches for Argentina, he has scored 56 goals, overtaking Gabriel Batistuta's all-time Argentina record earlier this year. Neymar is fourth in the Brazilian scorers' standings with 49 goals in 73 games, 28 behind record holder Pele.
Both players have yet to win a title at the senior level for their country but both have won the Olympic title: Messi in 2008 and Neymar as Brazil captain earlier this year. Messi also lifted the FIFA U-20 World Cup in 2005.
Messi has scored four goals in seven games vs. Brazil, including a hat trick in 2012. Neymar, meanwhile, has two in eight against Argentina.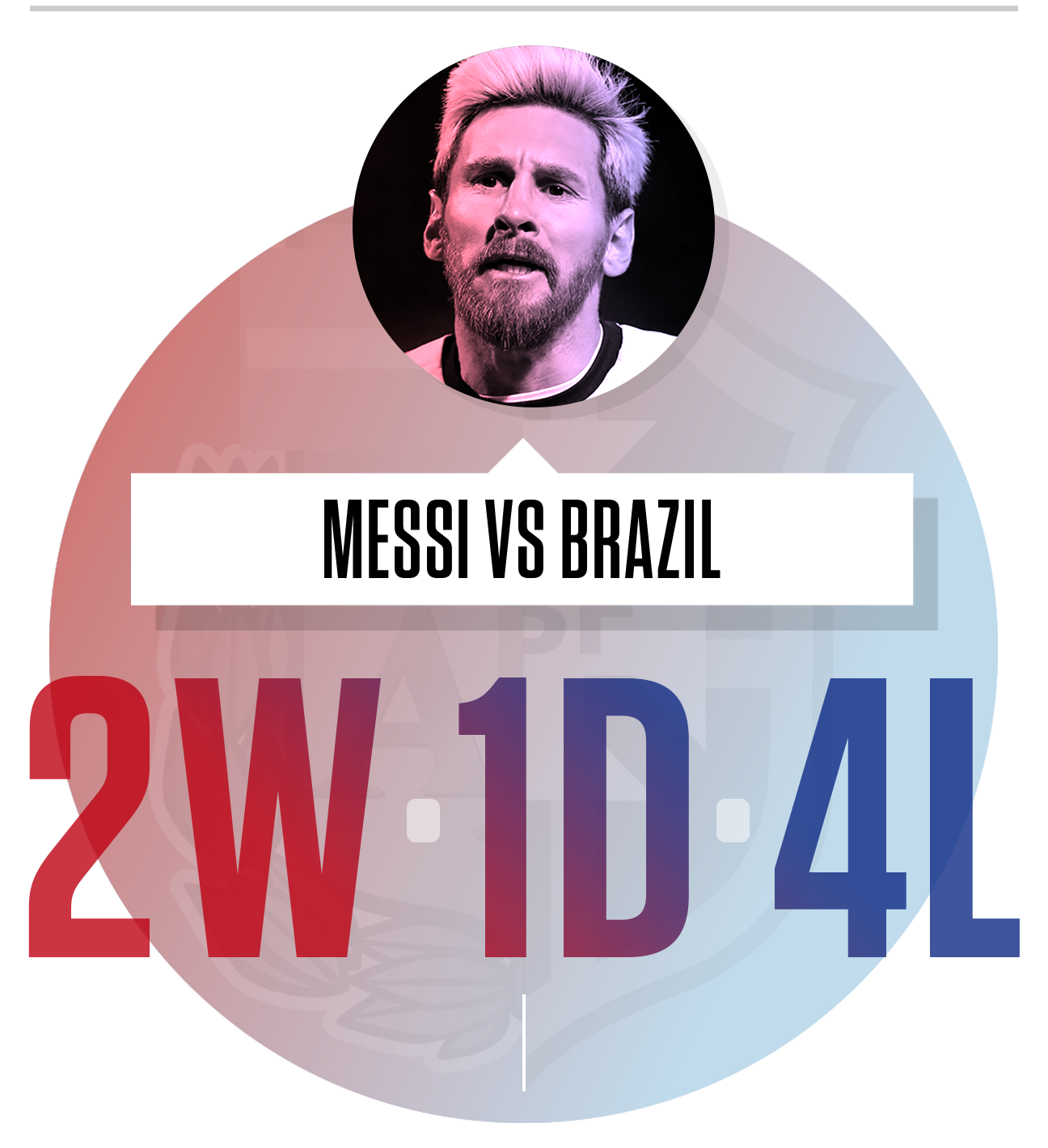 2. Battle of two new bosses
Edgardo Bauza and Tite have been in charge of Argentina and Brazil respectively for just four qualifiers each and Thursday's match will be their biggest test so far. They've fared very differently: while Tite has racked up four consecutive wins and Brazil look full of confidence, Bauza's opening win over Uruguay was followed by draws in Venezuela and Peru and a 1-0 defeat to Paraguay.
In terms of club achievements, Bauza has two Ecuadorian league titles as well as two Copas Libertadores, with Liga de Quito and San Lorenzo, and a Recopa Sudamericana. He also holds the distinction of being the only man to take four different clubs to the Libertadores semifinals.
Tite has won two Brazilian league titles, a Libertadores, Recopa Sudamericana and Club World Cup with Corinthians, as well as a Copa Brasil with Gremio, a Copa Sudamericana with Internacional and several Brazilian state championships.
The two men have only met once in their managerial careers: During this year's Sao Paulo state championship, Tite's Corinthians claimed a 2-0 win over Bauza's Sao Paulo.
3. A rivalry too close to call
Argentina and Brazil first met in a 1914 friendly in Buenos Aires. Argentina won the first encounter 3-0 and, since then, the countries' head-to-head record has remained very close. At present, Brazil have a 39-37 wins lead with 26 draws in FIFA-recognised matches but the goal tally is dead level at 159 apiece.
Various matches that, at the time were billed as Argentina vs. Brazil or Brazil vs. Argentina, are now not recognised by FIFA due to disagreements over whether one or both teams truly sent a team representing their football association to the game. When those that counted as official by both countries' football associations are added to the FIFA-recognised ones, Argentina have a 41-40 lead -- with 26 draws -- and lead 175-167 on goals scored.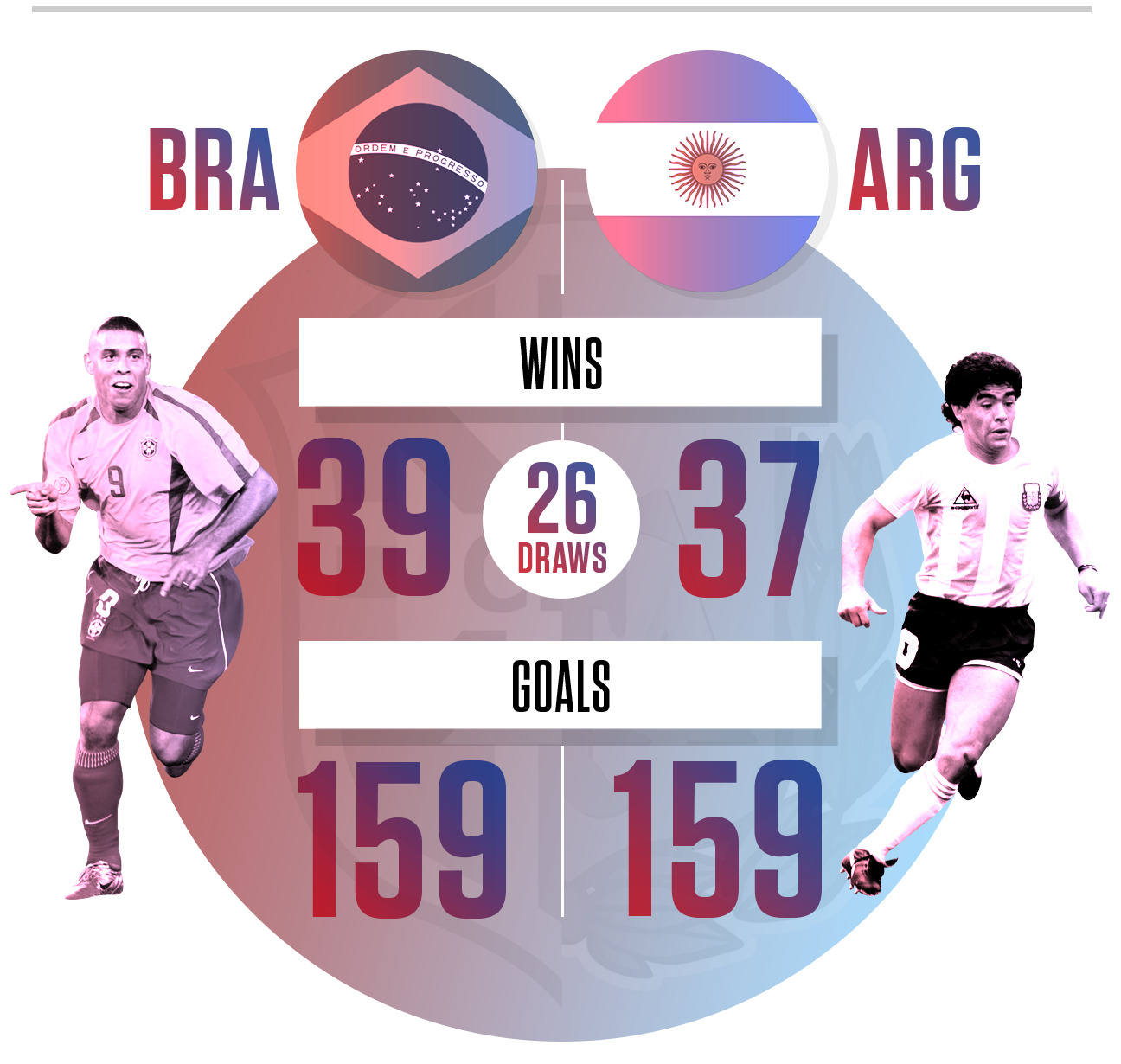 4. Pele racked up goals, not wins
Pele played in an era when the two nations met more frequently and certainly one in which goals were more frequent. In 10 games against Argentina he managed eight goals, including a hat trick in a 5-2 Copa Roca win in 1963.
Echoing the overall tightness of the rivalry, even he couldn't help Brazil open up a clear lead in the head-to-head: He recorded four wins, two draws and four defeats against Argentina. Unlike Maradona, Pele never played in this fixture at a World Cup.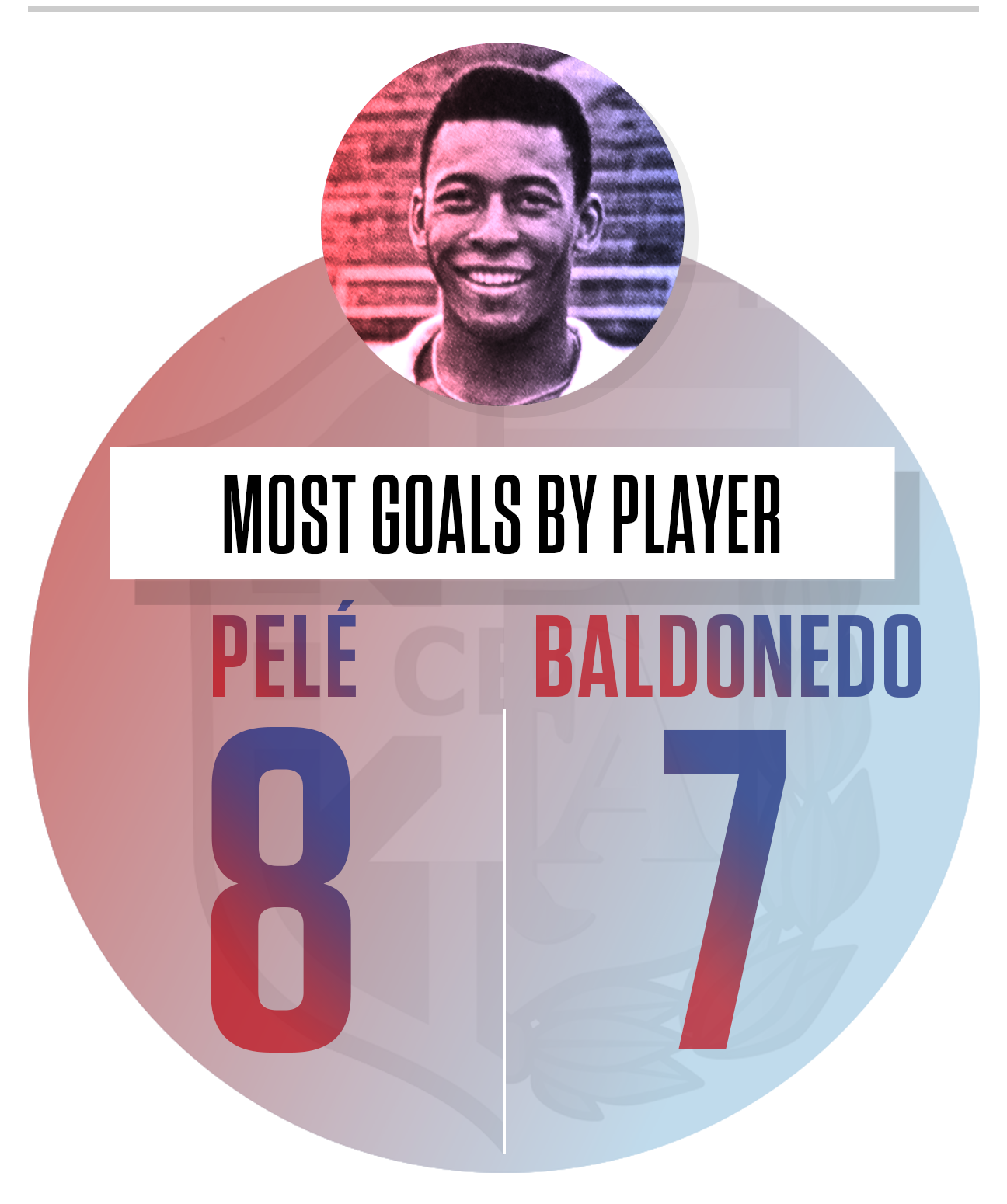 5. Maradona's minor impact
The two nations have produced arguably more contenders than any others for the title of greatest footballer of all-time and Argentina's most frequent nomination for the award is Diego Armando Maradona.
Against Brazil, though, he didn't enjoy himself all that much: In five matches at the full international level, Maradona scored just once (in the "Mundialito" in Uruguay in 1981) and recorded one win, two draws and one defeat. In World Cups he managed a win and a loss and was sent off in the latter game in 1982.
6. Brazil has the better trophies
These are two of the most decorated national teams in the world and since Brazil's success in Rio earlier this year, are two of only three nations to have won the World Cup, Confederations Cup and Olympic Football Tournament (France is the other). In senior titles only (not counting the Olympics), it's 19-19 on the trophy count.
Brazil have five World Cups to Argentina's two but on the continent, Argentina hold the advantage with 14 Copa America titles to Brazil's eight. Brazil have two Panamerican Football Championships to Argentina's one and four Confederations Cups to Argentina's one. Argentina won an Artemio Franchi Trophy, one of the predecessors to the Confederations Cup and something that Brazil never lifted.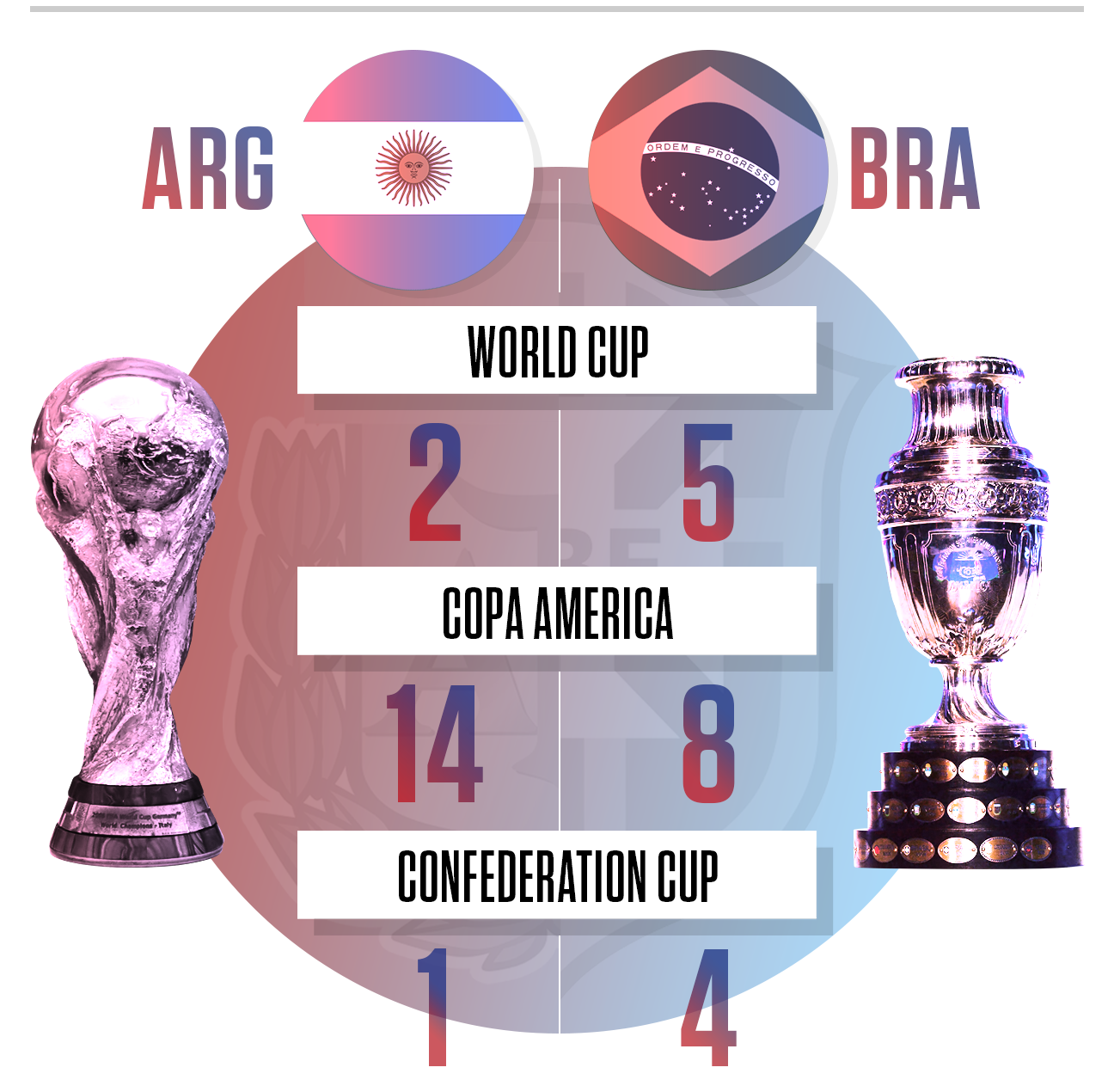 7. The Argentine who managed Brazil
Filpo Nuñez retired as a player at the age of 28 in 1948 and, after several managerial jobs across South America, took over at Cruzeiro in 1955. Ten years and several jobs later, the Argentine was appointed at Palmeiras. The Sao Paulo club was eager to emerge from the shadow of Pele's Santos, who Nuñez's new team beat 3-2 in his first game in charge, en route to winning the 1965 Rio-Sao Paulo championship.
The best team in the country were chosen by the CBD (the predecessor to today's CBF) to form the Brazilian national side for a friendly against Uruguay on Sept. 7, 1965; the 3-0 victory that followed came in the first -- and so far only -- match in which the Brazil were managed solely by a foreigner. An Argentine, at that. Incidentally, Argentina have never been managed by a Brazilian.
8. The chants are just as fierce
If there's one thing South American football is known for other than the action on the pitch, it's the atmosphere in the stands.
When Brazil hosted the 2014 World Cup, Argentina supporters unveiled their own take on Creedence Clearwater Revival's "Bad Moon Rising:" "Brazil, tell me how it feels / To have your daddy in your house?" they sang in reference to their view of who holds the superiority in the rivalry.
After Argentina's defeat in the final to Germany, home fans took to the streets with a remix of the chant: "Argentina, tell me how it feels / To see those five stars shining far away?" they asked, reminding their neighbours how many World Cups they'd won.
9. Argentina's dubious 1990 win
No preview of Brazil vs. Argentina would be complete without mention of controversy and perhaps no match in the history of the fixture had quite as much as the 1990 World Cup round-of-16 tie in Turin.
Brazil dominated the game in terms of chances created but also got a lot of criticism for their treatment of Maradona. That was until the 80th minute when he finally slipped free, evaded three challenges and slipped the ball through for Claudio Caniggia to score the only goal of the game. (Years later, Maradona corroborated on Argentine TV the post-game claim of Branco that the Brazil defender was given a water bottle laced with tranquiliser at half-time.)
Argentina have claimed the biggest win in the series: A 6-1 victory in 1940. Brazil's biggest win came in 1945, 6-2 (the Selecao have had other four-goal wins but have only scored six on one occasion).
10. Brazil humble their rivals
At the 1982 World Cup, Brazil recorded arguably their most memorable win over Argentina during the second group stage. When the sides met in Barcelona, Argentina had already lost to Italy, which made the game a must-win for the Albiceleste. As it was, Tele Santana's Brazil played with the style for which they're still remembered today.
A free kick from Eder came back off the crossbar and was poked in by Zico after eleven minutes, before Falcao crossed for Serginho to double the lead midway through the second half. Nine minutes later, after the kind of pass that suggested Zico had taken a protractor onto the pitch, Junior made it 3-0. Late on, Ramon Diaz hit a wonderful shot into the top corner from outside the box to pull one back for Argentina but it was too little, too late.
Words by Sam Kelly
Follow @ESPNFC on Twitter to keep up with the latest football updates.