Leicester's run continues, Spurs and Arsenal also impress, Van Gaal angry
Iain Macintosh casts his eye over the best and worst of the weekend Premier League action.
Heroes
How is this happening? How are Leicester doing this? There are only two possible explanations. One is that we've all been horribly, horribly wrong about the Premier League and it is still possible for a team of driven, determined footballers, assembled for a pittance from the bargain bins, to challenge for the title. The other is that a meteorite crashed into the Earth several months ago, vaporising all of us in an instant and sending our energy spinning into the infinite cosmos in a surreal shared consciousness that transcends our understanding of the human soul. After seeing them crush Manchester City, we're leaning towards the latter.
Few 1-0 wins have ever been this emphatic. Had it not been for the Ghost of Tottenham's Past, Heurelho Gomes, their margin would have been far greater over Watford. Mauricio Pochettino has Spurs purring and four consecutive wins have lifted them up to second in the Premier League, the product of hard work, clever football and, astonishingly for this club, excellent defending. Pochettino, who is never knowingly overstated, will be pleased to see Leicester getting all the attention. That's just the way he likes it.
And who's that coming up in third? It's Arsenal, of course. Did that goalless draw against Southampton mean the end of their title challenge? Of course it didn't. Doubtless, there'll be something far more disastrous along soon to derail them. But in the meantime, they look as if they mean business. Bournemouth is a tricky place to go -- Eddie Howe's team have the temerity to play football with courage and style -- but Arsenal slapped them aside without even thinking about it. One goal, two goals, game over. Brace yourself, Leicester.
Ah, Everton! What kept you? After a miserable winter than brought just a single victory between the end of November and the end of January, Roberto Martinez's side have woken up and started winning games at last. An unexpected 3-0 result at Stoke completed a very happy week for Everton and sent them surging up to eighth place. If only they'd been able to convert all their pretty play into points earlier, they'd be looking at a Champions League place by now. Still, better late than never.
Let it not be said that this column has no honour. Things have been said about Aston Villa this season; hurtful things that, while being entirely fair and accurate, would not have improved the mood of their long-suffering fans. We even banned them from the Villains section because it felt like kicking someone when they were going down. But we never banned them from the Heroes section, so welcome aboard, boys! Come on in, we'll give you the tour! You scored some goals, you took a 2-0 lead for the first time this season! You beat Norwich! You're heroes!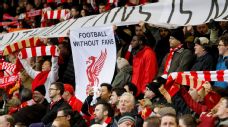 Villains
So much for the theory that the impending arrival of Pep Guardiola would spark Manchester City. Nicolas Otamendi cost more than the entire Leicester starting XI, as did Yaya Toure, while Raheem Sterling cost twice as much. And while none of them are singularly responsible for what happened Saturday, they and their colleagues should be deeply disappointed. City should be strolling to the title this season, unhindered by Manchester United, Chelsea and Liverpool. Instead, they can't string two wins together. This was a humiliation.
It is estimated -- by me, admittedly -- that some 29 percent of the world's population were on social media on Saturday, posting jokes about Liverpool's defence walking out in solidarity with their fans. But you won't get those kind of cheap jibes here. No, we've got different cheap jibes. And, more important, we've got numbers. After 50 goals conceded in 2013-14, Liverpool allowed 48 last season and have already let in 36 goals in the current campaign. The collapse against Sunderland was nothing to do with any protest. The collapse came because Liverpool haven't been able to defend properly for years.
There are some things that this column doesn't want to ever think about before bedtime and an angry, frustrated Louis van Gaal is right up there at the top of the list. Manchester United were much better at Stamford Bridge and dominated possession for the first hour or so. But then they faded and invited Chelsea onto them. A draw was probably a fair result, but it wouldn't have felt that way to Van Gaal. He could have taken United to within four points of fourth with victory. Instead, he's looking for someone to blame. Run. For. Your. Life.
What on earth has happened to Stoke? One minute they were the all-new, all-singing, all-dancing "Stokalona", ripping Manchester City to shreds and charging up the table with their cosmopolitan, inventive front four; the next, they're disintegrating. In the space of two weeks, Mark Hughes' side have been beaten 3-0 by Leicester, Manchester United and Everton and have crashed out of both domestic cups. Those stories linking Hughes with either the Chelsea or the United job? Don't expect them to come to anything.
We are very concerned about Norwich. Since beating Southampton on Jan. 2, they've lost every game in every competition. Over the course of the season, they are allowing nearly two goals a game. Over the last six months, they are conceding slightly over three per 90 minutes. You don't survive in the Premier League with defending like that; you can't be that generous. Norwich have good players and an impressive young manager in Alex Neil but, if they don't stem the bleeding, they're going straight back down to the Championship.
Iain Macintosh covers the Premier League and Champions League for ESPN FC. Follow him on Twitter @IainMacintosh.