Liverpool defender Alberto Moreno adapting to life in the Premier League
Alberto Moreno did not have an easy start to the season. Dropped in favour of a teenager by former boss Brendan Rodgers, he has fought his way back into the first team and is now almost ever-present under Jurgen Klopp.
Klopp places great emphasis on using his full-backs offensively as well as defensively, and it has benefitted Moreno's style of play.
"He's a manager who likes his full-backs to be very attacking and that's something I love. I really like supporting the attack," Moreno said in an interview with ESPN FC.
The manager's trust in the player has been reflected in Moreno's attacking numbers. Although he only has two assists so far this season, no other defender in the Premier League has created more chances that Moreno's 46, and no Liverpool player has provided more crosses his 20.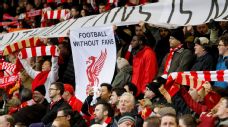 "He's a manager who really feels football. It's his passion and he transmits this to the dressing room which is important before you go out on the pitch. He's a very open manager and is always talking to the players; he tells you your shortcomings and what you're good at," said the defender, who joined Liverpool in the summer of 2014 after winning the Europa League with Sevilla.
The 23-year-old has had to work hard to adapt to the Premier League. Although he managed to nail down a starting spot in his first season, when he played in 28 Premier League games and five Champions League matches, he experienced a difficult period in the early part of this season.
Moreno acknowledged the language barrier was a major disadvantage for him as he was dropped to the bench by Rodgers in favour Joe Gomez, the 18-year-old recruited from Charlton in the summer.
"Not being able to talk with my teammates, not being understood on the pitch, that was maybe one of the things [that led to being dropped]," Moreno said.
Despite the setback, Moreno says he always kept faith he would come out of the difficult patch. He regained his place in mid-September and, with Gomez subsequently ruled out injured for the season in October, made the left-back place his own.
"At no point did I lose confidence; I always believe in myself and do what I have to do; what I know how to do," he said. "But, as I said, you need to connect with your teammates on the pitch, to communicate well with them and, when you can't do that, it makes things difficult. But that will improve from year to year."
Alongside Jose Enrique, Alberto Moreno is one of two Spaniards currently playing for Liverpool, who recently launched a Spanish version of the club's official website, espanol.liverpoolfc.com.
Despite competing for the left-back role, they have a close relationship. As the Seville-born full-back admitted, it was his countryman, along with Brazilians Philippe Coutinho, Lucas Leiva and Joao Texeira, who helped him adapt to the team and, above all, to communicate in English.
"I understand a lot more, but when it comes to speaking, I find it difficult. But I hope to learn in the three years I have left on my contract," he explained. "I'm happy here, my family is happy here and I will keep on giving my all for Liverpool. I'm very focused."
Moreno's great hope is to "win titles" at Anfield, though he says winning the Premier League this season will be more difficult, at least , with Liverpool currently eighth with 13 games remaining, 16 points behind leaders Leicester.
However, Klopp's side are still in the FA Cup (they face a fourth-round replay at West Ham United on Tuesday), and reached the final of the Capital One Cup -- in which they will play Manchester City at Wembley on Feb. 28 -- after beating Stoke City in a penalty shootout.
What's more, they are still in contention for the Europa League, which returns in two weeks with the round of 32 where Liverpool will take on the German side Augsburg. And Moreno remains confident that his side can lift any of these trophies.
"Winning a title; for me, for the dressing room, for the group, it would be phenomenal," he said. "There's no point talking about Premier League positions now, we have to keep fighting. [The Europa League] begins again in February and we need to go out to win it, of course."
Moreno has received some criticism over the last few weeks because of his defensive errors. The player knows he still has a lot to improve when it comes to his defensive play, and he says this will come once he has fully adapted to English football.
"The truth is that it was tough for me in the first year [to make use of defensive qualities], but things are better now. I need to keep on working and adapting to this league," said Moreno, who noted that the "physical" style of the English game has been the hardest thing for him to get used to.
"There are quick players here, and strong players, and I think that with my size [5-foot-7], I need to avoid getting into a physical battle and be smarter than they are; that's been the most difficult things for me, the physical aspect," he admitted.
Moreno also said he believes the "intensity" of the Premier League was the main difference to the Spanish Liga. Even so, he finds the Premier League more enjoyable.
"The physicality and intensity [they are the main differences]," he said. "It's a more open league, the ball is more up and down and all the teams make it very difficult for you. You can't switch off for a minute, they're very physical.
"The Spanish league is more tactical and more passive. But hey, I prefer the Premier League.
"It's a big change. Throughout the years, the more games you play, you should see yourself growing as a player and I've definitely seen that."
With this growth comes the hope of once again being considered for the Spain national team by coach Vicente Del Bosque, who called him up twice before the 2014 World Cup.
"I hope [I can get back into the national team]," Moreno said. "It's his decision; I'm just doing my job at Liverpool. I keep doing the best I can so that [Del Bosque] will notice me and call me up again, but of course I never lose hope."
Part of the Spain team who won the European Under-21 Championship in 2013 under Julen Lopetegui, Moreno is often compared in Spain to Jordi Alba and is seen as a potential successor to the Catalan. The defender admits that he likes the Barcelona star, but not as much as Real Madrid's Marcelo.
"We have many qualities in common; we're both very attacking, very fast," he said. "The truth is, we're very alike. I like Alba, but I like Marcelo more."