Manchester City-bound Pep Guardiola remains an idol in Barcelona
Pep Guardiola remains a figure of immense public interest in Catalonia and news of him moving to Manchester City dominated the media in Barcelona on Monday. Though opinions aren't unanimous, the man who played and coached Barcelona remains a hero.
"Most cules adore him," Jimmy Byrne, a Camp Nou season ticket holder for 20 years, tells ESPN FC. "You'll always find some who don't and there will be players who don't like him, such as [Zlatan] Ibrahimovic or [Samuel] Eto'o, because of his obsessive nature. Likewise journalists. He's not unblemished, but what geniuses are?
"Pep is head and shoulders above any other trainer/strategist," Byrne says. "He gets the key players he wants and gets rid of those that don't fit his style. I think he'll build a team which is too strong for the rest of the Premier League."
"He gave Barca a different idea of football," adds Jordi Camp, another long-time season ticket holder. "He said 'play the ball, pass, pass, pass, touch, touch, touch. Then, in the last 30 metres, make a difference.' Guardiola worked obsessively, but he was a little bit lucky to win all the trophies in his first season (2008-09). Sometimes you need a little bit of luck.
"I think he is the best and he wants to explore new things and train in the Premier League," Camp says. "Bad luck he did not choose [Manchester] United. I understand he is looking for new challenges for him and his family and I respect him so much. Not all Barca fans agree with me and some fans that talk rubbish about Guardiola because he left -- guys who are too radical and don't understand that people are motivated by different things."
The word obsessive crops up a lot when Guardiola is discussed but players like him -- at least for a while. Dani Alves explained to me why Guardiola was so good.
"You cannot help but become a better player working with him," said Barcelona's right-back. "You position yourself better and play the ball better. It's very difficult to play without the ball, but in Barcelona, we worked on our positioning when we don't have the ball. I became a better player because of that."
Alves' arrival at Camp Nou coincided with Guardiola's in 2008. It didn't get off to a good start as they lost at Numancia on the opening day of the season and then drew at home to Racing Santander.
At first, he faced egos and resistance to change. But then Guardiola held a meeting with his players to explain what he was looking for and they backed him from then on. Barca's next league game was a 6-1 victory against Sporting Gijon.
Guardiola's former players constantly talk about how hard he was and is prepared to work, at the training ground for hours, covering every detail. He won everything there was to win in his first season at the club and the Catalans were widely regarded -- as they are now -- as the world's pre-eminent football force.
In three years at Barcelona, Guardiola won two Champions League trophies, the second after knocking out Real Madrid in the semi-final. In that tie he showed his tactical nous by making small but significant adjustments. For example, Eric Abidal points out how Guardiola told his defenders not to cross the halfway line to prevent Madrid from counter-attacking -- and it worked.
In 2012, Guardiola announced that he was leaving after four years. The obsessions had taken their toll. He was exhausted, his physical decline apparent. He wanted a break.
"Being Barcelona coach for four years is an eternity and I'm drained and I need to recharge," he said. "The demand has been very high and a manager must be strong. It wouldn't have been a good thing, not for me, not for the players, if I continued."
Almost all of the Barca first-team squad watched intently from the front two rows of the pressroom. They'd won everything they can win in club football and then some. Most admired and adored their boss.
"We knew Pep would go; you could tell the job was taking a lot out of him and that he was never going to be around for 10 years," Victor Valdes told me. "When Pep had something in his head, it was fixed. He didn't change. If he thought we had to work on something all week then we worked on it all week and nobody could alter that opinion. He was obsessive."
Such obsessions tired some of his players and relationships were strained. Not all were sad to see him go. If Guardiola had a weakness, it was that he didn't compromise and avoided confrontation.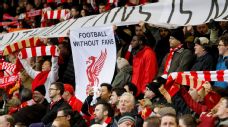 Some Barca fans were outraged that a manager could have the audacity to step down -- especially one who supported the club -- but, almost four years after he left, Catalans remember him as possibly their greatest manager.
Guardiola remains a frequent off-season visitor to Barcelona and his family's home is still there. In March 2015, though, he returned on a trip which could be classed as work to watch his old club play Manchester City in the Champions League Round of 16.
Both were potential future opponents of his Bayern Munich side and rather than take a seat in the director's box, Guardiola sat with his father using season tickets his family have held for decades.
As the first half closed and with City fortunate to only be one goal down, Lionel Messi put the ball through James Milner's legs, an act of skill so outrageous that Guardiola, watching high in the stands, roared out loud and put his head in his hands.
Barca easily outclassed City, who despite their riches, have underwhelmed in European competition. For his next challenge, Guardiola will be charged with taking the Premier League club to the same heights that the Camp Nou club have achieved.
Andy Mitten is a freelance writer and the founder and editor of United We Stand. Follow him on Twitter: @AndyMitten.