Oscar and Rooney shine but the FA Cup disappoints overall
Iain Macintosh casts his eye over the best and worst of the weekend FA Cup action.
Heroes
It would all be overshadowed in the end by the announcement that John Terry was leaving Chelsea, but let's give a little bit of the spotlight back to Oscar. MK Dons have had their moments in recent years, most notably in the late summer of 2014 when they thrashed Manchester United, but they weren't getting anything from this game. Oscar took them to the cleaners almost singlehandedly. That's nine matches without defeat for Guus Hiddink now. Were it not for that impending vacuum in the dressing room, you might say that things were looking up.
Of all the back-up goalkeepers in the Premier League, is there anyone less deserving of the understudy role than West Ham's Darren Randolph? The Irish international is quick off his line, brave and strong, and can quickly launch counter attacks. In for Adrian, who was away in Seville as his wife prepared to give birth to their first child, Randolph made a string of saves, including a fine triple stop deep into the second half. If West Ham don't want to make him first choice, there are plenty of Premier League clubs who would.
The Wayne Rooney recovery continues. A splendid strike against Derby County, reminiscent of the one with which he made his name 13 years ago against Arsenal's David Seaman, put Manchester United on the road to the fifth round on Friday night. It's six goals in six games for the England captain now and he also, inadvertently we're sure, gave a clue as to the reason for United's sudden improvement from last weekend. "The manager gave us a lot of freedom to go out and play," he said, "and you can see the difference in the team." Ouch.
Rooney was always an oddity, unlike so many young footballers, in that he seemed to be a fully developed senior professional at the age of 16. Usually, players need a run of games before they blossom. Step forward, Manchester City's Kelechi Iheanacho, whose obvious potential definitively flowered with a wonderful hat trick against Aston Villa. It wasn't the number of goals that impressed (this was still Villa) it was the way in which he took them. Iheanacho finishes with the composure of a La Liga star adding the seventh goal to a procession victory. Expect to see a lot more of this young man.
Congratulations to Shrewsbury, the only representatives of League One or below to make it to the final 16. It took a 97th-minute winner, and a contentious decision not to award Sheffield Wednesday what appeared to be a very clear penalty, but they got there in the end. Their magnificently-named manager Mickey Mellon said afterwards that he was delighted to be able to give such a great day to the people of the town. He's given them another now: Shrewsbury will host Manchester United in the next round.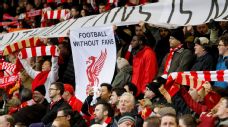 Villains
What a dull weekend of FA Cup football. You certainly won't catch this column claiming that the Premier League is the be-all and end-all of the game, but by thunder, we can't wait for it to return on Tuesday. With the notable exception of Shrewsbury, there wasn't a single result that went against expectations. It was just one relatively comfortable victory after another, a slow wave of tedium spread across three days. At least the fifth round draw looks promising. Well, it certainly can't be any worse than the fourth.
Christian Benteke isn't doing himself any favours. It doesn't take a degree in psychology to see that Liverpool manager Jurgen Klopp is testing him, reducing the £30 million striker to his back-up team in the hope that a combination of game time, shame, desire and occasionally, though not in this case, weakened opposition will fire him into life. But it's not happening. Benteke rarely seems to be fully in the game and, when he is, it's to little effect. Klopp wants people who will leave tracks on the turf, who will fight for the ball. Benteke just isn't doing enough to prove that he can be that sort of player.
Someone at West Bromwich Albion has to sort out the Saido Berahino mess. It won't suit anyone for his stay at the Hawthorns to continue any longer. Granted a rare start against Peterborough, he responded with two goals, but don't expect to see him back in the team for Tuesday against Swansea, if he is still at the club. Berahino is clearly a striker of exceptional quality, albeit one who has been a little troublesome behind the scenes. But he doesn't want to be there and manager Tony Pulis barely plays him. The club is in danger of cutting off its nose to spite its wantaway striker.
I know we said that we wouldn't mention Aston Villa anymore, but there's been such a lack of villains in the FA Cup this weekend that we had to call them back to make up the numbers, which is of course their current role in the Premier League. You can't necessarily expect Villa to beat Manchester City, but for them to fold so quickly was desperately disappointing. Only 23,636 turned up to see it, but the surprise isn't that the number is so low, it's really quite the opposite. The club doesn't deserve such loyalty.
And finally, what a shame that such a proud day for the city of Carlisle was tarnished by the racial abusing of Everton's black players.
Iain Macintosh covers the Premier League and Champions League for ESPN FC. Follow him on Twitter @IainMacintosh.