Bayern Munich lead Barcelona as PSG break into the top three
The top two remain the same in the Power Rankings but a French giant is up to three.
1. Bayern Munich (no change)
Given that they began the second half of last season with a 4-1 defeat at the hands of Wolfsburg, Bayern's 2-1 win at Hamburg was a welcome turn of events as they got back to work. Less positive was the loss to injury of Jerome Boateng, who will miss several months. His absence leaves a question mark at centre-back for Pep Guardiola.
2. Barcelona (no change)
Two more wins -- in La Liga at Malaga and then in the Copa del Rey vs. Athletic Bilbao -- have extended Barca's unbeaten run to 25 games. The club record is 28 and was achieved in the 2010-11 season. Up next is a serious threat to the current run, as Atletico Madrid visit the Camp Nou on Saturday for a top-of-the-table showdown.
3. Paris Saint-Germain (+1)
If things weren't bad enough for Manchester United fans at present, the sight of Angel Di Maria excelling for PSG probably won't do much to cheer them. The Argentine scored three goals in two games last week and has 11 in total -- as well as nine assists -- in all competitions. What would his numbers have been had he stayed in England?
4. Juventus (+1)
The juggernaut rolls on... Juve made it 11 straight Serie A wins with a 1-0 victory against Roma. Paulo Dybala was the matchwinner and he netted again on Wednesday in a 3-0 Copa Italia semifinal first leg win over Inter. Scoring twice in that game was Alvaro Morata, the first time he has found the net since October.
5. Atletico Madrid (-2)
Perhaps they had one eye on the Barcelona game or maybe they simply had a bad week but Atletico stumbled not once, but twice. First, they had plenty of chances against Sevilla but couldn't take any and had to settle for a goalless draw. Then Atletico fell 3-2 at home to Celta Vigo and were knocked out of the Copa del Rey.
6. Real Madrid (no change)
After two easy home wins to start his managerial reign, Zinedine Zidane was challenged when Real Betis took an early lead last Sunday. Madrid fought back to equalise but could not push on for the win, which means they lost ground on Barcelona. The game featured more frustration for Cristiano Ronaldo, who has not scored an away league goal since Nov. 29.
7. Napoli (+1)
A fifth straight league win was achieved at Sampdoria and featured, among other things, Gonzalo Higuain's 21st Serie A goal of the season. Napoli's home form has been stellar all season -- they have only dropped four points at the San Paolo -- but 12 goals scored in their last three away games suggests they are hitting their stride on the road as well.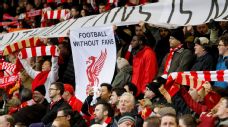 8. Leicester (new)
Arsenal lost and Man City dropped points last weekend. Wasn't it Leicester who were meant to be falling away in the Premier League title race? If so, nobody seems to have told Claudio Ranieri's men, who swept Stoke aside to go three points clear. With 15 games to go, anyone who hadn't taken them seriously before needs to start doing so.
9. Manchester City (no change)
At times, you watch Man City and just wonder why they aren't more dominant. Maybe it's a concentration thing. They fell asleep in the first minute at West Ham last weekend and then again early in Wednesday's Capital One Cup semifinal second leg with Everton. No major harm was done but maybe, down the line, that malaise could really hurt them.
10. Olympiakos (new)
They blew their chance to reach the Champions league Round of 16 a few months ago but, in domestic play, Olympiakos are unstoppable. After 19 games of the Greek season, the five-time defending champions have a 16-point lead over second-placed AEK, having dropped just two points. Is six-peat a word? If not, it might be soon!
Dropping out: Arsenal, Fenerbahce.
Shaka Hislop played for over 10 years in the Premier League and represented Trinidad and Tobago at the 2006 World Cup. Watch him on ESPN FC TV!