Costa and Alli impress on a bad weekend for Manchester's clubs
Iain Macintosh casts his eye over the best and worst of the weekend Premier League action.
Heroes
Ah, Diego Costa. You're back. With a well-timed run, a hint of contact and a perfectly-executed barrel roll, Arsenal are hopelessly compromised. Moments later, Costa is surrounded by opposing players, yet finds ample room regardless and pokes the ball home. The game is won for Chelsea. That is the Diego Costa we remember from last season: The dark-hearted, nefarious, opportunistic poacher, as opposed to the dark-hearted, nefarious unhinged tantrum-thrower. The latter is a liability. The former is a match winner, as Arsenal learned to their cost.
This column was not alone in raising an eyebrow at Jurgen Klopp's decision to group-celebrate a draw with West Bromwich Albion last month, but we feel compelled to leap to the German's defence now. While we're sure that moaning supporters of other clubs always mark their winning goals with barely perceptible nods, we feel a little differently. If it's wrong to celebrate an injury-time winner by clattering onto the pitch and hurling yourself about like a rampaging bull elephant, losing your glasses and your dignity in the process, then we don't ever want to be right.
Dele Alli should not be included in Roy Hodgson's England squad this summer for substitute appearances and off-field experience. He should be in the starting line-up. It's not just that he went Full Stephanie Roche at Selhurst Park on Saturday, it's his all-round performances and his obvious intelligence and maturity. He's better with the ball than Ross Barkley and, let's be honest, he's just as likely to change a game as Wayne Rooney. England should get Alli behind Harry Kane and look to the future for once.
That's more like it, Leicester City. After a wobbly run of form suggested that the fairytale was over, the Foxes bounced back on Saturday against a Stoke side that has repeatedly caused problems for the biggest clubs in the division. Leciester's defence held up nicely, Jamie Vardy got back on the score sheet and Ngolo Kante continued to cover so much ground that you suspect that there are three Ngolo Kantes on the field at any one time. With Arsenal losing and Manchester City drawing, Claudio Ranieri is back at the top of the table. What a time to be alive.
We were starting to worry about Southampton. Ravaged every year by predators, you can't help but admire the way they continue to regenerate, regrowing severed heads like Hydra. But a run of four points from eight games, plus strong suggestions of ill feeling in the camp, implied the Saints might be in trouble. Apparently not. Three consecutive victories, the latest of which was claimed at Old Trafford via the head of newly-acquired Charlie Austin, have lifted them back into the top half and just five points from fifth place. They're going to be okay.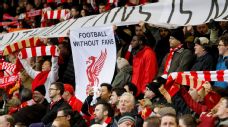 Villains
It's not working, is it? Every time Manchester United turn a corner, they discover to their horror that they're going round in circles. Saturday brought another defeat, at home, with barely a positive to be drawn by even the most optimistic supporter. Louis van Gaal has had a year and a half, he's had £250 million, he's had the backing of the fans, but the football is still resolutely awful. And if someone really is writing love letters to executive vice-chairman Ed Woodward then, sooner or later, he's going to have to start reading them and pondering the future.
It doesn't matter that Diego Costa made the most of it; Per Mertesacker should never have given him the opportunity. It can't be helped that the German defender was unable to catch the Chelsea striker, though you do wonder how much slower he'd be with normal-sized legs! What could be helped was his desperate lunge. That's Petr Cech in goal there, Per. It wasn't a foregone conclusion that Costa would score, even one-on-one. And if he had, there's the majority of the game to equalise. Oh, Arsenal.
Manchester City are their own worst enemies. West Ham are a dangerous side with a habit of bloodying the noses of their supposed betters, so you don't need to give them any help. We can accept that Yaya Toure might no longer have the energy to clank up and down the pitch for 90 minutes, but you'd think he'd be okay to put some effort in for the first 55 seconds. Apparently not. And what was Nicolas Otamendi doing for the Hammers' second goal? The old theory that massive wage spending equals success took a real battering at Upton Park.
All the media attention will be focused on Liverpool's fightback, but Alex Neil will only care about the state of Norwich's defending. The Canaries have shipped eight goals in two games and you cannot be that careless and hope to stick around in the Premier League for long. Neil called it "a shambles," and he was right. Where was the defence for Liverpool's second and third goals? What was Russell Martin thinking of with that back pass for the fourth? Those are just some of the questions Neil will be asking today, albeit in capital letters and from terrifyingly close range.
If you needed to explain the concept of Roberto Martinez's Everton to an alien, you would only need to show the tape of their defeat at home to Swansea. Everton played excellent football, created numerous chances, missed almost all of them, shot themselves in the foot, sighed, shot themselves in the other foot and then fell over in floods of tears while everyone booed them. They're so close to being a really good football team and yet, so very, very far away.
Iain Macintosh covers the Premier League and Champions League for ESPN FC. Follow him on Twitter @IainMacintosh.