Calderon: Zidane needs to win trophies and Mourinho should not return
Former Real Madrid president Ramon Calderon believes the club he ruled between 2006 and 2009 is facing up a crucial few months that will define its destiny on and off the pitch.
In an exclusive interview with ESPN FC, Calderon suggested that current Real Madrid President Florentino Perez will struggle to remain in power beyond this season unless latest head coach Zinedine Zidane delivers instant success.
Calderon also offered up his thoughts on a variety of pressing issues in the game and suggested Real Madrid would be wise to resist any temptation to reappoint Jose Mourinho as manager next summer.
ESPN FC: Are you surprised that the official contract documents relating to Gareth Bale's move to Real Madrid appear to have been leaked to the media?
Calderon: I don't know how this was allowed to happen and clearly it is causing some embarrassment for a number of reasons. The figures are quite different to what Real Madrid were claiming since the transfer in 2013 and we cannot say why they would fabricate these numbers.
ESPN FC: There are suggestions Real Madrid claimed they paid a lesser amount to sign Bale from Tottenham because they were concerned about upsetting Cristiano Ronaldo. Do you believe this?
Calderon: Cristiano knows he is the best; he is the biggest name at Real Madrid. I cannot imagine he needs the club to pretend they paid less to sign Bale because they are worried about how it will affect his mood. The club and the president can only explain why the figure they spoke about was less than the actual amount. More importantly, how did this document get into the newspaper? This is terrible and should never happen.
ESPN FC: Bale appears to have turned a corner at Real Madrid after a difficult second season at the club, so do you see him emerging as the lead player in the side when Ronaldo departs?
Calderon: The fans are back on Bale's side, which was not always the case last season. He has been playing well and the only concern is his injury issues, which continue to stop him. There are always rumours that Bale could move to Manchester United or to another English club, but he will decide what happens in the end.
ESPN FC: Is Zinedine Zidane the right man to lead Real Madrid following the sacking of Rafael Benitez?
Calderon: At this moment, we cannot say. He does not have the experience and needs to prove himself, but I hope he can do well. Zidane was such a wonderful player for us and it would be perfect if he could succeed in bringing trophies to the club this season. At the moment, things are going well, but he will be tested in the game against Barcelona and the big Champions League matches. Then we can see.
ESPN FC: So does Zidane have to win a big trophy to remain in charge at Real Madrid next season?
Calderon: Always at Real Madrid you have to win trophies. Look at the history of our club over the last few decades and only one man has remained in charged for more than three seasons. This was Vincente Del Bosque, who was the best coach. Real Madrid is based on success and we don't wait for it.
ESPN FC: Were you surprised by Real Madrid's decision to replace head coach Carlo Ancelotti with Rafael Benitez last summer?
Calderon: Ancelotti did not win a trophy last season, but clearly the players wanted him to stay. This shows they were happy with him and maybe there was no reason to replace him with Benitez. Now we can see it did not work out, but this was not a big surprise. Maybe Ancelotti could have stayed.
ESPN FC: Can Real Madrid president Florentino Perez survive in his role if the club fails to win La Liga or the Champions League this season?
Calderon: It will be difficult if he ends a second successive season without a big trophy. I know from experience that you have to win or the fans demand a change. At the moment, the supporters are content because Zidane has come in and the results have been going well, but there have already been some signs of discontent among the fans towards Perez and this can return if the team does not succeed this season.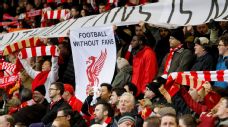 ESPN FC: There have been suggestions that Jose Mourinho could be in line to return as Real Madrid boss next summer. Would you support that move?
Calderon: Mourinho is a good coach and he is successful everywhere he goes, but some of his actions are hard to understand. He doesn't need to do some of things we see from him. The trouble is you cannot change a man's personality and he cannot always control himself. He is the highest-paid coach in the world and some people support him because of the success he can bring, but you also need to look at the character and I don't think he is right for Real Madrid. This is why I don't believe Mourinho should come back, even if Perez might want this to happen one day.
ESPN FC: Would you consider launching a bid to return as Real Madrid President?
Calderon: [laughing] No, thank you. I am quite happy in my life. I enjoy travelling, spending time with my family and when you have lived through three years as Real Madrid president, this is enough. I had good experiences with the club as a director and then as president, with some great friendships made and wonderful moments. Also, we had some bad experiences. My time has gone and I believe it is a role that should not be held by one person for more than three years. Perez doesn't want to leave, but new ideas can be good sometimes.
Kevin Palmer is a sports writer. You can follow him on Twitter: @RealKevinPalmer.