To win the Premier League, Man City need to win at places like West Ham
Which version of Manchester City will we see on Saturday at West Ham? The strangely discombobulated collection of talent rumbling around the pitch in second gear, or the City that sits Smaug-like somewhere, slumbering on piles of gold, quite aware that it could raze settlements to the ground with one breath, but apparently unwilling to summon up the enthusiasm to do so?
This has been an odd season for Manuel Pellegrini's team. You could look at it one way and say that they've lost five of their last 15 games, a run that includes two humiliations by mid-table Liverpool and Stoke, and that even in victory, they've rarely looked convincing of late.
Or, by contrast, you could say that they haven't conceded in their last three matches, they're just a single point off the table of the Premier League table and it's quite within their powers to seal an unprecedented quadruple of trophies at home and abroad. Typical City. Nothing's ever simple.
It's also been an odd season for Pellegrini. Preseason predictions for City were almost uniformly cautious, given that the Chilean was entering the final year of his contract. Sharing those fears that the team would be unsettled by uncertainty, the club awarded him an extension to 2017 and it seemed a wise move as City duly opened the campaign with five straight wins.
But the uncertainty has returned and it's brought reinforcements. We all know that Pep Guardiola is leaving Bayern Munich. We are all quite sure that we know where he's going. As are the City players, you'd imagine. The longer that continues, the harder it can be to maintain discipline.
When a manager loses his authority, everything else can fall away. But you don't have to look too far to see that this situation doesn't always end in tears. News of Guardiola's impending arrival certainly didn't cause treble-winning Bayern Munich much harm in 2013.
But if Pellegrini is to achieve even a slice of Jupp Heynckes' success, he'll need to find the sort of consistency that propelled City to the title in 2014. That season, they won eight games on the spin through the winter and, perhaps even more impressively, their last five in succession when it seemed that Brendan Rodgers' Liverpool had all the momentum.
The trouble is, with the exception of that coruscating start to the current campaign, City have only won back-to-back league games once, back in October with home games against strugglers Newcastle and Bournemouth.
Pellegrini's job security hasn't been helped by his side's away form, which is pretty miserable. Of the Premier League Top 10, only Southampton have won fewer games on the road. Before City's late fightback against Watford on Jan. 2, their last away win was on Sep. 12 at Crystal Palace.
The start of the season was great, then, but it's been wobbly ever since. So who was it who caused the wobble? Ah, yes. It was West Ham, who won at the Etihad Stadium on Sep. 19. If Pellegrini's side have been odd this season, then what word would you pick to describe the Hammers' campaign?
City's was not the only bubble they've pricked this season. In August, they had the temerity to beat Arsenal at the Emirates on the first day of the season and then wiped out any belief that Brendan Rodgers had fixed Liverpool by pulverising his team at Anfield. In October, they plunged Jose Mourinho into full blown crisis by beating Chelsea at Upton Park.
But after that West Ham went eight games without a win and also managed to lose to Newcastle last weekend. Perhaps their recent form against City will serve them well on Saturday: As well as beating them earlier this season, they won the corresponding fixture 3-1 at home in 2014-15.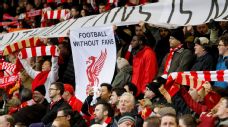 The good news for Pellegrini is that his opposite number manager Slaven Bilic will be without three key players, in Andy Carroll, Manuel Lanzini and Diafro Sakho. Carroll in particular -- chaotic but occasionally indomitable -- could have caused problems for a defence that is quite capable of causing them for itself. They have struggled without Vincent Kompany, although those three clean sheets suggest that the team is learning to cope.
That City will welcome back Fernandinho is also a boost to their chances; the Brazilian midfielder has been one of their few consistently excellent players this season. Meanwhile, Sergio Aguero has four goals in his last five games, despite his vulnerability to injury. Pellegrini said last weekend, with no exaggeration, that it was, "impossible to replace Kun."
Raheem Sterling and Kevin De Bruyne have, given the scrutiny they've been under after big-money moves, both delivered fine performances at times, while Fabian Delph is playing well has shaken off an unfortunate run of injuries.
You suspect that, whatever Pellegrini does this season, his fate is already sealed. But if he can't guide this expensively assembled team to the title in this, the most open season in years, would he really deserve to be retained?
Arsenal haven't successfully negotiated a title race since 2004, Leicester are fading and Tottenham are, well, Tottenham. At least until proved otherwise. The league is there for the taking. To take it, City will have to pick up the pace, sustain some form and beat teams like West Ham away from home.
Iain Macintosh covers the Premier League and Champions League for ESPN FC. Follow him on Twitter @IainMacintosh.