Bayern Munich stay top but Barcelona move second above Atletico Madrid
The longtime leaders of Shaka Hislop's Power Rankings are set for a return to action.
1. Bayern Munich (no change)
After a winter break in which they have seen Pep Guardiola announce he will leave and replaced him with Carlo Ancelotti, Bayern get back to actually playing football on Friday when the Bundesliga champions-elect begin the second half of their campaign at Hamburg. Don't expect an upset: In the past two games between the sides, Bayern have won by a combined 13-0!
2. Barcelona (+1)
Two games against Athletic Bilbao brought about two different types of performance but, ultimately and perhaps not surprisingly, they also resulted in two wins for Barca. First, Luis Suarez scored a hat trick in a 6-0 league demolition. Three days later, with Suarez suspended and Lionel Messi injured, Neymar was the hero in a narrow 2-1 Copa del Rey win.
3. Atletico Madrid (-1)
With a 3-0 victory over Las Palmas, Diego Simeone's men won for the ninth time in 10 league games and thus maintained their two-point lead in the standings. Antoine Griezmann was the catalyst once again, scoring twice. Atletico did not have things their own way at Celta Vigo in the cup on Wednesday but, having drawn 0-0, will still expect to go through to the semifinals.
4. Paris Saint-Germain (no change)
Facing the same opponents twice in three days, PSG were pushed hard but ultimately were too good "Toulouse." Ahem ... The French treble holders won a league clash between the two sides thanks to a Zlatan Ibrahimovic goal and the great man was decisive once again in the Coupe de France. Ibrahimovic's late penalty capped a comeback after PSG fell behind early.
5. Juventus (no change)
Two points off the top in Serie A and through to the Coppa Italia semifinals and the Champions League round of 16 -- it's hard to believe that Juve made such a slow start to the season. In the past week, Max Allegri's men scored four times in the first half to ease to victory at Udinese, before winning 1-0 at Lazio in the cup thanks to a rare Stephan Lichtsteiner goal.
6. Real Madrid (no change)
That's two games down for Zinedine Zidane, with two wins and nine goals scored. It's easy, managing Real Madrid, isn't it?! Trickier days might lay ahead but the latest Bernabeu boss has made the best possible start to his time in charge from a results point of view. One thing he won't be pleased with, though, is the calf injury that will sideline Gareth Bale for three weeks.
7. Arsenal (no change)
Stoke away tends to be seen as a test of mental strength for all would-be Premier League champions, so Arsenal's 0-0 draw at the Britannia Stadium can be viewed as a positive result, especially given the Gunners were without Mesut Ozil, Santi Cazorla and Alexis Sanchez. Next comes another test. Chelsea might be struggling but they often save their best for their London rivals.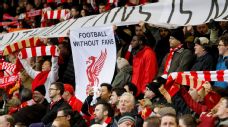 8. Napoli (+1)
The Italian leaders had to work hard for their latest Serie A win after falling behind to Sassuolo. Not surprisingly, Gonzalo Higuain was the orchestrator of Napoli's comeback, scoring twice to take his league goals tally to 20 in as many games. Perhaps that game took too much out of Maurizio Sarri's men, who were knocked out of the Coppa Italia three days later by Inter.
9. Manchester City (new)
As welcome as a 4-0 win over Crystal Palace was, perhaps even more heartening for City fans were the roles played by Sergio Aguero and David Silva, both of whom have had injury-hit seasons. On Saturday, Aguero scored twice and laid on another goal -- when he could have shot for his hat trick -- to Silva. If the pair can stay fit, City's title hopes improve dramatically.
10. Fenerbahce (new)
The Turkish side make this week's list having gone top of the league at the weekend. Among the scorers in their 3-0 win at Eskisehirspor was Robin van Persie, who has scored in each of his past two games and has 12 this season in all competitions. Overall, Vitor Pereira's side are unbeaten in all competitions since September -- a run of 21 games!
Dropping out: Sporting CP, Leicester
Shaka Hislop played for over 10 years in the Premier League and represented Trinidad and Tobago at the 2006 World Cup. Watch him on ESPN FC TV!