David De Gea and John Terry star while Riyad Mahrez is in a spot of bother
Iain Macintosh casts his eye over the best and worst of the weekend Premier League action, where Manchester is a happy place to be, while Riyad Mahrez continues to be in a spot of bother.
HEROES
Louis van Gaal was reluctant to give too much credit to David De Gea on Sunday, which was understandable given that the bulk of his duties consisted of retrieving Jordan Henderson shots from the stewards behind his goal, but his one-handed save from Emre Can was first class. Liverpool had the better of the game but struggled to find a way through United's stubborn defence. On the odd occasion that they did, and that they coincidentally managed to put the ball on target, they found De Gea waiting for them. You wonder where United would be without him. You wonder if that's why Van Gaal held back the praise...
When Sergio Aguero is fit, he's odds-on to be included in this section. But it's not just because he scores lots of goals and it's not just because he's one of the best players in the league. Can you ever recall him causing any problems? Can you remember him ever showing any trace of ego? And can you think of any other top-class forward who would selflessly slip the ball to a teammate when he was on a hat trick, one-on-one with the goalkeeper and the game was already won? This has been a good weekend for City and Aguero was at the centre of it again.
He was offside for the first header and really offside for the second header, but let's not to be churlish about John Terry's late equaliser. You don't expect a centre-back to execute dainty pirouettes in the penalty area in the dying stages of injury time's injury time, backheeling their team to salvation where most people would just welly it and hope. Especially after that own goal. For whatever else you can say about him, and there is plenty, he remains the backbone of this chaotic football team.
Splat! We wondered how Tottenham Hotspur would respond to their shock home defeat to Leicester in midweek and when Sunderland opened the scoring, we might have jumped to some misguided conclusions involving the phrase, "timelessly Spursy." But they're made of strong stuff, this vintage, and they obliterated Sam Allarydce's side in the second half. They're just five points off the top and there's not a single team in this division upon whose consistency you'd stake more than the price of a coffee. Can they do something extraordinary?
A fine performance for Jonjo Shelvey on his debut for Newcastle and a glimpse of what he could bring to Steve McClaren's party if all goes according to plan. There has never been any doubt about Shelvey's ability to change a game with a well-timed pass. The only question mark is his mentality. If he's still playing like this come the end of the season, St James' Park will have a new hero. But with all due respect to the Magpies, if Shelvey could perform consistently, he wouldn't be spearheading a relegation battle. The jury for this isn't expected back any time soon.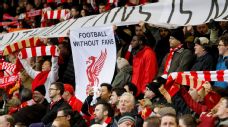 Villains
Stop it, Riyad Mahrez. Just stop it. We warned you about taking penalties a couple of weeks ago when you missed one against Bournemouth and cost your side two points. Now, thanks to your miss against Aston Villa, the total is up to four. Just step away from the football and leave it to someone else. The Premier League's Mighty Ducks are fading. It's just one win in five for them in the league now. This column has stressed for months that Leicester won't win the league, but honestly, that was just to tempt fate for the greater good. We didn't want to actually be right for once.
Well, so much for that 'campaign' against Chelsea. If nothing else, John Terry's 98th-minute offside equaliser will be a signal for the sheepish removal of tinfoil hats across west London. Even Guus Hiddink acknowledged that the officials should have ruled the goal out and condemned the Blues to another home defeat, and a serious discussion about whether anything had really changed at Stamford Bridge since Jose Mourinho was toppled in December. Even Roberto Martinez lost his temper with this decision.
There would have been celebrations in the Speroni household this weekend. Crystal Palace's backup goalkeeper could be back in the first team next week thanks to another mistake from Wayne Hennessey. Having dropped one in the net against Aston Villa in midweek, he was culpable for two against Manchester City, failing to get a strong enough hand on Fabian Delph's opener and being beaten at his near post for the second. Alan Pardew's face suggested that Hennessey has exhausted his patience.
"Hopefully he learns from today," said Sam Allardyce publicly of new signing Jan Kirchoff. You suspect that he had an awful lot more to say in private. Poor Kirchoff had a miserable introduction to life in England and he wasn't even on the pitch for that long. The former Bayern Munich defender's foul on Danny Rose in the second half was the clearest evidence imaginable that he is, as you would diplomatically put it, off the pace. The Premier League is an unforgiving place and if Kirchoff is going to settle, he needs to do it quickly. There's no margin for error for the Black Cats given their current predicament.
In fairness to West Ham, the only thing they need to do this season is not get relegated and, with 35 points on the board, you suspect that they can tick that box now. But how frustrating is it that they keep following up good results with terrible ones? This season is so wide open that any sustained run of form can propel you into the Champions League, but West Ham can't sustain it. They really should be beating Newcastle. Everyone else does.
Iain Macintosh covers the Premier League and Champions League for ESPN FC. Follow him on Twitter @IainMacintosh.