Real Madrid and Atletico Madrid's transfer bans explained
Real Madrid and Atletico Madrid have been banned from registering new players for two transfer windows after FIFA ruled that both clubs violated regulations against signing young international players and, specifically, what is known as Article 19.
If this sounds familiar then it should, because Barcelona's transfer ban for these same violations ended two weeks ago.
To shine some light on what Real Madrid and Atletico have in store, it's worth looking back at what happened to Barcelona, as the same principles will apply.
Further, given that Barca were able to overcome many of the adverse effects a transfer ban would normally inflict, could the Madrid clubs do the same?
What happened with Barcelona?
Following a year-long investigation into Barcelona's transfer activity, the FIFA Disciplinary Committee announced on Apr. 2l 2014 that the club was guilty of violating Article 19 of the FIFA Regulations on the Status and Transfer of Players.
As a result, the Disciplinary Committee imposed a transfer ban, which would prevent Barcelona from buying or selling players for the next two windows, and also issued a fine of around 300,000 pounds. The Spanish FA was also found guilty for its part in transfer registrations and fined almost 330,000 pounds.
Barcelona immediately appealed the decision to the FIFA Appeals Committee, which initially delayed the ban before being upheld in August 2014. Immediately following that decision, Barcelona announced that they would appeal to the Court of Arbitration for Sport. On Dec. 30, CAS upheld FIFA's sanctions.
What is Article 19?
Article 19 is specifically concerned with the protection of minors and prohibits the international transfer of players under the age of 18.
However, there are three notable exceptions to this rule:
- When the player's parents move to the country where the club is located.
- When the transfer takes place within the European Union or European Economic Area.
- When the player lives less than 100 kilometres away from the club.
In October 2009, FIFA amended Article 19 and began mandating that clubs use its transfer matching system -- an online filing system/database -- for international transfers of a minor player (it became mandatory for all international transfers one year later).
Why is it so important?
Alexander Wild, the German sports lawyer who quite literally wrote the book on football arbitration, explains the harsh realities of human trafficking in football: "It has occurred, and unfortunately still happens, that most socially deprived minors [are] unscrupulously exploited by agents and clubs who [want] to make big money."
Wild also highlights the fact that the transfer of minors represents an extremely low financial risk for clubs and agents. Young footballers represent cheap labour and often have tremendous upside. For example, only one in a few needs to develop into a player capable of contributing first-team minutes for this form of "trafficking" to be economically viable to a club.
If they blossom into world-class players, the club has a cost-effective way of bolstering its squad but, if the player is deemed surplus to requirements, he can be sold on at a profit on the transfer market.
However, Wild notes, "the risk to fail is totally out of scale" for the players. Very few develop into world-class footballers and, for the large percentage that fall short, there is harsh reality.
"The minors are asked to leave their home countries and to settle down in countries [where] the culture and the way of living are completely different to what they are used to," Wild said. "If they do not live up to expectations, they are abandoned, not knowing how to survive in a foreign country, without an education and mostly without any relations to people they know."
Both clubs will appeal -- what happens next?
Neither club has much to lose by appealing even if, based on what happened with Barcelona, it seems unlikely that they would be able to overturn the ban.
Another reason to appeal is to delay the ban would be to sign players this summer, pending the final outcome of the appeals process, which is exactly what Barcelona did. Their case essentially started when FIFA announced the ban in April 2014 and the appeals process took just over eight months.
If Real Madrid and Atletico Madrid follow the same timetable, they would be able to stay the ban through this summer's transfer window. However, there is reason to believe that their appeals process won't take as long as did that of Barcelona.
Even though the individual members of the bodies that will be involved with any appeals might not have been involved with the Barcelona case, the fact that such a similar process was gone through so recently could cut down the time required.
As for the actual process, each club would first file an appeal with the FIFA Appeals Committee. If the Appeals Committee rejects the appeal, the clubs can then appeal to CAS.
What is the Court of Arbitration for Sport?
CAS was formed in 1984 and is an independent organisation based in Lausanne, Switzerland, which is tasked with resolving legal disputes in sport.
However, it can only exercise jurisdiction over entities that have explicitly agreed to use it to resolve disputes. FIFA voluntarily granted jurisdiction to CAS in 2002 and football-related disputes now comprise 30-40 percent of its entire caseload.
CAS has almost 300 arbitrators from 87 different countries and Barcelona's appeal was heard by a three-person panel. FIFA and Barcelona were each permitted to choose one of the panel members from the list of available arbitrators.
The third member, who acts as its leader, is selected by CAS. The panel's final decision need not be unanimous and only requires a majority. CAS' decision is final and immediately becomes binding upon the parties.
Is there any other precedent for a case involving Article 19?
Technically CAS is not bound to precedent, which can lead -- and in fact has led -- to contradictory rulings, but has cited previous cases when issuing decisions in the past.
Beyond the Barcelona case, the other leading example involving Article 19 involves Javier Acuna, a Paraguayan footballer who, as a 16-year-old in 2005, was transferred from his club in Paraguay to Cadiz in Spain.
The Paraguayan FA refused to issue the necessary paperwork, asserting Acuna's age rendered the transfer illegal under Article 19, which prohibits the international transfer of footballers under the age of 18.
Acting on behalf of Cadiz, the Spanish FA argued that the transfer fell under the exception, which allows young footballers to play for a club if their parents move to that country. Acuna's mother signed employment papers with a local restaurant one week after the transfer paperwork was filed.
CAS held that, since the decision to move to Spain was a direct result of the transfer, rather than the new job of Acuna's mother, the exception did not apply and the transfer was invalid.
The case is significant for two reasons: It established the validity of Article 19 and also marked the first time that a transfer was rejected because it had been violated.
Another relevant case involves the 2009 signing by Danish club FC Midtjylland of three underage footballers from Nigerian club FC Ebede. FIFPro, the international players' union, alerted FIFA to what it characterised as "systematically transferring minor Nigerian players in violation of Article 19."
FIFA agreed that the transfers were invalid and sanctioned both FC Midtjylland and the Danish FA. While the governing body accepted the warning it received, the club still wanted to complete the transfers and appealed to CAS, who ruled in favour of FIFA.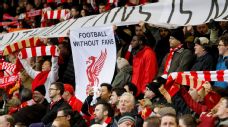 How badly will a two-window transfer ban hurt Atletico and Real Madrid?
Considering Barcelona won La Liga, the Champions League and the Copa Dey Rey while under their ban, it might seem like the Madrid clubs would not be adversely affected. However, it remains to be seen whether they can successfully employ the tactics Barca used to mitigate the short- and long-term effects.
By exhausting the legal appeals process, Barcelona were able to spend heavily in the summer of 2014, bringing in Luis Suarez, Ivan Rakitic, Claudio Bravo, Marc-Andre ter Stegen, Jeremy Mathieu and Thomas Vermaelen. Moreover, last summer Aleix Vidal and Arda Turan were persuaded to sign with the club, even though they weren't allowed to play until this month.
However, as was previously noted, it's possible that, with the experience of having recently gone through Barcelona's appeal processes, the appeal process will be more expeditious. Even if it "only" takes five months, if the ban is ultimately upheld by CAS then the Madrid clubs will not be able to register new players this summer.
Meanwhile, another thing to consider is the difference between what each club could do ahead of any ban. Atletico's financial resources pale in comparison to those of their city rivals and so it seems unlikely they could heavily fortify their squad.
Finally, many of the young players Barcelona signed illegally were persuaded to remain at La Masia to train, even though they were prevented from playing matches until they turned 18. Would Real Madrid and Atletico be able to do the same?
Jake Cohen is a Boston-based sports lawyer. He can be found on Twitter at @JakeFCohen