Manchester United and Aston Villa are villains among lower-league heroes
Iain Macintosh casts his eye over the best and worst of the weekend FA Cup action and pays tribute to some minnows, while bemoaning some under-performing Premier League sides.
HEROES
Poor Eastleigh were just three minutes away from a place in the fourth round of the FA Cup when Bolton Wanderers' Darren Pratley ruined it all. The only non-league side left in the competition just couldn't hold on, but they should be proud of their efforts nonetheless. Bolton boss Neil Lennon described the pitch as "one of the worst I've ever seen" but, had that pitch not taken the sting out of Andy Drury's second-half shot, Eastleigh might have enjoyed a two-goal advantage. Usually comment is made here about the gate receipts from the replay and how much they'll help the minnows, but given that Bolton are £185 million in the red, it's probably the other way around.
Michael Appleton has transformed League Two side Oxford United since taking over as manager in 2014 and victory over Swansea is a fine reward for his efforts. Appleton, who previously worked three of the most thankless jobs in England at Portsmouth, Blackpool and Blackburn, has used a mixture of new technology and old tricks to coax improvement from his players. They, presumably, include how not to give up when Premier League players score outrageous goals against you, as Jefferson Montero did for the Welsh side. Oxford recovered, rallied and realised their dreams, securing the shock result of the round.
It was so nearly Exeter City who won that honour, and in the first fixture of the round, too. The League Two side, currently hovering over the trapdoor that leads to non-league football, gave Liverpool a real battle, never looking for a moment as if they were daunted by the occasion. While Jurgen Klopp picked a number of academy players, the Exeter defenders won't play many matches against £30 million strikers, a la Christian Benteke. Manager Paul Tisdale attracted some wry comments for wearing what appeared to be a pork pie hat during the game, but it's not the hat that counts; it's what is underneath it.
It's about time that Gareth Ainsworth enjoyed a big match. The Wycombe manager was denied promotion to the third flight via the playoffs last season when Southend United equalised in the 120th minute and then won on penalties. Six months later, Ainsworth masterminded a fine draw with Premier League side Aston Villa, earning a lucrative replay at Villa Park. Assuming the game is chosen for TV coverage -- and it surely will be -- it will mean a payment of approximately £144,000, a sum crucial for a club of Wycombe's side. Or just about enough to pay a week's wages for two Villa players.
At least someone at Aston Villa has some courage. Micah Richards could have hidden in the dugout at Wycombe after he was withdrawn with an injury and he could have pretended that he couldn't hear what the Villa fans were shouting about him and his colleagues. But he didn't. He stood up and went to speak to them, staying calm and composed even as tempers flared. That took guts. But if he wants to silence the dissenters for good, he needs to make sure that he and the rest of his teammates lift their performances far above the level of recent weeks.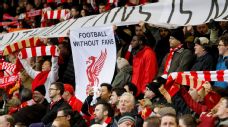 VILLAINS
They make them pay to watch this. Holders of Manchester United season tickets are automatically charged for cup games and if they fail to hand over the money, they could lose them. Given the standard of football on display at Old Trafford, that's far less of a threat nowadays. It took Wayne Rooney & Co. over an hour to put a shot on target against third-tier Sheffield United and no-one was remotely surprised. Louis van Gaal was typically defiant afterwards, telling journalists that the hardest thing in football was to play against a team that defended deep and put men behind the goal. True, but it should be a little easier when you've spent £250m on players.
United's woes would have been deepened had it not been for Dean Hammond's unwise late challenge on Memphis Depay. Hammond, 32, is experienced enough to know that he should not have gone to ground in the box, hanging out his studs and sliding in on the Dutchman. Depay made a meal of it, leaping into the air as if he'd been bitten by a rattlesnake, but could he really have been expected to do anything else? Hammond gave him the opportunity. It was a shame, not just for the Blades, but for the guilty player himself. He'd had an excellent game up until that point.
There was a fine 2-1 result for Colchester United, but more pain for Charlton Athletic's fans as the steady disintegration of their season continues. Owner Roland Duchatelet has made some very odd decisions since taking control of the London club, including five managers in under two years, and his strategy has not even been nearly vindicated. Charlton are fighting unconvincingly against relegation, they have gone out of the cup to lower league opposition and the supporters are intensifying their protests. This is likely to get a lot worse before it gets better.
These are worrying times at Swansea, where the board's decision to defer the recruitment of a new manager is suddenly looking like a very dangerous gamble. Alan Curtis has the job until the end of the season but, in the first game after his appointment, his side were beaten by a team from the basement division. Defeat will be spun as a chance to focus on the far more important business of staying in the Premier League, but there's very little in a result like this that will settle the nerves of the supporters. 2016 is going to be far more tense than 2015 ever was.
Was Aston Villa's failure to beat Wycombe really an FA Cup shock? Given the form of the Premier League side, perhaps the League Two "underdogs" should be kicking themselves for not securing the win first time around. As Micha Richards discovered, Villa supporters have had enough, and understandably so. Manager Remi Garde has had long enough at the club to effect some sort of change but, if anything, they've got even worse under his stewardship. When a parade of flag-waving child mascots walked past the Villa end before kickoff, fans urged the club to "sign them up." They were only half-joking.
Iain Macintosh covers the Premier League and Champions League for ESPN FC. Follow him on Twitter @IainMacintosh.