Recognising defensive players who deserve the Ballon d'Or spotlight
The winner of this year's Ballon d'Or will be a forward. Lionel Messi, Cristiano Ronaldo and Neymar are the three finalists, and it's impossible to quibble with any of their credentials. Two of them are the most brilliant players of our generation, and the third is an outrageously talented potential successor, who is improving by the year.
The presence of forwards or attacking midfielders on the short list for football's top individual prize is not exactly a crashing shock. Only four players who don't fall into that category have won the award since it was introduced in 1956: Lev Yashin (1963), Franz Beckenbauer (1972 and 1976), Matthias Sammer (1996) and Fabio Cannavaro (2006), and only the latter won the FIFA World Player of the Year, awarded from 1991 to 2010 before it merged with the Ballon d'Or.
Of the 256 players who have finished in the top three in both awards, just 29 have been goalkeepers, defenders or defensive midfielders. While you can quibble slightly given the fluidity of positions -- for example, John Charles, who was a centre-back and a centre-forward, finished third in 1959, but was largely playing up front for Juventus at the time -- the general theme is that to gain recognition then you probably need to be an attacker.
This is perfectly understandable. Attackers generally provide goals, the thing most of us watch the game for, and indeed moments of skill and exhilaration that captivate us. Not that many defenders are entertaining in the traditional sense, given that the very nature of their position is cautious, to prevent the thing that most of us seek, specifically goals. Mavericks are entertaining, and there are very few genuinely good, maverick defenders.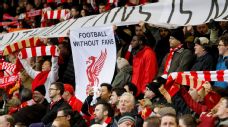 That said, playing at the defensive end of the field is still an art, and having people who are so good at it is at least part of what makes football so compelling. Perhaps there should be awards at the Ballon d'Or for each position, something that was tried for a while by UEFA in their Club Football Awards, but discontinued a few years ago. Would that not be a fairer way of spreading praise, to reward those with the less glamourous jobs in the game?
So this season, who would win a potential Ballon d'Or for a goalkeeper, a defender and a midfielder? Here are our suggestions:
Goalkeeper: David De Gea, Manchester United
The obvious choice for this award would probably be Manuel Neuer, and few could quibble if this hypothetical award were indeed given to the giant Bayern Munich stopper, such are his talents. However, it's also difficult to shake the sense that, excellent as Neuer is, he has a rather easier job than many keepers around the world.
This season so far, Bayern have had the ball for 71 percent of the time, making it rather difficult for any opposition to put any real attacks together, and indeed they have faced fewer shots than any other club in Europe's top five leagues, so it feels like the award should go to someone who has a little more to do.
And that someone is De Gea, without whom Manchester United might have been in quite a mess (or, perhaps more accurately, more of a mess) for long spells throughout the past 12 months.
"He showed at a very young age -- he became 24 this season -- that he is able to do the job in all elements of the game," said his goalkeeping coach at Manchester United, Frans Hoek, at the end of last season. "So nothing stands in his way to become one of the best like [Peter] Schmeichel, like [Edwin] van der Sar at United." High praise, but praise that is warranted.
Defender: Diego Godin, Atletico Madrid
Even now, after being at the heart of the best Atletico Madrid team in generations and leading them to the league title and Champions League final, Godin, who almost seems like an extension of Diego Simeone's personality on the pitch, still feels like he is underappreciated. Atletico are currently top of La Liga, and it certainly isn't down to their prolific forward line, having scored 15 fewer goals than Barcelona and a whopping 22 fewer than Real Madrid.
Atletico's back line has been breached just eight times this season, and a huge part of that is down to the Uruguayan with whom few strikers dare to mess. Countryman Jose Maria Gimenez, about to turn 21 and Godin's partner at the heart of the Atletico defence, could hardly have a better teacher.
"That neither Godin nor [Antoine] Griezmann are there is not fair," said Simeone when the Ballon d'Or short list was announced in October. And a few weeks later, when it was put to him that Godin was the best defender in Spain, he said: "I've been saying that for a long time. He is playing very, very well. His work and his way of mentally going into games puts him in a special place. That is why we insisted to the club this summer to make an extra effort for him."
That "effort" was a new contract, and the money spent to keep Godin might be the wisest Atletico have spent in some time.
Midfielder: Paul Pogba, Juventus
You might think it cheating to give an award not intended for attacking players to Pogba, and you might be right. However, that's half the point with this remarkable talent; he's three or four players in one, capable of devastating attacking play, just as he is of destructive midfield work and skillful playmaking -- usually all in the same game.
Still only 22, Pogba is capable of drifting in and out of games, but when he's in, there are no more than three or four players in the world that you'd rather have in your team. He's a young man capable of winning a game with a move, a flick or a shot.
And perhaps the most terrifying thing is that he's nowhere near the finished product just yet. "He's growing," said Massimiliano Allegri after a fine performance in November. "Tonight, he put in an important performance but he still has to improve. He needs to read certain moments of the game better."
Pogba's agent, Mino Raiola, is rarely shy of extolling his client's virtues and keeping him in the transfer gossip pages, but wherever the midfielder plays over the next few years, you can rest assured he'll be one of the finest talents in the world.
Nick Miller is a writer for ESPN FC, covering Premier League and European football. Follow him on Twitter @NickMiller79.