Bayern Munich reclaim top spot, Atletico Madrid also climb, Barca drop
Shaka Hislop's first Power Rankings of 2016 feature a change at the top.
1. Bayern Munich (+1)
Bayern have not played in recent weeks due to the winter break in Germany, but they haven't been far from the news. The runaway Bundesliga leaders have seen Pep Guardiola declare that he will leave the club at the end of the season. His successor will be Carlo Ancelotti, which means that one two-time Champions League-winning manager will replace another.
2. Atletico Madrid (+3)
Back in 2014, when Atletico won La Liga and almost added the Champions League, they were lauded for their achievements but also warned that such feats were unlikely to happen again, given the might of Barcelona and Real Madrid. Well, Diego Simeone's side are currently two points clear in Spain and through to the round of 16 in Europe. Could it happen again?
3. Barcelona (-2)
Not that many will be betting against Barca retaining any of the trophies they won last season ... After the club's transfer ban ended, Luis Enrique's squad has been boosted by the addition of Arda Turan and Aleix Vidal and they will add some competition for places. That might be no bad thing, given Barca have drawn three of their past four league games.
4. Paris Saint-Germain (-1)
At the halfway stage of the Ligue 1 season, leaders PSG are a remarkable 19 points ahead of second-placed Monaco. They might win the league by March! The challenge for Laurent Blanc, as it has been in seasons past, is how he prepares his players for the challenge of the Champions League, given how comfortable their games at home appear to be.
5. Juventus (+3)
Look out, Serie A -- here come Juventus! The defending champions are up to fourth after an eight-game winning run, the latest of which was a 3-0 triumph over Verona on Wednesday as the Italian league restarted. Juve trail leaders Inter by just three points and appear to have got over a sluggish start, which saw them lose four of their opening 10 games.
6. Real Madrid (-2)
When Rafa Benitez was appointed boss at the Bermabeu back in June, plenty of people thought it would end in tears. And so it was earlier this week that, after just seven months in charge, he was sacked. In his place steps Zinedine Zidane, one of the greatest to ever play the game but unproven as a manager at the top level. Will he be given time to learn on the job?
7. Arsenal (no change)
They haven't always convinced -- the 4-0 hammering they took on Boxing Day was a concerning result -- but the fact is that Arsenal are currently the team to catch in the Premier League. Anchoring their title challenge is Petr Cech, who recently set a record for most clean sheets kept. And for those asking, yes, he went past my 61 a long time ago!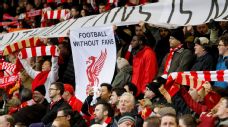 8. Sporting CP (new)
It's been a very happy new year thus far for Sporting, who are four points clear in Portugal after two wins in four days. First, Jorge Jesus' men beat bitter rivals Porto 2-0 before romping to a 6-0 triumph at Vitoria Setubal. Sporting's scoring hero was Islam Slimani, the Algerian striker who netted twice in each game.
9. Napoli (new)
Not since the Diego Maradona-inspired title success of 1989-90 have Napoli been Italian champions, but this season offers a real opportunity to end that barren run. Maurizio Sarri's side trail Inter by a point and now have a run of six winnable games ahead of a 16-day stretch in February in which they visit Juventus and then host Milan before playing at Fiorentina.
10. Manchester City (new)
They have been inconsistent at times and desperately need to get Vincent Kompany 100 percent fit as soon as possible, but the fact is that Man City remain in the running for four trophies. Meanwhile, Manuel Pellegrini is leading his side on so many fronts despite the daily speculation that, no matter how much he wins, he will be replaced by Pep Guardiola in the summer.
Dropping out: Leicester, Fiorentina, Borussia Dortmund.
Shaka Hislop played for over 10 years in the Premier League and represented Trinidad and Tobago at the 2006 World Cup. Watch him on ESPN FC TV!