ESPN FC awards: 2015 belongs to Messi, Barcelona and Luis Enrique
The voting for our annual ESPN FC awards has closed and the ballots have been tallied. Iain Macintosh reacts to the winners and losers of 2015.
2015 ESPN FC AWARD WINNERS
- 2015 belongs to: Lionel Messi
- Team: Barcelona
- Coach: Luis Enrique
- Moment: Lewandowski scores five in nine minutes
- Disappointment: Chelsea's title defence
- Controversy: The arrests at FIFA
- Surprise: Leicester top the Premier League
- Breakout player: Harry Kane
- Most improved player: Jamie Vardy
- Goal: Lionel Messi vs. Athletic Club
Who did 2015 belong to?
Your vote: Lionel Messi (46 percent)
Iain Macintosh: As the figurehead of the team that won pretty much everything in 2015, it was always going to take something special to eclipse Lionel Messi. You may disagree, but I say step forward, Loretta Lynch. Decades of newspaper exposes shook FIFA but never toppled it. Internal investigations drew predictably benign conclusions and kept the details of their findings to themselves. But FIFA had no answer to the U.S. attorney general.
"They were expected to uphold the rules that keep soccer honest," she said as she threw down scores of criminal charges. "Instead they corrupted the business of worldwide soccer to serve their interests and enrich themselves." Boom. Beat that, Messi.
Who were the team of 2015?
Your vote: Barcelona (83 percent)
Macintosh: OK, this time we're in agreement. Bayern Munich have been excellent and it was good to see Chile turning years of potential into international honours, but there's no contest here, is there? Barcelona won the league, the cup and the Champions League, then went on to win the European Super Cup and the Club World Cup too. They are indisputably the best team in the world right now.
Who was the coach of 2015?
Your vote: Luis Enrique (75 percent)
Macintosh: It could all have ended so differently. In January, Luis Enrique appeared to be on the brink of leaving Barcelona. There were rumours of dressing room strife, ground was being lost in the title race. And then suddenly everything clicked and Barcelona were firing on all cylinders again. Enrique has drawn both excellence and balance from a team that could easily have torn itself apart. There's no contest here, either.
What was the moment of 2015?
Your vote: Robert Lewandowski's five goals in nine minutes (52 percent)
Macintosh: It's highly unlikely that anyone will ever score five goals in nine minutes in top-flight football again, but I'm not convinced that a freakish landslide should be considered the defining moment of the year. I think the moment of the year is the one that made you want to stop strangers in the street just so you had someone to share it with, the moment that perhaps you'd expected, but you still couldn't quite believe. The sacking of Jose Mourinho was that moment. Few men have ever fallen so far, so fast.
What was the disappointment of 2015?
Your vote: Chelsea's Premier League title defence (59 percent)
Macintosh: I'm not sure that Chelsea's campaign has been a disappointment to anyone but the club's supporters. To everyone else, it's been emblematic of the sudden and very welcome unpredictability of the Premier League. Far greater disappointment came when Sepp Blatter, who everyone believed had resigned from FIFA on June 2, told a Swiss newspaper later that month that he hadn't resigned at all. He went in the end, obviously, but he had us worried for a while.
What was the controversy of 2015?
Your vote: The ongoing arrests and investigations at FIFA (66 percent)
Macintosh: Yep, I'm with you here. There's nothing that can come close to what's happened at FIFA HQ this year. It looked for a while as if the only things that could ever survive a nuclear winter were Sepp Blatter and cockroaches, but now it looks as if the cockroaches will see him off too. We'll laugh about his regime in years to come, but for now, the more you discover, the less funny it becomes.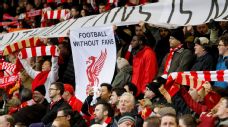 What was the surprise of 2015?
Your vote: Leicester City topping the Premier League table (90 percent)
Macintosh: Without a shadow of a doubt, it's Leicester City. In January, they were rock bottom of the Premier League, by December they were at the top. That is not supposed to happen. The rich are supposed to get richer while everyone else fights for scraps. In 10 years, only six different clubs have finished in the top four. In 20 years, only four different clubs have finished first. Let's hope that football continues to surprise us as much in 2016 as it has in 2015.
Who was the breakout player of 2015?
Your vote: Harry Kane (46 percent)
Macintosh: No arguments here. Sure, the goals actually started flowing for Harry Kane in late 2014, but they've continued apace throughout 2015 for club and now for country too. Kane endured a rocky period at the start of the 2015-16 season, but he kept his head down, kept working and sure enough, the goals soon returned. His attitude is exemplary, his work rate is sky high and he just keeps hitting the target. If he can do that at Euro 2016, he'll have earned the right to be considered one of Europe's top strikers.
Who was the most improved player of 2015?
Your vote: Jamie Vardy (68 percent)
Macintosh: A very difficult one to call. Pierre-Emerick Aubameyang has stepped up in a manner you don't expect of players in their mid-20s, while Chris Smalling has gone from being a liability to becoming just about the only positive of his club's season. But how can you pass over Jamie Vardy, a man in his late 20s who offered only flashes of talent last season before switching to full beam for 2015, leaving a trail of goals up and down the country? Put simply, you can't.
Who scored the goal of 2015?
Your vote: Lionel Messi vs. Athletic Bilbao in the Copa del Rey (64 percent)
Macintosh: While I still hold a candle for Bobby Zamora's outrageous goal against West Bromwich Albion last season, I will acknowledge that Lionel Messi's Copa del Rey effort was a bit better. If you wanted to explain Messi to someone who didn't like football, that's the goal you'd use. He's so much quicker, so much sharper and so much more talented that he doesn't even look like the same species as all other players. But Zamora's goal is a very close second.
Iain Macintosh covers the Premier League and Champions League for ESPN FC. Follow him on Twitter @IainMacintosh.